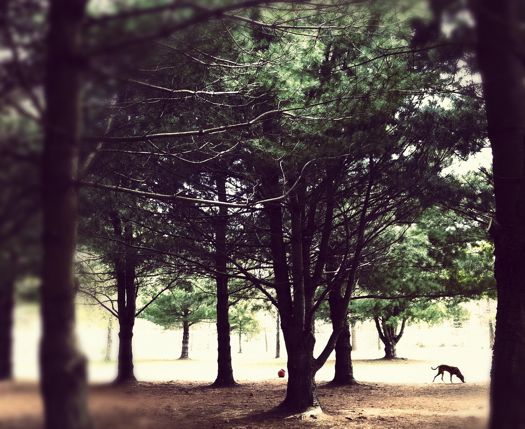 By Siobhan Connally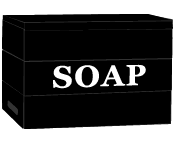 I knew there had been an effort underway to get a dog park in our town -- on occasion I'd even dropped spare change into a dedicated collection jar at the counter of our beloved coffee joint. But somehow I'd missed the fact that it had actually gotten past the planning stage and into the oh-my-god-you-can-really-bring-your-pooch-there-and-play stage.
I suppose back then I was a little preoccupied. The children were younger. Jobs were hectic. Our dog - a centenarian in dog years - wasn't much interested in play. She was happy just to lay on the hardwood floor wherever the sun was keeping it warm. She had earned her retirement.
Then, one day last summer, she was gone.
It was a while before we were ready to think about dogs.
But recently, with a new puppy chewing on the furniture and the kids climbing the walls, I thought it was time to get a gander at the dog park.
Turns out dog parks -- they're not just parks for dogs.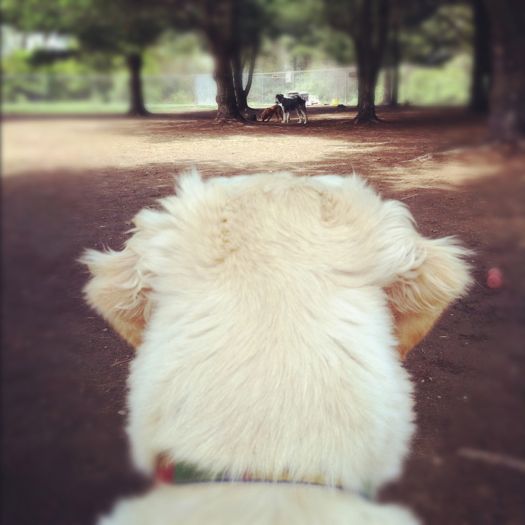 Larger than a football field, the park was more expansive than I'd pictured. It was also, thankfully, shady. Mature pine trees dotted the sparse lawn, giving the effect of a forest clearing surrounded by a tall, meandering chain-link fence. Canine playthings were sprinkled here and there. Many were dutifully collected in a plastic bucket near the other park amenities: a community water bowl, waste bags a trashcan and decorative coat hooks to give the leash a rest.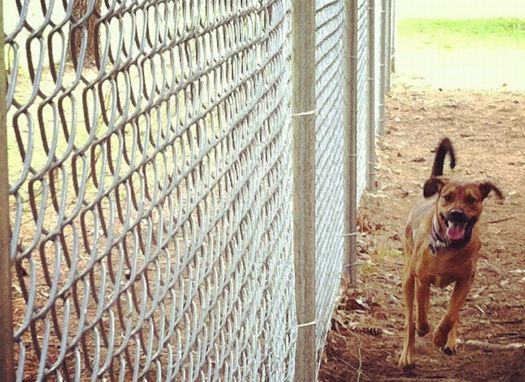 Off leash, my dog roamed from tree to tree. She sniffed at toys and lapped at water. She kept me in sight, but had no intention of coming if I called. There was no reason to make her.
The kids were quickly heading for the playground, which was within my sight, but a few feet beyond a comfortable shouting distance.
No one else was there.
But soon a steady stream of people and pooches made their way into the park.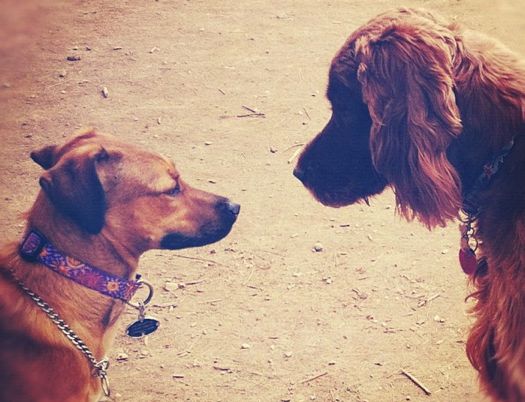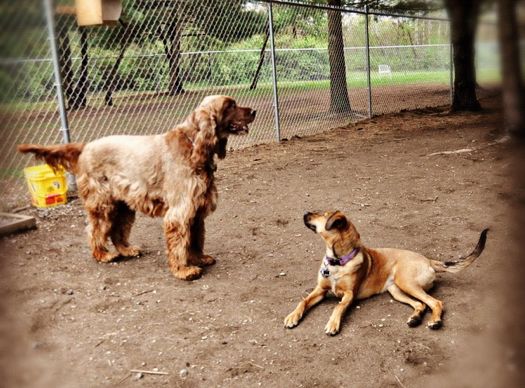 An Australian Shepard. An Irish setter. A labrador. A pit bull. Several mutts not unlike ours.
It was almost like having a small child again.
The dogs ran and leaped and chased and fetched. Their people settled in lawn chairs and praised the gods of play that would inevitably bring the blessing of sleep.
They focused on me, the newcomer, and my dog.
They introduced their dogs, and I reciprocated. They asked her age and breed. They all shared stories of puppyhood, and training failures and successes.
They took pictures of my dog playing with their dogs for the park's Facebook page. They helpfully explained how town hall was open late on Mondays so I could get a park use permit for her collar. Not that they were sticklers or anything.
In print and on signs it's one thing, but in person rules can be bendy.
It wasn't an unpleasant little nudge. It was a guide.
In fact, I'd learned more about my neighbors in an hour at the dog park than I had in eight years at the playground.
They spoke about each other and ordinary events: graduations, weddings, babies. Who was moving in ... moving on ... who had died. They compared cars and bars and tattoos. They spoke anxiously about stressors in the community - "Did you hear the groomer's house caught fire, what a shame." And they talked stoically about their own hardships - raising kids, empty nests and dealing with a new diagnosis or a recurrence of cancer.
It didn't seem so much gossip as news -- and a reminder --this is life, get busy living it.
They talked as easily about life ports and reconstructive surgeries as they spoke about pet foods and training tips.
There I stood, pacing the fence, splitting my attention between two worlds: my children running from pillar to post on a playground just barely in view, and a puppy darting around as if she'd been shot from a gun, ricocheting off the legs of perfect strangers.
It seemed so easy to converse about the antics of animals. How quickly it leads to other connections. How comfortable it feels to swap stories with the people I meet who are carrying poop in a baggie.
I keep comparing the experience with how difficult it is to have the same conversations on the play ground, or at dance class or just passing other moms in line at the grocery stores. I used to think it was a kind of battle weariness, but I wonder now if it isn't more of a competitive wariness.
Or perhaps dog people really are just a different breed.
Siobhan Connally shares her writing and photography at Ittybits & Pieces.
Siobhan on the Soapbox:
+Walking on eggshells
+ The Winter of our Discontent
+ Unoccupied
Hi there. Comments have been closed for this item. Still have something to say? Contact us.