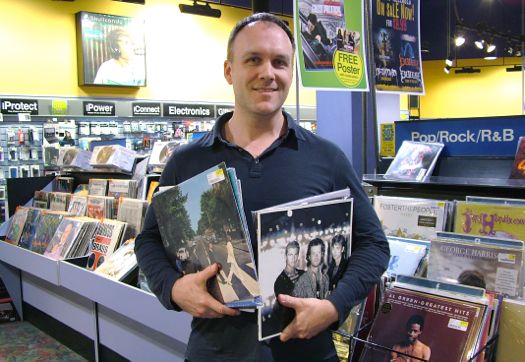 It's Monday, which means WEXT is running another My Exit show -- where the listeners get to pick their own playlists.
Here's a look at what's coming up tonight:
Who?
My name is Jeremy and I live part-time in Hudson, as well as Schenectady, with my fiancée Sarah. I work as an independent filmmaker/artist, and during the week I manage the press department at Norman Rockwell Museum. I'm a huge music fan, and while living in the Berkshires I was asked by CTSB-TV to host/produce a TV music show called Berkshire Soundstage. I have interviewed many of my favorite artists on both the local and international scene.
How would you describe your taste in music?
I'm a soul man. I respond to music that is emotionally honest. Classic soul, indie rock, alternative, Britpop, classic rock, reggae, ska, jazz, etc. I'm a big fan of melody, and Sarah is always teasing me for frequently being drawn to melancholic songs. Moreover, I tend to be attracted to songs that deliver a sweeping chorus--these are the moments that usually give me goose bumps, and remind me why music is such an important part of my life.
A few Songs from Jeremy's My Exit show
"Here Comes The Sun" -- The Beatles
I was ten years old the year John Lennon was tragically shot. They began playing The Beatles music non-stop on the radio, and I got hooked--so began my first true musical obsession. I learned all I could about the Fab Four... scoured their albums for "Paul Is Dead" clues, and memorized just about all of their lyrics and melodies--nobody did it better. My favorite Beatle? I think it's a toss-up between John and George; lately I'm finding myself drawn to a lot of Harrison's later music--there is an honesty there, and Here Comes The Sun might be the "quiet Beatle" at his spiritual best. This one is definitely in the running to be our wedding song.
As a teenager in the 1980s, I fell for A-ha's music in a big way. The Norwegian band had some beautiful melodies influenced by the Beatles and other groups from the 1960s, soaring vocals, and lyrics that dipped into the bluer side of the spectrum--they most definitely appealed to my introverted/sensitive artist side. Most people in this country only know them for "Take On Me," but they had an incredibly successful international career, and went on to pen some absolutely beautiful songs over the course of 25 years. This song is from their 1993 album, Memorial Beach--one of their darkest, melancholy-tinged albums. I remember hearing it for the first time on the radio as I was driving home during a particularly rough period in college. It felt like some kind of divine intervention, arriving at just the right time (similar to how their most personal music from the mid-80s helped me cope with the loss of my father). In 2005 I had a chance to interview all three members of the Norwegian band during a show they performed in New York City--it remains one of the absolute highlights of my career. I'm still working on putting it all together for a documentary, hopefully to be released this year (their 30th anniversary).
"Superstition" -- Stevie Wonder
This has to be one of the most perfect songs ever recorded--Stevie has a few of them from his early career. What a groove! I absolutely adore classic soul, and I'm all for the trend of modern acts trying to recapture that sound (sure beats auto-tune). Motown had it all going on--great songwriters, producers, musicians... I was thrilled when I had a chance to visit the original Hitsville building in Detroit and stand in the shadows of where Stevie, Marvin Gaye, The Funk Brothers, Four Tops, and Temptations did their thing. Although I haven't met Stevie, I have had a chance to interview several of the original Motown artists for my show. The Tempts have to be my all-time favorite--oh how I wish I had a chance to see the late David Ruffin perform!
"Live Forever" -- Oasis
I can safely thank The Beatles for instilling in me an early love for British pop music. This continued during the 1980s with acts like David Bowie, The Smiths and New Order, and definitely during the mid-90s when Britpop was all the rage. At the time I was working as a DJ at WBER in my hometown of Rochester, New York, and fell hard for bands like Blur, Pulp, and Elastica. Funny enough, I was least impressed by Oasis, who sort of modeled themselves on The Fab Four. However, it's their songs from that period that I am the most fond of now, especially this thumping track that we used to get a heavy rotation workout. Noel Gallagher is still delivering the goods today, and I am also quite fond of the Scottish band Travis, who I have interviewed, for possessing a similar knack for writing straightforward, inspired tunes.
"People C'Mon", Delta Spirit
In contrast to my Anglophile tendencies, I'm finding myself drawn more and more to American acts lately. Edward Sharpe and The Magnetic Zeros, Fitz & The Tantrums, and especially Delta Spirit, have released some of my favorite albums over the past few years. This song is from the Spirit's 2008 release Ode To Sunshine, an absolute perfect album (I don't know how they did it). It is soulful, roots-based music--I never tire of the album, and this song is one of the highlights... "If you're feeling what I'm feeling c'mon, all you soul-searching people c'mon."
You can hear Jeremy's My Exit show tonight at 8 on 97.7 or at exit977.org.
Here's how to schedule your own My Exit show on WEXT.
Hi there. Comments have been closed for this item. Still have something to say? Contact us.