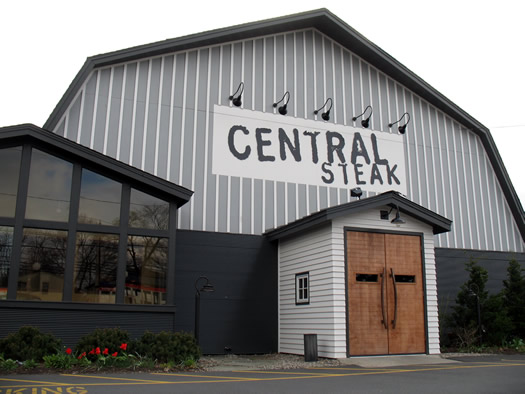 The AOA Burger Lab event at Central Steak is this Thursday. The people attending the slider tasting, a benefit for the ASAP Daisies, will get to create their own burgers from a long list of meats, toppings, and condiments.
And it's sold out.
But five people are getting a free ticket thanks to the combinations they posted as comments here at AOA when we first announced the event. Their combinations will be tasted a panel of judges, and the winner burger will be added to the Central Steak menu.
Here are the tasty-sounding combinations that made it to the final round...

The judges for the tasting will be Daniel B. (FUSSYlittleBLOG), Jerry (of derryX fame), and Janie from the ASAP Daisies. The finalists were picked based on what sounded interesting to the judges.
Kate H.
Ground beef, caramelized fennel, black pepper aioli, blue cheese, and arugula
Amy Gerling
Pulled pork, coffee molasses glaze, caramelized onions, bacon, and romaine
Josie
Pork BellyBlack Pepper Aioli,Pickled onion, Pickled cucumber, Caramelized onion
Bacon,Braised pork belly,Sesame purple cabbage,Blue cheese,ArugulaCall it "the whole hog"
Jason
Ground lamb,Black pepper aioli,Caramelized onion,Pickled cucumber.Goat cheese
julie
Pork belly, coffee molasses glaze, pickled habanero, and crispy onion
Here's the full list of options they had to choose from on the slider bar:

Meat
Ground beef
Ground lamb
Pork belly
Pulled pork
Condiments
Ketchup
Mustard
Mayo
Horseradish cream
Sweet-and-sour BBQ
Sriracha
Wasabi scallion aioli
Chipotle mayo
Black pepper aioli
Coffee molasses glaze
Blue cheese dressing
Sun dried tomato pesto
Toppers
Roma tomato
Onion
Tomato jalapeno relish
Pickled onion
Pickled cucumber
Pickled habanero
Caramelized onion
Bacon
Braised pork belly
Crispy onion
Coleslaw
Sesame purple cabbage
Caramelized fennel
Cheese
Cheddar
Swiss
Provolone
Mozzarella
Parmesan
Cotija
Goat cheese
Blue cheese
American
Greens
Arugula
Spinach
Romaine
Iceberg

The Burger Lab event is sold out. The addition of the winning slider to the Central Steak menu is subject to final approval by Central Steak.
Hi there. Comments have been closed for this item. Still have something to say? Contact us.