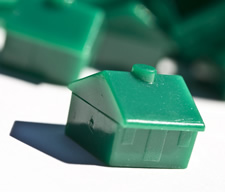 Sean emails:
As a new homeowner, I've been hearing rumors about a certain day / week in May where folks can go downtown and challenge their property tax amount. Would the editors or other AOA readers have any knowledge about this upcoming event, any tips for when to go (I imagine it's a zoo...) and what to come prepared with for the best possible outcome (i.e. lower taxes!)?
We're guessing the day Sean is referring to is Grievance Day, typically the fourth Tuesday of May in cities and towns in New York State (May 22 this year). You can submit the forms necessary to "grieve" the assessment of your home before that day (probably the best course). The day in question is when it's possible to make an oral argument before the board of assessment review, if you decide to do so.
OK, so let's use the city of Albany as an example. It recently posted the official notice that's it's completed its tentative assessment roll for property tax purposes. The assessment information is online -- it's as simple to look up as plugging in your address. From the city's website:
Complaint forms and a publication containing procedures for contesting an assessment are available at the Office of Assessment & Taxation Room 302 in City Hall. It is a prerequisite to review an assessment that the official complaint forms be used and that said forms be filed with the undersigned or the Board of Assessment Review on or before May 22nd, 2012.
The board of assessment review will be hearing grievances May 22 from 9 am-1 pm and 6-8 pm in city hall.
Of course, some details will vary from one municipality to another. Here's a NYS website with info on how to contest your assessment.
So... Have you ever contested an assessment? If so, got any tips or advice for Sean? Please share!
photo: Flickr user woodleywonderworks
Hi there. Comments have been closed for this item. Still have something to say? Contact us.