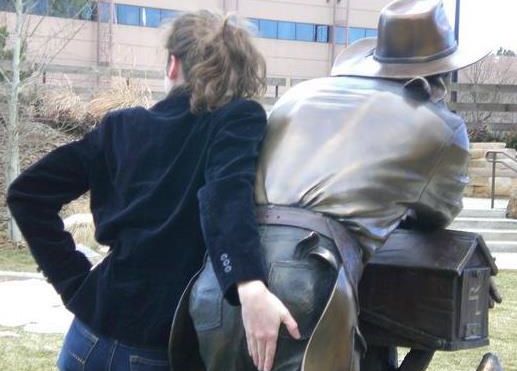 It's Monday, which means WEXT is running another My Exit show -- where the listeners get to pick their own playlists.
Here's a look at what's coming up tonight:
Who?
Gina Marie. I write a self development blog at FeelAndHeal.com. I'm also an art model, a volunteer for a local hospice, and some other things as well. But when all the hats are hung up and my hair comes down, I crank up the volume.
How would you describe your taste in music?
My tastes are eclectic and tend toward the obscure. From jazz and blues to avant-garde, with dream pop and new wave and lo-fi in the middle. But nothing beats rock n' roll - nothing. This set of favorites feature the essence of rock. It's simple, and raw, and it brings out the primal side that feels so good. It doesn't have to be perfect and pretty. Give me a beat, give me a riff, and I'm good to go!
You can read more here: One More Beat.
A few songs from Gina Marie's Show:
"Red Flags and Long Nights" - She Wants Revenge
I love this band. Their music is deliciously dark, sexy and hypnotic. They hook me with entrancing beats, heavy repetition, and just the right kind of dissonance that sounds amazing. Oh yeah, and the lyrics are fantastic. This track is superb.
"Passion Of Lovers" - Bauhaus
This track has great energy. The drums drive it forward and the bass keeps my head bopping. Mixed with that are these intense background vocals that make my skin tingle. Soulful howling gets me every time. The lyrics are great, too. "The passion of lovers is for death, said she; licked her lips, then turned to feather." Dark and romantic.

"Rock 'n Roll" - The Sounds
Another favorite band. High energy, great for the dance floor, spunky, and punky. This track has a wonderful sound. It's fast and slow at the same time. It has a nice texture due to the mixture of quick, steady rhythms with soft, sustained tones. It's very well composed, but I really I love it for the lyrics. "Like boy need girl, and girl need boy, got a nasty habit called rock n' roll."
You can hear Gina Marie's My Exit show tonight at 8 on 97.7 or at exit977.org.
Here's how to schedule your own My Exit show on WEXT.