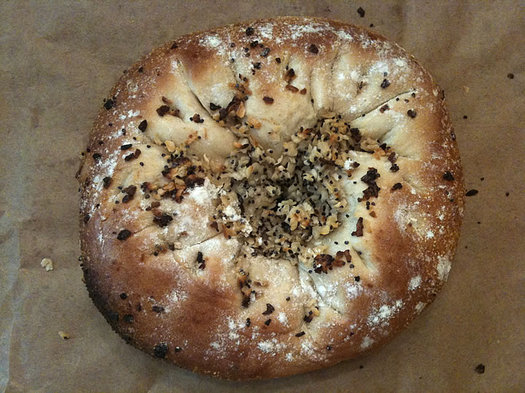 By Daniel B.
The bialy is dead. Long live the bialy.
Maybe you've read Mimi Sheraton's The Bialy Eaters, in which the food writer travels the world in search of an authentic Bialystocker kuchen. There is actually a town in Poland called Bialystock, and at one point in time it was filled with Jews and bakeries that would churn out these hot, yeasty rolls which have only a passing similarity to bagels in that they are round.
From Ms. Sheraton's research, in the old country these were light and pillowy on the outside, with a crisp compressed center, which was filled with onions, poppy seeds, and bread crumbs. They were dusted with flour, baked in a wood or coal-fired oven, and came out with a thin, burnished brown crust.
After searching the world over, starting at Kossar's in New York City, and traveling to Poland, Israel, France and Argentina she came to a sad conclusion: One cannot find a Bialystocker kuchen like the ones made in that famous village before World War II. Most of the Jews from Bialystock were killed or driven into exile, and with them went the bialy.
That's not to say there aren't some delicious bialys around the world which come close. Oddly, the Capital Region was never mentioned in her book. However, if Mimi Sheraton ever made it out to the Price Chopper on Eastern Parkway, I think she would be quite pleased.
I can hear readers scrunching up their noses and foreheads at the very thought.
People are saying, "I've been to Price Chopper and I've had their bialys. They are fine, but how can you even compare them to Kossar's on the Lower East Side?"
Well, let's start at the beginning. There is a difference between the bialys at the Price Chopper on Eastern Parkway in Schenectady to, say, the ones at the store in Slingerlands. And the difference is like night and day. My working theory is that the bialys get better the closer you get to Price Chopper's corporate headquarters. But it may just be a coincidence. (See the Price Chopper bialy quality spectrum above.)
And I'm okay with that. Bialys are made by hand. Different bakers, even using the same recipe and the same ingredients will end up producing different results. The important thing is that on multiple visits, the specimens sold at Eastern Parkway have fulfilled a critical criterion that is missing from the famous Kossar's.
Here's a brief passage from The Bialy Eaters:
Of the few changes bialys have gone through after their voyage to America none is more striking or inexplicable than the disappearance of poppy seeds. Along with the slivers of roasted onions, those tiny round gray-black seeds -- the beloved mohn -- was the feature most fervently recalled by every former Bialystoker I interviewed.
And here is where our very own Eastern Parkway Price Chopper has a leg up on Kossar's, because they have poppies a plenty. Actually, the center indentation at this location is filled with the amazing flavor of raw and roasted onion commingled with sweet and nutty poppy.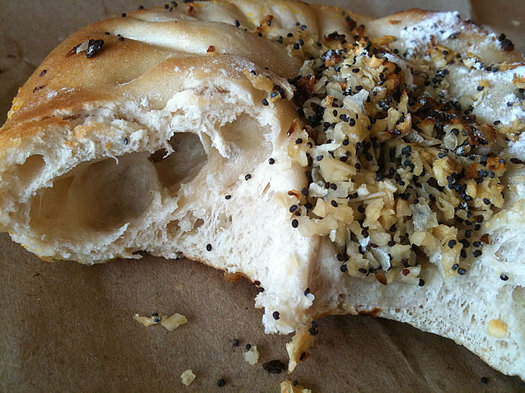 Our bialys in Schenectady may not be quite as pillowy along the outer rim as those produced downstate, but there is plenty of yeast in these babies as you can tell by taking a peek under the crust.
I wish I could say there was a right way to eat a bialy. Opinions on this differ. I've heard that New Yorkers like to toast them. And I've also heard that others like to slice them horizontally, and spread cream cheese or butter on their cut inside surfaces.
All of these notions cause me great pain.
The bialy comes from a heritage of poverty. A time when every poppy seed was sacred. Slicing them in half as you would a bagel is all but guaranteed to disturb the onions and poppies. Most of the Bialystockers interviewed in the book applied any spreads over the top of the bialy, making sure to get plenty into the indentation.
But I prefer mine unadulterated.
Warm bialys are the best bialys, but toasted bialys are a sure way to burn the onions. The taste of modern bialy eaters leans towards lighter crusts. If you like yours a little darker, you can "finish them off" in a 500 degree oven at home. I found five minutes on the bottom rack gives added color without charring the onions. If I had a pizza stone, I might consider that to really crisp up the bottom too. Otherwise, warming them in a 350 degree oven for seven minutes will totally heat them through and keep their color and crust intact. Alternatively, you can show up at 6:30 am at Eastern Parkway when they come out of the oven, or call ahead to special order a batch of your own.
The Price Chopper bialy is a steal at $.79, or six for $3.00.
Are these different from Kossar's? Totally.
Better? Well, that's going to be a matter of opinion.
Here's another brief quotation from Mimi Shearaton:
Having trained my palate on my hometown bialys, I am afraid that, despite the absence of poppy seeds, Kossar's still set the standard for me, familiarity being the seasoning that counts. Calvin Trillin once wrote that any man who doesn't think his hometown hamburger is the best is a sissy. That me be true of bialys as well.
Regardless, there are people all around the world who would be envious of what is being produced in relative obscurity at one of our local Price Chopper markets. Without hesitation, I would take visitors from California and other parts of the country to this grocery store to experience a rare and delicious bialy. Downstate friends who were willing to keep an open mind might get to try one, too.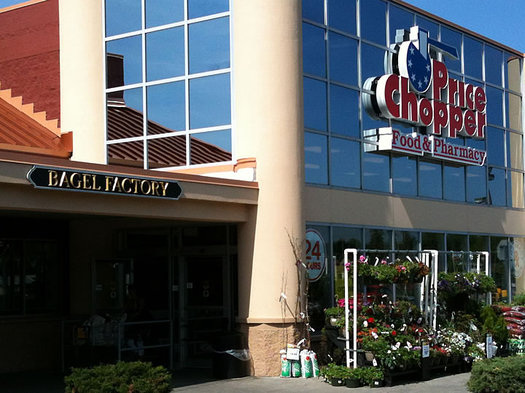 Now, even at Price Chopper, these are not found in every store. They are only sold in those markets that have a self contained "Bagel Factory" inside. And even then there may be no bialys, like in Rotterdam where they stopped making them about eight months ago. So if you plan to go exploring, it's best to call ahead.
But I make no claims beyond the ones at Eastern Parkway. So get to Schenectady, and stock up. It's not ideal, but you can freeze bialys and warm them up in the oven after they've been defrosted.
Just don't listen to anyone who tells you to slice them in half. They are heretics.
Daniel B. is the proprietor of the FUSSYlittleBLOG.
Find It
Bialys at Price Chopper
1640 Eastern Parkway
Schenectady, NY 12309
Hi there. Comments have been closed for this item. Still have something to say? Contact us.