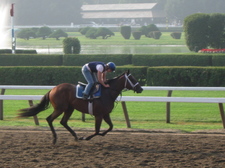 Andrew Cuomo and the legislative leaders announced today that they've agreed to create a "NYRA Reorganization Board" that will place horse racing org under direct state control. From the press release:
The NYRA Reorganization Board will be comprised of a majority of publicly appointed directors, with a Chair nominated by the Governor. The Board will be in effect for 3 years to restructure and reorganize NYRA, following which NYRA will revert back to majority private control. The current NYRA Board will be dissolved. The NYRA Reorganization Board will go into effect when a majority of the new public directors are appointed. Once appointed, the new board will conduct a national search for a new CEO and General Counsel for NYRA.
The short story behind all this: NYRA has been a train wreck.
The racing org was indicted by the feds on fraud and conspiracy charges in 2003, but worked out a deal to escape trial. It filed for bankruptcy in 2006 -- it emerged in 2008 thanks to the state waiving $200 million in debt and giving the org about $100 million for the deeds to race tracks at Saratoga, Belmont, and Aqueduct. It had to be propped up with a $25 million loan from the state in 2010. More recently, it was predicting that it was finally afloat for good (first profit in 11 years -- for an org that makes money from gambling) thanks to an infusion of cash from the Aqueduct racino deal -- but there were concerns NYRA would figure out a way to screw it up again. [BloodHorse] [BloodHorse] [Biz Review] [ESPN] [YNN] [NY Post] [Biz Review]
And then there's the takeout issue. Late last year it came out that that NYRA had been improperly withholding winnings from bettors. NYRA said it had done so as an "unintentional oversight." An investigation by the state's Racing and Wagering Board concluded it was actually the opposite. [TU] [NYT]
It was right about then that Andrew Cuomo apparently was honing his "You have failed me for the last time" speech. [TU]
So, what? Mismanagement, public benefit corporation, the state, blah blah blah -- what's all this matter to most of us? Well, NYRA pretty much is horse racing in New York. It operates the Saratoga Race Course, which is not only a good time for a lot of people in this area, it's also an important economic engine in this region. And it's been seriously broken.
While we're talking about horse racing: The NYT has an ongoing series about "death and disarray" at race tracks around the nation. It's sobering.
Hi there. Comments have been closed for this item. Still have something to say? Contact us.