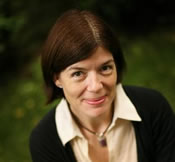 Claire Messud
The slate is up for this summer's New York State Writers Institute's summer public readings series in Saratoga.
Some of the names you might recognize: Rick Moody, Joyce Carol Oates, Jamaica Kincaid, Mary Gaitskill, Russell Banks, Claire Messud, William Kennedy (of course), and more...
JULY 2: Phillip Lopate (author, Against Joie de Vivre: Personal Essays; Waterfront) and Elizabeth Benedict (novelist, The Practice of Deceit; Almost)
JULY 3: Louise Gluck (Pulitzer Prize and National Book Award for Poetry) and Caryl Phillips (novelist, A Distant Shore; Dancing in the Dark; In the Falling Snow)
JULY 4: Allan Gurganus (author, Oldest Living Confederate Widow Tells All; White People) and Campbell McGrath (poet, MacArthur Award, Seven Notebooks; In the Kingdom of the Sea Monkeys; American Noise)
JULY 5: Paul Auster (author, Winter Journal; Invisible; The Brooklyn Follies) and Siri Hustvedt (novelist, The Summer Without Men; What I Loved)
JULY 6: Joanna Scott (author, Follow Me; Liberation; Arrogance) and James Longenbach (critic and poet, The Art of the Poetic Line; The Iron Key: Poems )
JULY 9: Frank Bidart (poet, Star Dust; Watching the Spring Festival; Desire) and Claire Messud (author, The Emperor's Children; The Hunters)
JULY 10: Jorie Graham (poet, Place; Sea Change; Dream of the Unified Field) and Victoria Redel (author, The Border of Truth; Lover Boy)
JULY 11: Rosanna Warren (author, Ghost in a Red Hat) and Margot Livesey (author, Eva Moves The Furniture, The Flight of Gemma Hardy )
JULY 12: Russell Banks (novelist, Lost Memory of Skin, The Reserve; The Darling) and Chase Twichell (poet, Horses Where the Answers Should Have Been; Dog Language)
JULY 13: Joyce Carol Oates (National Book Award, Mudwoman; A Widow's Story; them; We Were The Mulvaneys)
JULY 16: Mark Strand (Former Poet Laureate, Pulitzer Prize, Blizzard of One; Almost Invisible;) and Honor Moore (author, Red Shoes: Poems; The Bishop's Daughter: A Memoir)
JULY 17: Charles Simic (Former Poet Laureate, Pulitzer Prize, The World Doesn't End; Master of Disguises) and Danzy Senna (author, From Caucasia, with Love; You are Free: Stories)
JULY 18: William Kennedy (Pulitzer Prize, Ironweed; Changó's Beads and Two-Tone Shoes)
JULY 19: Ann Beattie (fiction writer, The New Yorker Stories; Walks With Men; Love Always) and Peg Boyers (poet, Honey with Tobacco, Hard Bread)
JULY 20: Amy Hempel (fictionist, The Dog of the Marriage) and Richard Howard (poet, Pulitzer Prize, Talking Cures; Inner Voices)
JULY 23: Darin Strauss (author, More Than It Hurts You; Half A Life ) and Binnie Kirshenbaum (novelist, An Almost Perfect Moment; The Scenic Route)
JULY 24: Jamaica Kincaid (author, Mr. Potter; A Small Place; Lucy) and Henri Cole (poet, Touch; Pierce the Skin; Middle Earth)
JULY 25: Mary Gaitskill (author, Veronica; Bad Behavior; Don't Cry) and Tom Healy (What the Right Hand Knows)
JULY 26: Rick Moody (fictionist, Demonology; The Four Figures of Death; The Ice Storm) and Francine Prose (novelist, My New American Life; Touch; A Changed Man)
JULY 27: Special Panel Discussion: Writers on the Presidential Election
Katha Pollitt (columnist, The Nation), James Miller (Democracy is in the Streets), and Robert Boyers (editor, SALMAGUNDI)
The readings are in Palamountain Hall on the Skidmore campus. They start at 8 pm. They're free.
The reading series is part of the Summer Writers Institute, which also includes courses in poetry, fiction, and nonfiction.
photo via Claire Messud Faceobook