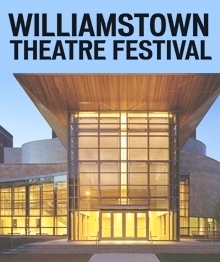 Skimming through the slate for this summer's Williamstown Theatre Festival, there are a bunch of names you'll recognize: Bradley Cooper, Patricia Clarkson, David Hyde Pierce, Lili Taylor, Susie Essman, Lewis Black, and others.
The schedule -- with a few highlights -- is after the jump. Performances start toward the end of June.
Here's a guide to buying tickets for the festival. Tickets are currently available by mail for donors. Online ticketing starts June 4.
Here Lies Love
June 21, 22 & 23
June 23 & 24
The Hunter Center at MASS MoCA
Written by David Byrne
Music by David Byrne and Fatboy Slim
Directed by Alex Timbers
The Importance of Being Earnest
June 26 - July 14
By Oscar Wilde
Directed by David Hyde Pierce
The Blue Deep
June 27 - July 8
By Lucy Boyle
Directed by Bob Balaban
Among the cast: Blythe Danner, and Heather Lind -- who's from Guilderland and been a recurring character on Boardwalk Empire
The Importance of Being Lewis
July 9
An Evening of Stand-up with Lewis Black
Last of the Red Hot Lovers
July 11 - 22
By Neil Simon
Directed by Jessica Stone
Among the cast: Lili Taylor, Susie Essman

Far From Heaven
July 19 - 29
Book by Richard Greenberg
Music by Scott Frankel
Lyrics by Michael Korie
Directed by Michael Greif
Susie With an Ess
July 23
A Night with Susie Essman
(She lives in Bethlehem some of the time, you know.)
The Elephant Man
July 25 - August 5
By Bernard Pomerance
Directed by Scott Ellis
Cast: Bradley Cooper and Patricia Clarkson

A Month in the Country
August 1 - 19
By Ivan Turgenev
Translated by Richard Nelson, Richard Pevear & Larissa Volokhonsky
Directed by Richard Nelson
8
August 6
by Dustin Lance Black
"... a one- night-only reading of 8 by Dustin Lance Black, the Academy Award-winning writer of Milk and J. Edgar. This unprecedented documentary play chronicles the federal legal challenge to overturn California's Proposition 8, which banned the freedom to marry for gay and lesbian couples and cast a glaring light on one of the most contentious social issues of our time."
WHADDABLOODCLOT!!!
August 8 - 19
By Katori Hall
directed by May Adrales
Hi there. Comments have been closed for this item. Still have something to say? Contact us.