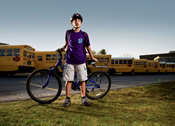 The bizarre drama over whether a kid should be able to ride his bike to Maple Ave Middle School in Saratoga is rehashed in a recent issue of Bicycling magazine. The long article by David Darlington -- "Why Johnny Can't Ride" -- details the many turns in the story, but also argues it's part of a broader context involving health, urban planning, and helicopter parenting:
Schoolwise, this might be referred to as the Maple Avenue Mind-Set: passive acceptance of a status quo that promotes not only pollution and disease but also the lesson that children (who grow up to be citizens--and parents) are helpless. Amid this grand civic failure, the chief cause for encouragement comes from individuals who refuse to give in: the Marinos, Olsons, Skenazys, and Robinsons who prioritize fresh air and exploration and exercise, the powers-that-be be damned.
In a twist we wouldn't have guessed, the Shen school district and its superintendent -- Oliver Robinson -- are held up as an example of a more bike-friendly district.
(Thanks, Jess)
photo: Nathaniel Welch / Bicycling
Hi there. Comments have been closed for this item. Still have something to say? Contact us.