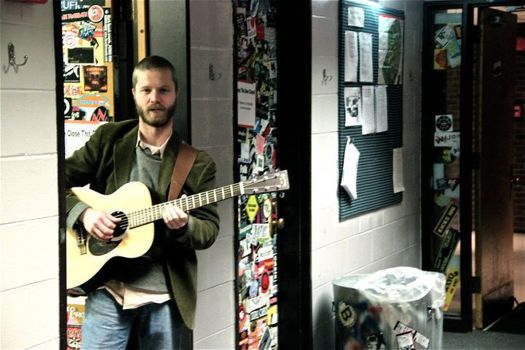 It's Monday, which means WEXT is running another My Exit show -- where the listeners get to pick their own playlists.
Here's a look at what's coming up tonight:
Who?
M.R. Poulopoulos / Born in Albany, living in Voorheesville / I write songs. You can listen in here and here.
How would you describe your taste in music?
I listen for the performance.
A few songs from M.R. Poulopoulos' My Exit:
"Birds of the Borderland" by The Stray Birds
When The Stray Birds play, there is no barrier between them and their song. They are true musicians, fine songwriters, and young and vibrant folks, too. They are my favorite recent discovery. Catch them at Moon and River in Schenectady on Monday, June 4. They "give it." Seriously.
"Train to Jackson" by Jeffrey Foucault
Foucault's album Ghost Repeater made me again believe in the vitality of songwriting, and became a portal through which I found a bevy of fresh, smart and poignant songwriters. This cut is a forceful song that hovers in the mystical space between delirium and experience.
"Grandpa Built Bridges" by Danny Schmidt
I first heard Danny play this tune on the floor of a hotel room after his set at Caffé Lena. He told us he wrote it for a friend, and while the song is personal, it strikes a common chord. It makes me appreciate what remains after that which we love fades.
"Plumb Line" by Kelly Joe Phelps
Kelly Joe Phelps is a master; a dizzying combination of talent, soul and dedication to his art. This recording captures a genuine performance and is a good example of Phelps' boundless sonic and literary imagination.
"Time Stands Still" by Chris Smither
I've heard Smither referred to as a veteran songwriter. I call him "General." His command over the turning of a phrase is second to none, and his content usually leaves me speechless, bringing perspective to my thoughts and feelings. It's as though he can translate the unintelligible, unformed sounds on the tip of my tongue. This tune bares it all in a beautiful light. Yes, sir.
You can hear M.R. Poulopoulos' My Exit show Monday night at 8 pm on 97.7 or at exit977.org.
Here's how to schedule your own My Exit show on WEXT.
Hi there. Comments have been closed for this item. Still have something to say? Contact us.