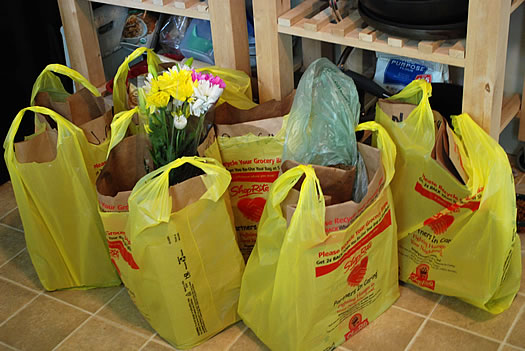 By Nicole Lemperle Correia
Supermarket Week is back on AOA. All this week we'll have posts comparing, thinking, and talking about supermarkets. Hey, we all have to eat.
I've been hearing a lot lately about home grocery delivery. The new Albany ShopRite offers home delivery, and the Westgate Price Chopper recently rolled out a similar service (and made sure we knew about it -- we received Price Chopper flyers advertising the service in the mail every day for weeks).
I've been intrigued by the idea. After my daughter was born last year many things changed within our family, including my work schedule and our income. I usually do each week's shopping on my Mondays off, with my one-year-old in tow. Sometimes this is awesome. Sometimes it means rushing through the store doing everything I can to stave off a toddler meltdown ("Here, hold this bag of beans. No no, don't eat the bag. Ok, now we have to give it to the lady to scan. She'll give it back! I promise!") And then there's the part where I do a circus routine to get the baby and the groceries in the house.
The idea of having someone else do the shopping -- and deliver the goods to my door -- is very appealing. So recently I gave each service a go.
Fees
Price Chopper Shops 4U charges a $10 service fee, which they were waiving through May 27. The delivery fee is $5.95.
ShopRite from Home offers free delivery for orders over $100, otherwise delivery is $6.95. There is no service fee.
See each store's site for information about delivery areas and schedules. Both chains cover a good portion of Albany and Schenectady counties via their locations in Niskayuna and Albany. The Albany ShopRite also delivers to parts of Rensselaer County.
Ordering
I placed grocery orders with each service over the weekend, to be delivered late in the day on Monday. I expected to compare the two ordering experiences, but it turns out both chains use the exact same grocery ordering system, so the experiences are nearly identical.
The ShopRite from Home landing page is very informative -- it lays out the home delivery program and fees, and gives a good overview. The Price Chopper Shops 4U page has fewer details but provides the information you need.
When you order through either service you are able to view the items on sale that week. You can view a PDF of the flyer from the store's home page, or view the sales as you search for items. (Be aware that sales for the day your groceries are delivered will be honored -- not the day you order. Sales generally run Sunday-Saturday). I really liked that you can easily compare unit prices across brands -- it was much easier in the online ordering system than doing so in the store.
That's one good thing for the budget-minded shopper. The downside to the online ordering is that you won't find the variety that you'll find in the store. I had trouble finding the store brand of certain items, so if you're the type who generally buys the generic store brand, the online ordering could be frustrating.
With both stores you must indicate whether substitutions are okay -- meaning that if the exact item you ordered is out of stock, the person filling the order may sub in a similar item. I said okay to subs.
Oh, and you must have a member card for both services, but if you don't have one they'll create an account for you and deliver the physical swiper cards. Since placing an order creates an online account for you, both systems allow you to save grocery lists, which is a nice feature.
You'll get an emailed confirmation of your order, and can call with changes or additions up until a couple hours before the scheduled delivery.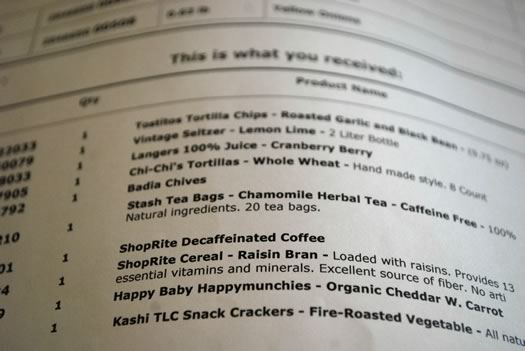 Payment
Both stores offer pay-on-delivery via cash, check (with pre-approval), or credit card. ShopRite allows online payment, Price Chopper does not. I opted to pay both on delivery.
If you have coupons to present upon delivery, they will be validated and the credit applied on your next grocery order.
The Deliveries
ShopRite from Home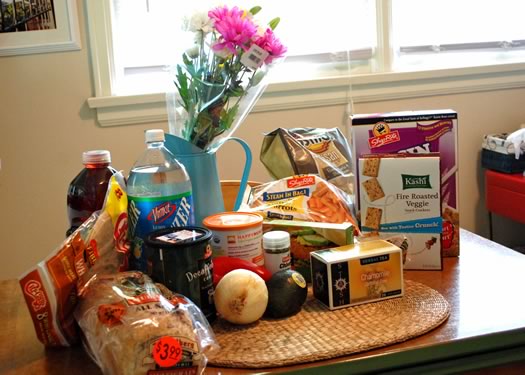 I requested that my ShopRite order be delivered on Monday, May 7 between 3 and 5 pm. The delivery van showed up at 3:39 (minutes after I got my daughter down for her afternoon nap -- phew!). When I answered the door, the delivery man was there with a (free) bouquet of flowers and my groceries. Oh, my!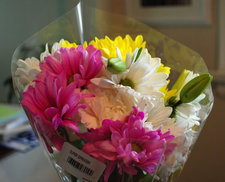 He asked where I'd like the groceries, and I had him bring them right into the kitchen (so awesome). He was extremely professional and friendly. He told me which were the perishables, and handed me three things:
+ A print out of the items in my order (substitutions noted).
+ The register receipt/coupons.
+ A delivery confirmation, to be signed in two places: confirming that the order was received in good condition, and another for authorizing my credit card to be charged. (There is also a spot for signatures relating to a pharmacy order, which I didn't have.)
Once all my groceries were inside and I had a chance to take a quick look to see that everything was there, he took out the credit card scanner and I paid.
All in all, a very pleasant experience.
The order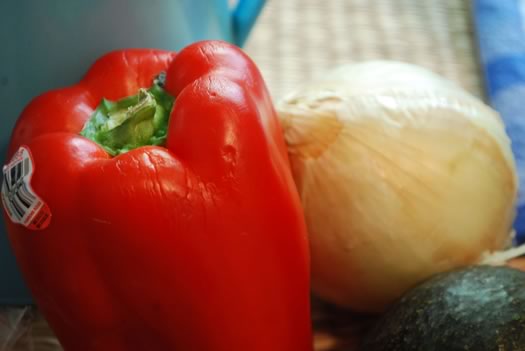 Overall, I received exactly what I ordered.
Quality of produce was one of my biggest concerns. And to be honest, the quality was "eh." It wasn't horrible, but I don't think it was as good as what I would have picked out myself. The onion was a bit soft, the red pepper a bit wrinkly and sad looking.
Other than produce, the two issues I encountered relate more to the ordering system.
I ordered decaf whole-bean coffee (we've gotten in the habit of mixing half decaf whole beans with half-caffeinated beans for our morning blend, so we always have a bag of each on hand). When I placed my order, I had selected a bag of decaf whole-bean coffee, but when it appeared on the list, it only showed up as "decaf coffee." I should have noticed that in my order confirmation, but I didn't. It's annoying that you can place an order for something but have it appear differently on the final list. The discrepancy wasn't the fault of the person filling the order, and we did get coffee, but it was ground, not whole bean.
The other problematic item was whole wheat English muffins -- another thing we're particular about. It's hard to find truly whole wheat English muffins that list "whole wheat" as the first ingredient -- Thomas' has them, and Price Chopper's Central Market brand carries them. I thought the brand I ordered from ShopRite was indeed whole wheat, because the detailed description/ingredients listed them as such. When they were delivered I realized that they weren't actually whole wheat. It's a nitpicky thing, but one of those things I'm always careful about checking for at the store, and a staple of our household diet. (We love our egg sandwiches in the morning, what can I say.)
Otherwise, everything was as ordered -- from the somewhat odd (Happy Baby Happymunchies in Organic Cheddar with Carrot) to the more run-of-the-mill (Part Skim Ricotta Cheese, Vintage Seltzer - Lemon Lime).
Update May 30, 2011: Nicole says ShopRite contacted her after seeing this post so it could deliver the correct coffee and a new, un-wrinkled pepper.
Price Chopper Shops 4U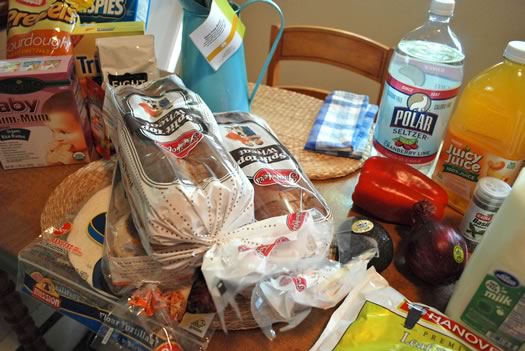 I scheduled the Price Chopper delivery for Monday, May 7, between 4 and 5:30 pm. It was a bit risky -- what if they showed up at the same time as ShopRite?? Awkward! Luckily, that didn't happen.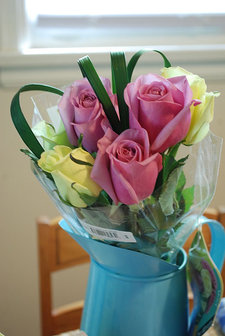 The Price Chopper van pulled up at 4:30. The delivery man came to the door with the credit card scanner, and requested payment before bringing any groceries in. Once I paid, he brought the bags to my front step, but didn't offer to bring them inside (he seemed a bit uncomfortable in the delivery role). He did, however, have roses. (What were the neighbors thinking? Two grocery deliveries within an hour, both men handing me flowers? Scandal!) So both stores are on board with the "free flowers with your first delivery." It's a nice touch, and a week later the bouquets still looked lovely.
The Price Chopper paperwork was less polished -- a hand-written form that was filled out by the person filling my order, noting substitutions (I actually liked this), and a card with the name of my personal shopper, plus the register receipt. Overall, the Price Chopper delivery experience just felt less professional. Not terribly so, but it was clear that they're new at this.
The Order
Earlier in the day I had received a call from Mary, my Price Chopper Personal Shopper (doesn't that sound hoity toity?). She had two questions: First, they were out of the Central Market whole wheat English muffins, but Thomas' were on sale -- buy one, get two free. Could she sub those? I said of course -- that was a great deal. Secondly, the Freihofer's whole wheat bread I'd ordered was also buy one get one, would I like the second one? Certainly -- somehow I missed that when ordering. This also gave me a chance to add milk to my order -- I hadn't noticed we were almost out when I placed the order.
Unfortunately, the English muffins were a fail again. I only received one package, despite being asked about the buy one/get two deal. And they were "Honey Wheat" -- not whole wheat. I purposely ordered these from each store because they are a staple that we are so particular about -- and didn't receive what I wanted in either case. The lesson there is that if there's something specific you are especially particular about, maybe you should just pick it up yourself rather than ordering it online.
I did, however, receive the two loaves of bread. I also received the milk that I added to the order at the last minute.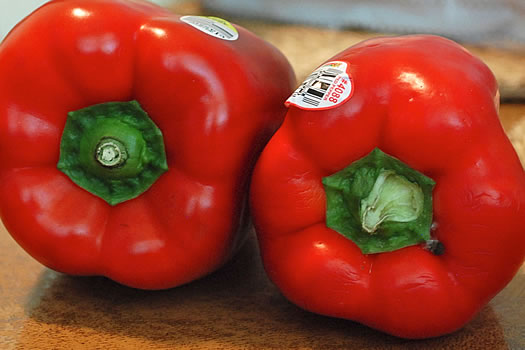 The pepper from Price Chopper is on the left, ShopRite's wrinkly pepper is on the right.
Otherwise, the Price Chopper order was spot on. The produce was great -- the red pepper was large, and fresher than the pepper received from ShopRite.
Would I do it again?
The home delivery option is great to have. If there's a week that is particularly busy for my family I would certainly consider using it again. It would also be handy for something like a big event -- placing a large order for a big party or holiday, and having the groceries delivered would be very helpful.
Nothing was missed from my order with either service. In the future I would scrutinize the order confirmation and the way each item appears, and not just that it's there. I'd also shy away from ordering anything I hadn't bought at the store before, since I'm such a reader of labels and that information doesn't seem to be accurate in the online system.
I do think I spent more money than I would have if I were shopping in the store, even without the delivery fees. I comparison shop, I read labels, I shop the sales, and I stick to my list. Most of that is harder to do online, although maybe it would improve if you were ordering online every week. If you tend to fall into impulse buying, you might find that you spend less since you're spared the end-caps and checkout-line temptations.
An unexpected downside was the number of bags. I usually bring my own reusable bags to the grocery store. Aside from the environmental factor (and the small bag credit most stores are giving now), I prefer to avoid having loads of plastic bags shoved under the kitchen sink. If you have your groceries delivered, be prepared for a lot of bags. ShopRite double bags, paper inside plastic. That travels well and looks nice, but creates a lot of extra waste.
It's awesome to have delivery options in Albany, and further proof that competition is good for the local chains. And hey, two strangers handed me bouquets of flowers on a Monday afternoon -- I can't complain!
Nicole Correia attempts blogging at It's Loverly and can be found on Twitter as @nicorreia.
Hi there. Comments have been closed for this item. Still have something to say? Contact us.