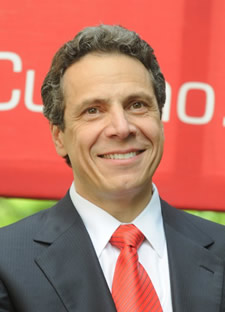 The Quinnipiac Poll out today reports that Andrew Cuomo's approval rating has hit 71 percent -- the highest level for a New York governor as measured by the Q poll since George Pataki hit 81 percent shortly after 9/11.
Cuomo's approval mark hit a high mark of 77 percent in the Siena poll in February. The polling over the last few months prompted a Washington Post writer to declare Cuomo "most popular governor in the country" back in April.
Of course, if you've followed New York politics for any length of time, the next natural thought is: there's no where to go now but down.
A few other bits from the Q poll:
+ 78 percent of respondents supported some sort of raise in the state's minimum wage.
+ Respondents supported making teacher evaluations public 56-40.
+ Respondents support "the creation of Las Vegas-type casinos" 56-33 -- but support for changing the state constitution to do so is 49-42.
Hi there. Comments have been closed for this item. Still have something to say? Contact us.