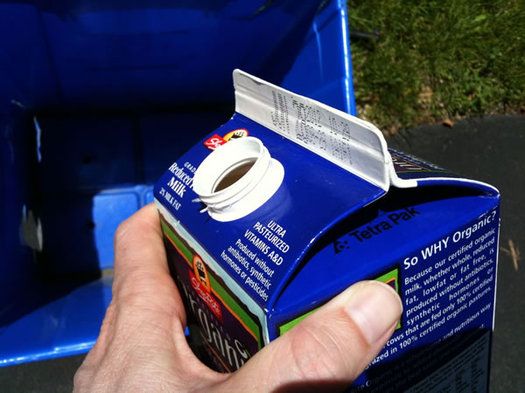 When we retrieved our recycling bin from the curb last week, we noticed that a milk carton had been left behind -- with not a can or bottle to keep him company. Hmm, we thought -- aren't those recyclable?
We mentioned the question on Twitter -- and the consensus was: yes... no... maybe. Other people had the same question.
So we did a little research.
Cartons 101
A quick course on food/beverage cartons -- there are generally two types: gable top (example: milk cartons) and asceptic (example: juice boxes, boxes of soup or broth). Gable top cartons are constructed of cardboard sandwiched between two layers of plastic. Asceptic cartons are cardboard, plastic, and a thin layer of aluminum -- that layer allows the stuff inside to stay shelf stable for a much longer period of time. (A European company called TetraPak is responsible for the popularity of much of this type of packaging.) [Carton Council / Earth 911] [Wikipedia]
So, recyclable or not?
The short answer: yes -- according to Meghan Ruby, the recycling specialist for the city of Albany.
"Pretty much any drink carton is recyclable," she told us today. She said the companies that harvest the recyclable cardboard from the cartons have figured out ways of separating it from the plastic and aluminum. And she says there's demand for that material: "Even though there's a layer of plastic, the paper in between is very high quality."
OK, but what about the plastic spout on milk and juice cartons?
Not a problem, she says. "The processors of the cartons have ways of dealing with those -- it's like the plastic rings on soda bottles -- they can separate them out when they get to the recycling facility."
What about caps?
Caps are still a no go. Ruby says they tend to fall through the machinery used by recovery companies, so they're not collected.
Ruby says pretty much any food or beverage container can go in the bin. Keep an eye out for plastics that don't have a recycling symbol with a number -- those are often not recyclable. Any plastic number 1-7 is fine in Albany.
And, of course, containers should be cleaned out before going in the bin.
So why was our milk carton left by himself? Ruby says she's not sure -- it could have just gotten stuck in the bin. It happens.
The city of Albany is a member of a recycling partnership that includes 12 other regional municipalities. Ruby says those municipalities generally follow the same guidelines, but the recyclables from each town don't necessarily end up at the same recovery facility, so there may be a few differences. Your carton mileage may vary. If you're not sure, give your town a call.
Earlier on AOA: Albany switches to single-stream recycling
Hi there. Comments have been closed for this item. Still have something to say? Contact us.