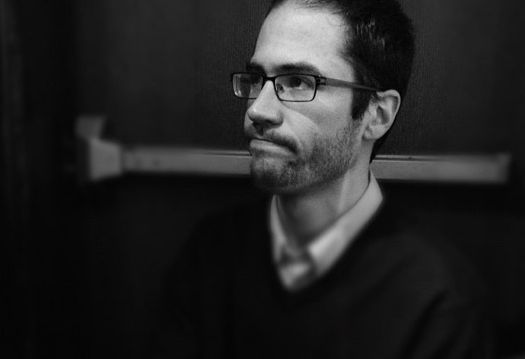 It's Monday, which means WEXT is running another My Exit show -- where the listeners get to pick their own playlists.
Here's a look at what's coming up tonight:
Who?
My name is Andrew Rickert and I grew up in Guilderland and live in Delmar. I teach ninth grade English at Lansingburgh High School and coach track and cross country at The College of Saint Rose. I have a two-year-old son with my high school sweetheart, Jen. When I'm not running around like crazy, I love catching live music performances by some of my favorite artists. I also blog about my adventures in coaching/running so follow me and the team on coachrickert.tumblr.com!
How would you describe your taste in music?
My taste in music has evolved dramatically. I was a hip-hop head in my teens but fell in love with acoustic singer-songwriters in college thanks to Dave Matthews, Adam Durtiz, and Ben Folds. As I've grown older my ear drifted into alternative-country (Wilco, Drive-By Truckers, Ryan Adams) and followed folky-rootsier groups (Mumford & Sons, Iron & Wine, The Civil Wars). Lately my interest has taken a markedly electronic turn (Radiohead, Foster the People, Gotye) but the singer-songwriters still have my attention and I'm always looking to discover emerging artists with soul in their sound.
About 5 songs from your show:
"Little Talks" by Of Monsters and Men
Sweet new sextet from Iceland. As someone who teaches Steinbeck, you have to appreciate their name. I love how lead vocals are shared equally between a male and female and yet they each bring something to the song and neither compete for the spotlight. Strong brass section on this tune and sound lyrics. Saw them at Jillian's in April and loved their show. Brilliant debut album--all the way through. Can't wait to hear more!
"On the Ocean" by Guster
I've been following Guster since their early college days and you'd be hard pressed to find a band with a better sense of humor. For crying out loud, they wore mullets and opened for themselves at The Palace about ten years ago! I feel like I've grown up with them as they've married and made families for themselves. This song displays their mature side and contemplating what it's like getting older and facing an uncertain future.
"Beach Ball" by Dave Matthews Band
Anyone who knows me knows I love DMB. I've been to nearly twenty shows now and I can't wait to see them for the summer tour! I choose this song because I couldn't possibly pick a favorite so I decided to go with a jazzy little b-side from the "Big Whiskey" sessions which few are familiar with. Dave brings me joy. Plain and simple. He reminds us how precious life is and this song draws a simple analogy between the world and a beach ball. I'm sure there will be quite a few bouncing all over SPAC in June!
"Everybody Knows" by Ryan Adams
One of the most prolific singer-songwriters of our time. Ryan Adams is amazingly gifted and his catalog is incredibly deep and incredibly strong. He experiments with black metal and trip hop at times, but this song is what he does best. He's struggled with demons over the years, drunken tirades on-stage which have led to cancelled shows and even a disease which threatened his hearing but since marrying actress Mandy Moore in 2009 he's seems to have straighten his life out. I only hope that the songwriting continues!
"Lost in My Mind" by The Head and The Heart
Great new folk-rock band from Seattle. They have three strong vocalists and melodies which will follow you for weeks. This is one of my favorite tracks because of the harmonies and it's slowly building crescendo toward the climatic "I GET LOST!" Another fantastic debut album from which I could have selected about five different beautiful examples from. Besides who can't sympathize with the feeling of being lost in your own mind, right? Isn't that why we listen to music?
Thanks to KTG and MyExit 97.7 for allowing me to share my playlist!! I hope you enjoy!
You can hear Andrew's My Exit show Monday night at 8 pm on 97.7 or at exit977.org.
Here's how to schedule your own My Exit show on WEXT.
Hi there. Comments have been closed for this item. Still have something to say? Contact us.