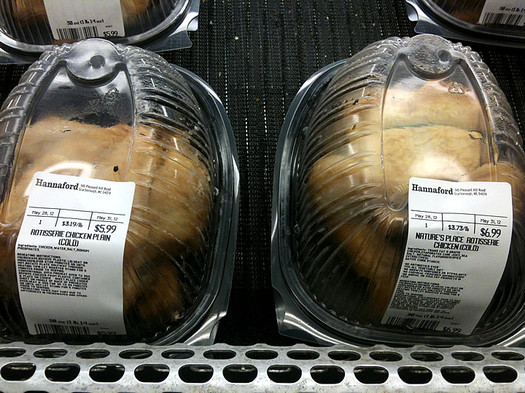 By Daniel B.
Could the best chicken dinner in the Capital Region come from inside a plastic box?
Every fiber of my being is telling me not to write this story. There are precious few Nature's Place rotisserie chickens in the case at my local Hannaford to begin with. Often I get the last one or two. Sometimes I have to wait around until the next batch comes out of the oven. So if even just a few people decide to make this a regular part of their Friday night supper, I might find myself in the lurch.
Not all the Hannaford rotisserie chickens are created equal. The Nature's Place birds are special. Occasionally you have to look closely at a label to make sure you are getting the right one. But you can always tell, because the Nature's Place chickens are trussed with a green string.
Now, I'll admit that it doesn't look like much sitting in its little plastic prison, especially the ones that are a day old and chilled in the cold case -- but these are actually the very best specimens. It sounds a bit odd, and I don't blame you for being suspicious. However, this chicken exists in the fortuitous intersection of quality, convenience, sustainability, taste and value.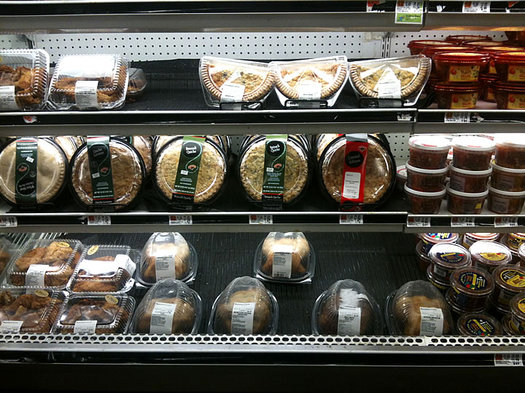 "Naturally raised" is a meaningless claim when it comes to food. Even though many of the practices used to raise conventional chickens might not sound terribly natural, there is nothing from preventing a producer from using that label.
My ideal chicken comes from a local farmer. There it lives the life of a chicken, roaming around, pecking in the dirt, eating bugs, and potentially being supplemented with a diet of organic farm-grown grains. I'm on the fence about whether it's slaughtered by hand on the farm in a humane manner or if it is brought to a facility that has the capacity to air chill the birds (instead of dunking the carcass into a vat of treated water). It arrives fresh and not frozen, so that I can slather it with melted butter, salt and pepper. After which I slow roast the chicken at an unconscionably low (and potentially dangerous) temperature until its breast is juicy, the thighs are cooked through, and the skin is cracker crisp.
This is not that.
That costs a lot of money and takes a lot of time. It's not for the novice. But for special occasions it is totally worth it. Before you step up to the big leagues, you can practice your chicken carving skills on these really delicious and much less expensive birds.
Hannaford says that their Nature's Place chicken is "fed [an] all vegetable diet." The only reason this is good is it provides further assurances that there are "no animal or poultry products in [the] feed." Chickens can be fed cows that were deemed unfit for human consumption. It's kind of gross. Hannaford also says that these chickens were "raised in a way that provides humane living conditions" and were fed "no antibiotics ever."
That is pretty great for a supermarket chicken.
From plastic and pallid to roasted and toasted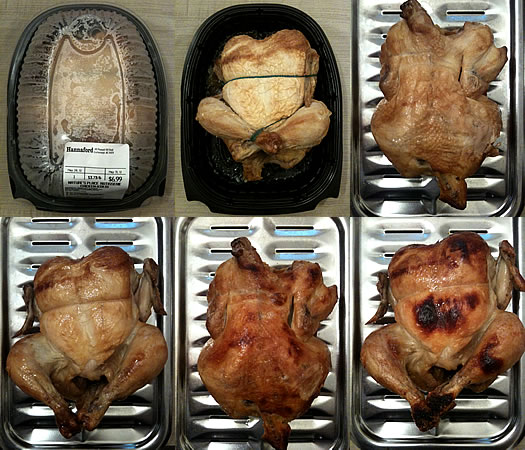 There is a small catch. And that is, to bring this chicken to the apex of its glory you are going to have to do a very small amount of work after you bring it home. Now this is going to vary just slightly depending on if you bring home the chicken cold or hot.
Hot is the easiest.
For hot you simply need to put the chicken on a roasting rack, and place it on a high oven rack so that the top of the chicken is just a couple inches away from the heating element. You do this backside up first, and crisp the bottom of the chicken. Then you take it out, turn it around, and do the same thing to the breast side.
If you get the chicken from the cold case, you will need to heat it up first before crisping its skin. This is crazy easy. Some will tell you to pat dry the skin, and brush it with a little olive oil first. You can do that if you want, but it's really not necessary. Simply put it uncovered in a 325 degree oven for 25 minutes. Then proceed with the directions above for what to do with a hot chicken.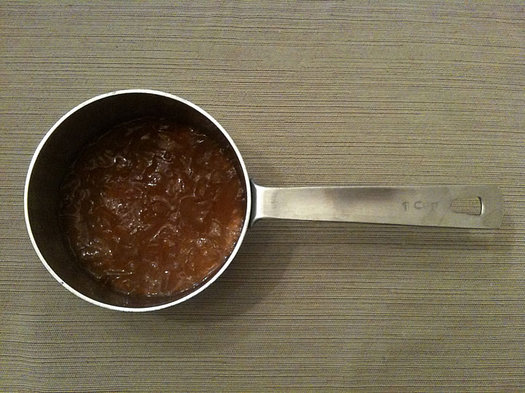 Should you be lucky enough to get your chicken cold, you are likely to find in the bottom of the container a bunch of golden and gelatinous goo. This isn't actually chicken stock, but it can serve a similar function and provide the base for a sauce. Scrape every last morsel of that precious substance into an appropriate pan, boil it with a little water, dry vermouth, and potentially some herbs if you like. Then at the end, whisk in more butter than you think is sensible.
Hot chickens come with some of these drippings still in their liquid form, and you can treat these similarly. However I've found on average the cold chickens to have a greater quantity of the stuff.
That, along with some quick side vegetable and starch, makes for a quick and simple meal.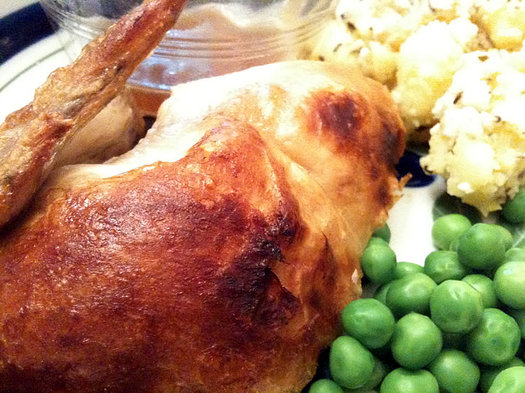 The other bonus is that when you eat all the meat from the bones, you can wrap up the carcass and throw it in the freezer. Once you've assembled five of them, you are ready to make a batch of genuine chicken stock.
Amazingly, this high quality, delicious, tender, juicy, flavorful, and sustainable chicken costs a mere $7.99 hot, $6.99 cold, and on rare occasions can be found cold with a one dollar off coupon on its carton.
I just hope that when you start showing up to eat these chickens that Hannaford will start to make more. If they don't, I'm bringing my family over to your house.
Daniel B. is the proprietor of the FUSSYlittleBLOG.
Say Something!
We'd really like you to take part in the conversation here at All Over Albany. But we do have a few rules here. Don't worry, they're easy. The first: be kind. The second: treat everyone else with the same respect you'd like to see in return. Cool? Great, post away. Comments are moderated so it might take a little while for your comment to show up. Thanks for being patient.