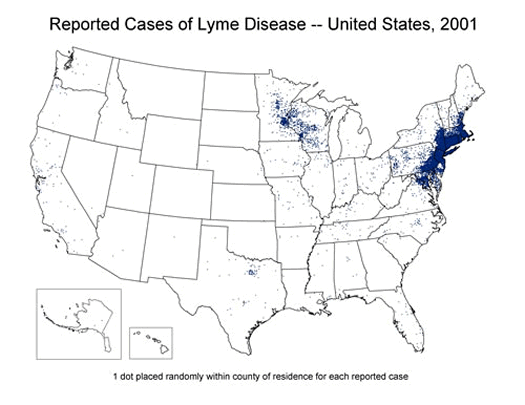 Mappage: We came across this CDC map of reported Lyme disease cases over the last decade (ending in 2010). The CDC site allows you to switch from year-to-year -- we piled all those years into the animation above.
The thing that struck us about the map is the way it illustrates how Lyme has spread from the coast and the very central part of the Hudson Valley to the entire Northeast (as well as Wisconsin and Minnesota).
As it happens, the number of reported cases in New York was down noticeably in 2010, the last year for which the data's posted by the CDC. The state's incidence rate that year -- confirmed cases per 100,000 people -- was 12.3 that year (12th highest in the country). It was 21.2 in 2009, and 29.5 in 2008.
Delaware led the nation in 2010 with a rate of 73.1. Vermont's rate was 43.3 that year, and Massachusetts' 36.3.
Earlier this spring a research org in the Hudson Valley -- the Cary Institute for Ecosystem Studies -- reported the "northeastern U.S. should prepare for a surge in Lyme disease this spring." And the reason wasn't the mild winter. Rather, researchers based their projections on mice and acorns:
"We had a boom in acorns, followed by a boom in mice. And now, on the heels of one of the smallest acorn crops we've ever seen, the mouse population is crashing," [Dr. Richard S.] Ostfeld explains. Adding, "This spring, there will be a lot of Borrelia burgdorferi-infected black-legged ticks in our forests looking for a blood meal. And instead of finding a white-footed mouse, they are going to find other mammals--like us."
One thing we did notice about the warm spring -- the ticks were out early.
Here's a New York State Department of Health page about Lyme, with info about how protect against ticks.
This past May, at a conference at Skidmore, Chris Gibson and Paul Tonko said they're pushing for a federal advisory council to better coordinate and publicize treatments for Lyme and other tick-borne diseases. [Daily Gazette]
Bonus bit: The name "Lyme disease" dates back to a cluster of cases near Lyme, Connecticut in 1975. But the earliest-known case of infection with the bacteria that cause the disease:a 5,000-year-old mummy found in the Alps. [Wikipedia] [National Geographic]
[map via @AndyArthur]
Hi there. Comments have been closed for this item. Still have something to say? Contact us.