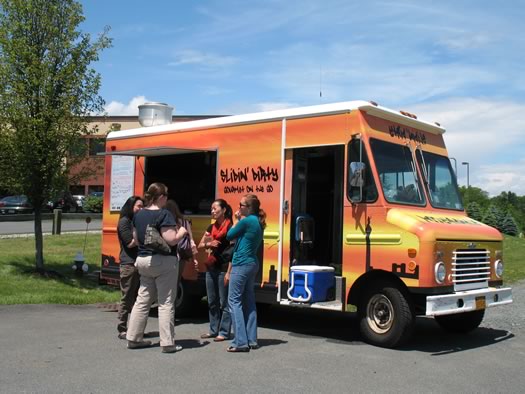 After hearing Danika and David rave about a food truck in downtown Troy -- "perhaps the best lunch in Troy" -- we figured it was worth tracking down. Also: we were hungry.
So today we caught up with the Slidin' Dirty food truck at the East Greenbush Tech Park and talked with its owners about sliders, fried avocado, tiny kitchens, and how the Capital Region could be a bit more food truck friendly.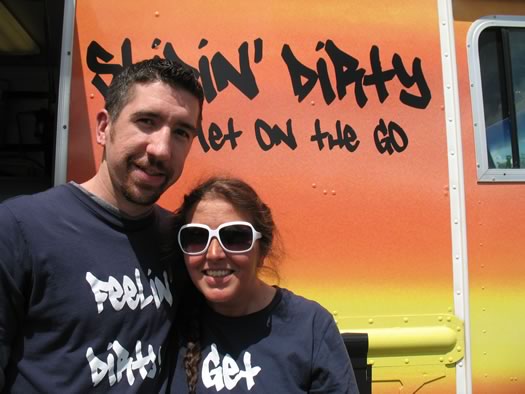 Slidin' Dirty is the creation of Tim and Brooke Taney, a married couple with two small children from East Greenbush. Until recently, Tim was the food service director at Hudson Valley Community College. And Brooke has her own crafting business -- she sells at the TightKnit market in Troy.
"After you've worked contract food service for a while, it stops being about food," Tim told us today, alluding to how all the focus is on budgets, staffing, and management. "I wanted to get back to a sort of grass roots food service."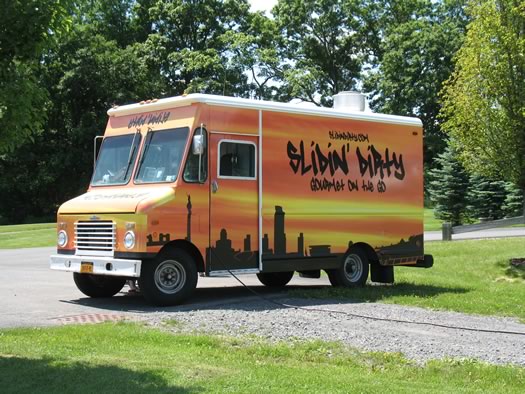 So he and Brooke looked for a new opportunity. They originally thought they'd open a restaurant, but the startup costs were daunting. So they turned their attention to a food truck. They found an old FedEx truck, modified it themselves with the help of friends and family, and were on the street for the first time on St. Patrick's Day. They've only been operating regularly for the last few weeks.
And what about the name? Tim says they were trying to think of some play on sliders, and then he heard the Chamillionaire song "Ridin'" ("ridin' dirty" is party of the chorus) and it clicked. Also, they liked the way the name sort of spoofed the notion of the dirty water hot dog truck.
"Our lawyer said to us: Are you sure you want 'dirty' associated with the name? But Brooke insisted. She loved it."
The food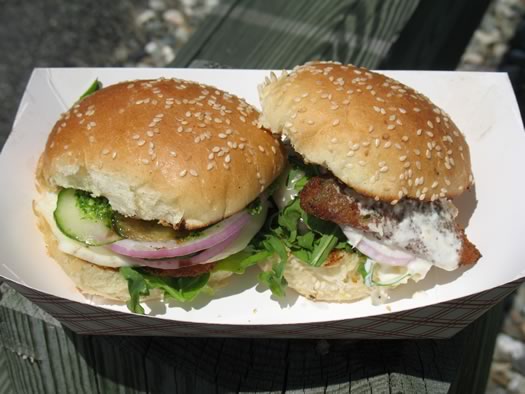 Slidin' Dirty's main focus is sliders. We tried two of them today: the "Avocado Beef" -- a beef patty with fried avocado and horseradish cream; and the "Dirty Veg" -- fried tomato with fresh mozzarella, pesto, and a balsamic reduction. They were good. The burger was juicy, the toppings crisp. And the fried avocado -- not bad! Crunchy and then creamy. The veggie sandwich was flavorful thanks to some zippy pesto.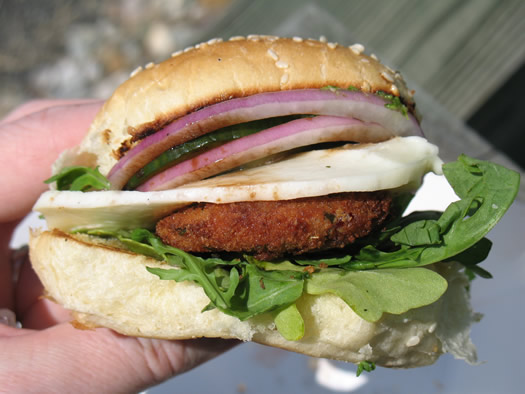 The Dirty Veg.
Tim says they're aiming to serve gourmet food that's creative and easy to eat. For him, that means: "Buy it fresh, serve it fresh. Good ingredients. We make just about everything from scratch."
They've managed to squeeze a full size residential fridge, a deep fryer, a flat top, a convection oven, and a crock pot onto the truck. Still, there's only so much room -- so they have to focus their list of ingredients. But they're managing to turn out some creative food, rotating options on the menu (today's posted menu).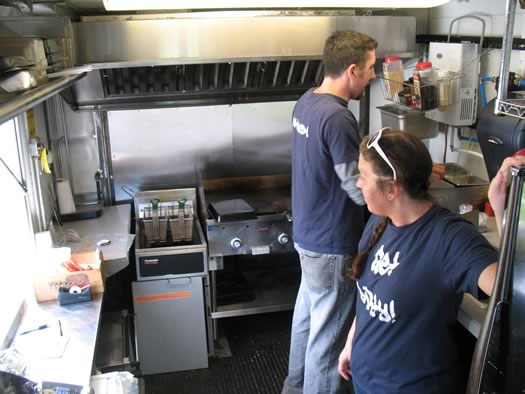 For example, one of the sliders available today was "fish and chips" -- a beer-battered piece of haddock with cole slaw, tartar sauce, and a crispy potato pancake on the slider.
And there's the fried avocado, which we have to admit we were a little skeptical about. Explained Brooke: "I'm a big avocado fan, I love guacamole. And we've never seen anybody in the area [serve fried avocado]. So we tried it, had some people taste it, and it was a hit."
And, as we said above, it's good. Brooke says they usually sell out of the fried avocado -- they also offer it as avocado "fries" -- on the days they offer it.
Challenges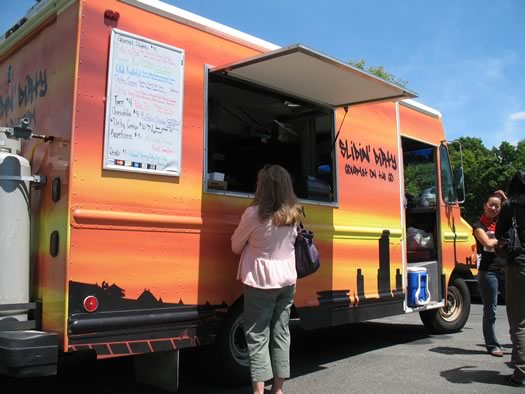 In addition to the culinary challenges, Tim and Brooke says they've also had to learn a lot about how to navigate all the various permitting processes in the Capital Region -- processes that aren't necessarily food truck friendly.
"Troy wasn't sure what to do with us," Tim says of approaching the city for permission to set up downtown. He says the city's codes make it hard for food trucks -- for example, technically a truck isn't supposed to operate within 200 feet of another business. They were able to work things out with help, though. "[The downtown Troy BID's] Elizabeth Young has been really good to us," said Tim.
The city of Albany is another challenge. Outside of Capitol Park, Tim says the rules make operating a food truck difficult anywhere that's not private property. But, like with Troy, they're trying to work through the issues.
The municipal structure of the Capital Region also makes things difficult. Even though the rules from county to county are basically the same, Slidin' Dirty had to get separate licenses for Rensselaer and Albany counties. It's hoping to get its Saratoga County license this week. And they're looking at Schenectady County, too -- but the time and money involved adds up.
Building a food truck culture
"There are a lot of cities where food trucks are a staple," said Tim, pointing to places such as LA, where trucks travel around the city, communicating with customers via Twitter and Facebook. "We'd like to bring that here."
He and Brooke talked today about wanting to see other food trucks take to the streets of the the area -- and maybe they could coordinate meetups in order to offer a range of options.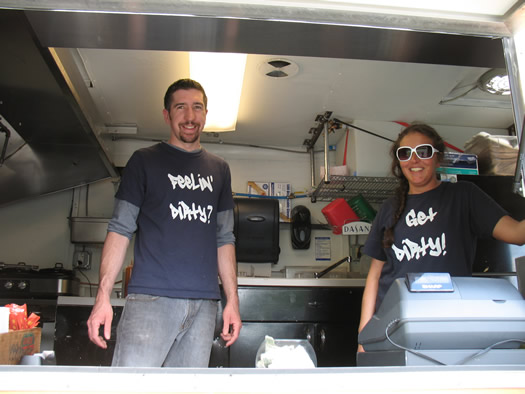 Whatever happens, it sounds like the couple is enjoying the change in their life. "We definitely get to see each other more now," said Brooke smiling, "though we still don't eat dinner until 9:30."
Added Tim: "I wake up every day anxious to go to work -- it's been a long time since that."
Slidin Dirty's schedule is posted on its website, as is its weekly menu. They also post updates on Twitter.
They'll be at Art on Lark this Saturday. And if everything checks out with Saratoga County, the Beekman Street Arts Fair on Sunday in Saratoga Springs.

Hi there. Comments have been closed for this item. Still have something to say? Contact us.