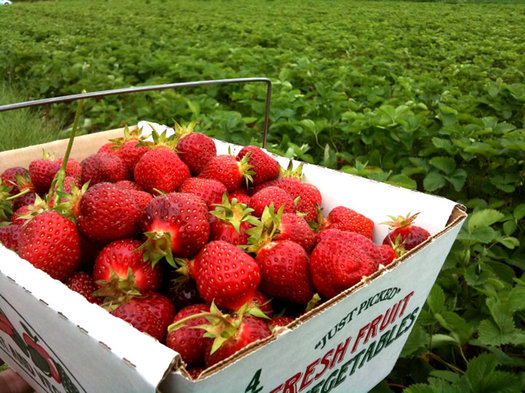 Strawberry season has started! The local pick-your-own farms are open for the season. And it sounds like the crop has turned out OK, despite the weird spring, though some of the farms say the season will be short.
A typical strawberry season here usually only lasts a few weeks -- so don't wait. It sounds like this weekend, and especially the next week, will be the prime time.
Here are a handful of places in the greater Capital Region that you can pick your own strawberries. Know of a good place not on this list? Please share!
Important: you should call ahead the day you're heading out to get the conditions.
Albany County
Altamont Orchards
6654 Dunnsville Road Altamont, NY 12009 (map)
(518) 861-6515
Monday-Friday 8 am-noon | Saturday and Sunday 8 am-3 pm
PYO strawberries are $2.15/pound Thursday-Tuesday, $1.99 on Wednesday
Bring your own containers. "Season will be short do not wait."
Indian Ladder Farms
342 Altamont Rd, Altamont, NY (map)
(866) 640-7425
Monday-Sunday 9-4:30
Pick your own strawberries are $2.95/quart. As of today, conditions are said to be "good."
Columbia County
Samascott Orchards
5 Sunset Ave, Kinderhook, NY (map)
(518) 758-7224
Monday-Sunday 8 am-6 pm
PYO strawberries are $2/pound. The person we talked with on the phone today said the crop is looking "really good" right now. PYO just started this week. (Sadly, Samascott won't have cherries this year -- the warm spring/then frost killed the blossoms on the trees.)
Rensselaer County
The Berry Patch
15589 NY 22, Stephentown, NY (map)
(518) 733-1234
PYO strawberries starts June 9. The PYO strawberry patch will be open Thursdays, Fridays, Saturdays, and Sundays 9 am-1 pm. "The late March and early April freezes froze most of the first blossoms before they ever came out of the plant. Because we lost those first blossoms, the season will be short! ... The season will probably be over before the end of June!"
Swartz Farm
1581 Eleanor Drive, Castleton, NY (map)
(518) 858-1174
The voicemail message didn't have info about PYO strawberries (we're waiting for a callback), but judging from their Facebook page, it looks like the season has started.
Best Berry Farm
1078 Best Road, East Greenbush, NY (map)
(518) 286-0607
The answering machine message says PYO strawberries are open for the season, 8 am-4 pm. The message says it's still a bit a early -- the crop will be better next week.
Saratoga County
Bowman Orchards
141 Sugar Hill Rd, Rexford, NY (map)
(518) 371-2042
Monday-Saturday 9-5 and Sunday 12-5
Crop is looking "very good." There's a $2/person pick your own entrance fee, and strawberries are $2.69/pound. You can bring your own containers (make sure to have them weighed when you get there) -- or you can buy them for $1 or $1.50 (depending on size).
Ariel's Farm
194 Northern Pines Road Wilton, NY 12831 (map)
(518) 584-2189
PYO strawberry season opened June 6. They're open 9 am-6 pm. Baskets and trays are available, and you can also bring your own. The message didn't include price or condition info.
Schenectady County
Horstman Farm
7 Swaggertown Rd. Scotia, NY 12302 (map)
(518) 374-7728
Friday and Saturday 9 am-6 pm
Now open for PYO strawberries. The answering machine says berries are currently "plentiful," so they'll also be open on Sunday. No info on pricing.
Buhrmaster Farm
180 Saratoga Road Route 50, Glenville, NY (map)
(518) 399-5931
Monday-Friday 9 am-6:30 pm, Saturday and Sunday 9 am-6 pm
The PYO strawberry field was damaged by Irene, so there are no PYO strawberries this year. But the farms other strawberry field is OK, and they're selling strawberries at their farm stand -- $4.95/quart.
Schoharie County
Bohringer's Fruit Farm
3992 State Route 30, Middleburgh, NY (map)
(518) 827-5783
Every day 8 am-5 pm
PYO strawberries opened today (June 8). They're $3/quart. The crop looks "pretty good" right now, but will be more plentiful next week. (The berries posted on the farm's Facebook page this week are gorgeous.) Bohringer's is right in the flood plain of the Schoharie Creek -- but the person we talked with today said all the crops bounced back from last year's flooding. (They did lose a few old apple trees that had been uprooted.)


Washington County
Hand Melon Farm
533 Wilbur Avenue, Greenwich, NY -- between Schuylerville and Greenwich (map)
(518) 692-2376
Monday-Friday 8 am-6 pm, Saturday and Sunday 8 am-5 pm
PYO strawberries opened June 2. "Bountiful picking should be expected" this weekend (June 8), with "expected peak between June 10th-20th." Pick your own strawberries are $2/pound.
____
Earlier and elsewhere:
+ Katie has a few berry picking tips.
+ And Sandra has a collected a big list of pick-you-own places, not just strawberries.
photo: Flickr user kthread
Say Something!
We'd really like you to take part in the conversation here at All Over Albany. But we do have a few rules here. Don't worry, they're easy. The first: be kind. The second: treat everyone else with the same respect you'd like to see in return. Cool? Great, post away. Comments are moderated so it might take a little while for your comment to show up. Thanks for being patient.