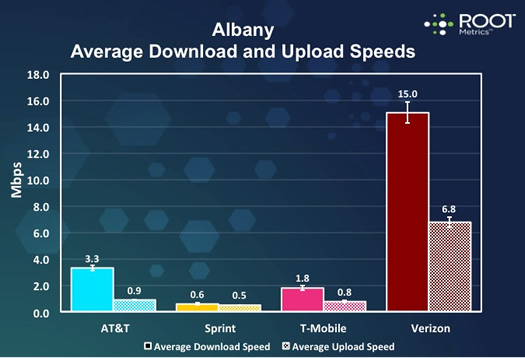 Check it out: a company called RootMetrics recently completed an assessment of mobile phone service reliability and speed in the Albany metro area.
Its overarching conclusion: Verizon is the best -- by a lot.
A few bits that jumped out at us:
+ Verizon dominated the data speed comparison because of its LTE network (4g), which is about 10x faster than 3g. See the chart is above. (AT&T hasn't rolled out LTE in this area, yet.) As it happens, Verizon is changing its mobile plans to focus on data service, and the ability to share data service across different devices. [AP/WSJ]
+ All the carriers did reasonably well on voice calling (Sprint was the worst). But Verizon was the only carrier to not have a single dropped call.
+ And the all the carriers were basically same for how long it took to receive text -- with one notable exception: Sprint was waaaaaay slower than the other carriers. Its average time was 68 seconds, compared 3-4 seconds for the other carriers.
How'd they measure all this? From the report's methodology section:
To evaluate the Albany area (the Albany Urbanized Area as defined by the U.S. Census), we performed 7,429 call, data, and text tests, covering all hours of the day and night. Tests were conducted using our RootScout app running from off-the-shelf, Android-based smartphones purchased from carrier stores. The phones were used as a typical consumer would use them and were not modified with any external antennas or other non-standard equipment. The data provided in this report reflect our findings in the Albany market during testing conducted from May 20 - May 24, 2012.
The company also makes an app that measures carrier performance. The results from the app are then aggregated with other users' results.
[via TU]
graph: RootMetrics
Hi there. Comments have been closed for this item. Still have something to say? Contact us.