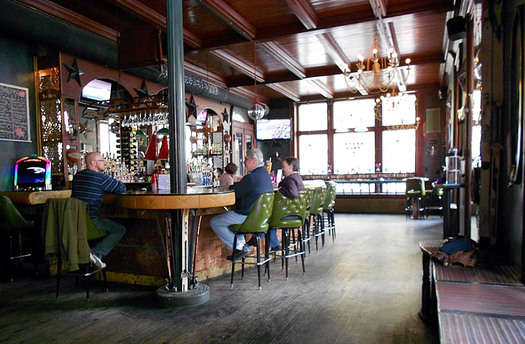 By Casey Normile
On the corner of 1st Street and State Street in Troy, a chalkboard stands in the street announcing drink specials. To the untrained eye, though, there's no bar to be found.
But behind those corner windows lies Footsy Magoo's, a bar that's more about good atmosphere than a packed, pick-up scene.
Here are a few reasons why it's worth stopping in for a drink...
As stated before: there's no sign
In fact, Footsy Magoo's doesn't advertise. "We might have had one commercial on public access television once," said bartender Britney Gil, "but that's it. We have a kind of speakeasy feel and people like that."
The lack of publicity is quite deliberate. They want Footsy Magoo's to stay as it is: a quiet comfortable bar where most patrons are regulars and new faces heard about the bar from a friend.
Fans of the larger, packed downtown Albany bars, a busy scene, or running into that guy that was eyeing them at that place last weekend will probably not find what they're looking for at Footsy's. And the owners seem to like that way.
It's like a Chucky Cheese for grown-ups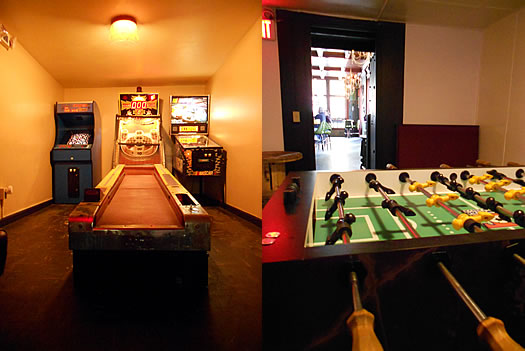 No, you will not see large mechanical furry characters singing about pizza, but they have a jukebox and it's not unusual to see some impromptu dancing. Dartboards are tucked away in the back and there are two separate rooms for skeeball and foosball, a big draw for the bar. For a few quarters, you can set down your drink (or play one handed) and indulge your inner kid.
It's beautiful in that "quirky aunt" kind of a way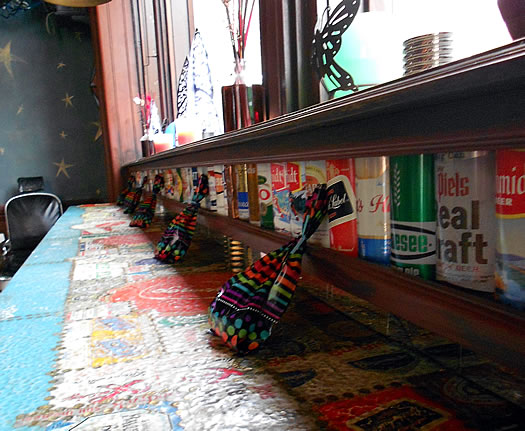 This counter is made of beer cans -- it took McIntyre 80 hours to complete.
Designed by Troy artist Robilee McIntyre, the interior is the definition of eclectic. It has the classic hardwood floors and wooden ceiling that remind you that this building is more than 200 years old -- the vintage feel is contrasted with golf clubs that hang over the fireplace, bowling pins and dollhouses on the walls, and plastic cowboys and Indians that hide in the couch cushions.
But before you start to feel like you're in a fun house, you notice the dreamy hand painted stars on the wall and the backroom painted in a warm yellow, with branches and mason jar lights that hang above like some kind of southern back porch. Footsy's combines the classic, crazy, and cozy parts of Troy.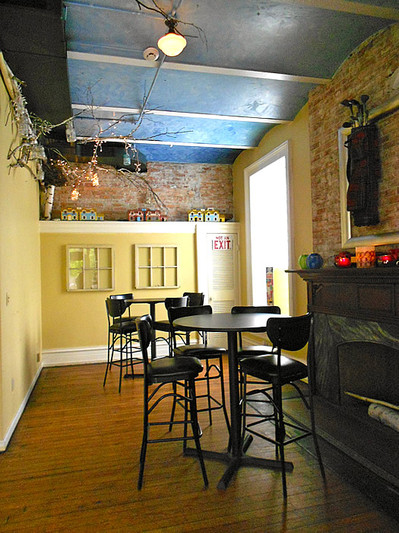 The bar itself
Even if you don't care about how a bar is built so much as the drinks behind it, this bar is worth a glance. Custom designed by McIntyre and Anthony Pascale, the bar area was carefully constructed to give the bartenders room to move, and comfort and swivel for the customers on the stools. The only problem with the design is that the comfortable swiveling bar stools fill up fast and people tend to stick around for a while. But if you're looking for a place where you can sit down and sigh after a long day and be served by a bartender that remembers your name, Footsy Magoo's is a good spot.
The name
The name Footsy Magoo's tells a story about the main players who started the bar. "Footsy" is the nickname of owner Rose Crisafulli's husband, Joe, a podiatrist. And "Magoo" was the nickname of Anthony Pascale, a bartender, after the nearsighted cartoon character Mr. Magoo.
But Anthony has since gotten Lasik eye surgery. Now you can just call him Tony.
Find It
Footsy Magoo's
17 1st St
Troy, NY 12180
Hi there. Comments have been closed for this item. Still have something to say? Contact us.