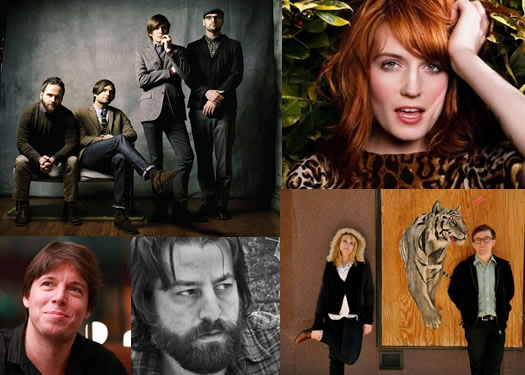 There are also people who just like to know that there are concerts. You might be one of those people if you're not the other kind of person.
Either way, you will be interested to know that these concerts will be happening in the greater Capital Region. And during the next few months.
Runs through September. This isn't a comprehensive list. If there's something not on here that you think should be mentioned -- please mention away. Some of these shows have already been mentioned. We didn't think you'd mind.

June 21: These United States at Valentine's
Alt-country. "We're probably just a crazy band with some kind of wings, but I don't know where they fall." With: Sgt Dunbar. 8 pm - $10
June 22: Matthew Sweet at The Egg
Playing Girlfriend in its entirety. 8 pm - $28
June 22: Fuel at Upstate Concert Hall
90s night continues. 7 pm - $15 ahead / $17 day of
June 22: The Wood Brothers at Putnam Den
Includes Chris Wood of Medeski Martin & Wood. 9 pm - $15
June 22: Jim Gaudet and the Railroad Boys at Caffe Lena
Home-grown bluegrass. 8 pm - $16 ahead / $18 at door
June 22: Yo-Yo Ma at Tanglewood
With the Silk Road Ensemble. 8 pm - $20 and up
June 23: Fiona Apple at Mountain Park (Holyoke, MA) Calvin Theater (Northampton)
She's back. And this time the album's title is only 23 words long. (Show was moved from Mountain Park.) 7 pm - $35 and up
June 23: Beach Boys at SPAC
More than 50 years old -- the band, not the guys. 8 pm - $25 and up (free kids ticket with each adult ticket)
June 23: Diana Krall at Tanglewood
She'll be at the Saratoga Jazz Fest, too. 7 pm - $24 and up
June 23: Red Square Carnival Show
Lucky Jukebox Brigade, Skeletons in the Piano, Charmed and Dangerous Burlesque, fire spinning, fortune telling. 8 pm - $7
June 25: Reel Big Fish at Upstate Concert Hall
Had that one reel big song. 7:30 pm - $15 ahead / $17 day of
June 26: Chris Robinson Brotherhood at Colonial Theatre (Pittsfield, MA)
The Black Crowes Chris Robinson. 7:30 pm - $25 and up
June 28: Roger Waters at the TU Center
Playing The Wall. 8 pm - $58 and up
June 29: Aerosmith & Cheap Trick at the TU Center
(insert your own comment.) 7:30 pm - $63 and up
June 30-July 1: Freihofer's Saratoga Jazz Festival at SPAC
Among the many performers: Maceo Parker, Diana Krall, and Esperanza Spalding. $55 and up
July 2-4: James Taylor at Tanglewood
You'd think he lived in Lenox, or something... oh, right. $24 and up
July 5: Fishbone at Putnam Den
Old school ska punk. With: Paranoid Social Club. 9 pm - $12
July 6: Boston Symphony at Tanglewood
Opening night for the season there -- an all Beethoven slate. 8:30 pm - $20 and up
July 7: Sean Rowe at Caffe Lena
He has a new album coming out in August. 8 pm - $14 ahead / $16 at door
July 7: Joshua Bell at Tanglewood
Playing Barber, Tchaikovsky and Meyer. He'll also be playing with the Philadelphia Orchestra at SPAC August 15. 8:30 pm - $19 and up
July 6-8: Phish at SPAC
A three night run. Good chance they could sell out all three. $55 and up
July 8: Wye Oak at Helsinki Hudson
Folky, dreamy indie rock. 8 pm - $15
July 11: Ted Nugent at Upstate Concert Hall
Maybe he'll shoot something. 8 pm - $25 ahead / $27 at door
July 12-14: Camp Bisco
Big electronic music festival just west of Schenectady. Among the lineup: Disco Biscuits (of course), Bassnectar, Skrillex, Crystal Castles. $170 three day pass / $85 Saturday
July 13: Gillian Welch at The Egg
Big part of the modern Americana/bluegrass/alt-country scene. 8 pm - $34.50
July 13: Donavon Frankenreiter at Upstate Concert Hall
Surfer, friend of Jack Johnson. Those might be the same thing. 9 pm - $18 ahead / $20 day of
July 15: Electric Guest at Upstate Concert Hall
Retro-y. Produced by Danger Mouse. The "hipster take on cheese." 8 pm - free
July 19: Matisyahu and Dirty Heads at Upstate Concert Hall
Unlikely reggae. 8 pm - $25 ahead / $28 day of
July 19-22: Grey Fox Bluegrass Festival
Annual festival in Greene County at the edge of the Catskils. $55 / $175 full festival
July 20: WEXT Birthday Party at Valentine's
Sgt Dunbar, The Hanslick Rebellion, and others (presumably). 8 pm
July 21: Death Cab for Cutie at Brewery Ommegang
Outside. Gates open at 5:30. 8 pm - $39.50 advance / $45 day of
July 21: The Wait at Putnam Den
Hey, they're back. You remember. The Idiots explain. With: John Brodeur.
July 23: Gaslight Anthem at Upstate Concert Hall
Jersey. In the good way. 8 pm - $18 ahead / $20 at door
July 27: Lyle Lovett at Brewery Ommegang
Outside. Gates open at 5 pm. 8 pm - $55 advance / $60 day of
July 27: Santana and Allman Brothers Band at SPAC
Classic rock double shot. 7 pm - $40 and up
July 28: Wilco at Brewery Ommegang
You can catch them here if you couldn't snag tickets for MASS MoCA. Also: fireworks. $42.00
July 28: O.A.R. at SPAC
The members of O.A.R. went to OSU. 7 pm - $20 and up
July 29: Sharon Van Etten at Helsinki Hudson
"She's been silencing rooms in drunken bars for a long time." 8 pm - $18 ahead / $20 day of
August 1: Philadelphia Orchestra at SPAC
Opening night of the summer run. 8 pm - $22 and up
August 1: Brandi Carlile at The Egg
Alt-country/folk rock. 8 pm - $38.25
August 1: Great Lake Swimmers at Helsinki Hudson
Canadian indie folk. 8 pm - $15 ahead / $18 day of
August 7: The Black Angels at Upstate Concert Hall
Psych rock. 8 pm - $15
August 9: Real Estate at MASS MoCA
Indie rock. A 'fork fave. 8 pm - $14 ahead / $18 day of
August 11: Chris Smither at The Linda
Folk/blues. 8 pm - $25
August 14: Yeasayer at Upstate Concert Hall
Hard to describe.8 pm - $18 ahead / $20 day of
August 15: Joshua Bell with Philadelphia Orchestra at SPAC
Maybe the world's most famous violinist. 8 pm - $22 and up
August 16: Yo-Yo Ma with the Philadelphia Orchestra at SPAC
He's Yo-Yo Ma. 8 pm - $27 and up
August 17: The Figgs at Valentine's
Celebrating 25 years together. 9 pm
August 17: John Prine and Lucinda Williams at The Palace
Country/folk/Americana veterans. 8 pm - $47 and up
August 18: John Williams' 80th Birthday Celebration at Tanglewood
Boston Pops honor the famous composer. 8:30 pm - $21 and up
August 18: SAWFest Music Festival at Salem Art Works
My Pet Dragon, Railbird, The Red Lions, The Black Ships. 5 pm - $20
August 18: Girl Talk at Mountain Park (Holyoke, MA)
Mashup master. 7 pm - $25
August 20: Wynton Marsalis Quartet at Tanglewood
Jazz royalty. 8 pm - $21 and up
August 26: Chick Corea and Gary Burton at Tanglewood
"Exploring their unique takes on 'standards'." 8 pm - $19 and up
August 30: American Idol Live at TU Center
A bunch of the contestants from Idol, including Phillip Phillips. 7 pm - $30.50 and up
August 31: Train at Tanglewood
This is the part where someone mentions the Train-Saratoga connection. 7 pm - $22 and up
September 1: Jon Herrington Band at The Linda
Guitarist for Steely Dan. 8 pm - $18
September 1: Evanescence and Chevelle at... Tanglewood
Weird. 7 pm - $22 and up
September 2: Boston Pops Orchestra - The Great American Songbook at Tanglewood
With Michael Feinstein and Christine Ebersole. 2:30 pm - $21 and up
September 7-9: Restoration Festival
Third year for the Albany festival, now with three days. The first headliner: The Kamikaze Hearts.
September 12: Vetiver at Helsinki Hudson
Indie freak folk. 8 pm - $15
September 16: Florence and The Machine at SPAC
Florence's last name is Welch. We're not sure if the Machine has a last name. 7 pm - $39.50 (pavilion only)
September 21-23: Fresh Grass at MASS MoCA
Three day fest of modern bluegrass -- "nothing short of a bluegrass amusement park." Among the acts: Carolina Chocolate Drops, Joy Kills Sorrow, Trampled by Turtles. festival pass $46 adults / $26 students / $16 kids
Sold out:
July 20: Dweezil Zappa plays Zappa at The Egg
July 25: Conor Oberst at The Egg
July 31: Wilco at MASS MoCA (maybe bid out is more accurate)
Both SPAC and Live Nation advertise on AOA.
Florence and the Machine photo via Florence website | Death Cab photo: Danny Clinch | Wye Oak photo: Natasha Tylea | Sean Rowe photo: Christina Venditti | Joshua Bell photo: Alexduff via Wikipedia (cc)
Say Something!
We'd really like you to take part in the conversation here at All Over Albany. But we do have a few rules here. Don't worry, they're easy. The first: be kind. The second: treat everyone else with the same respect you'd like to see in return. Cool? Great, post away. Comments are moderated so it might take a little while for your comment to show up. Thanks for being patient.