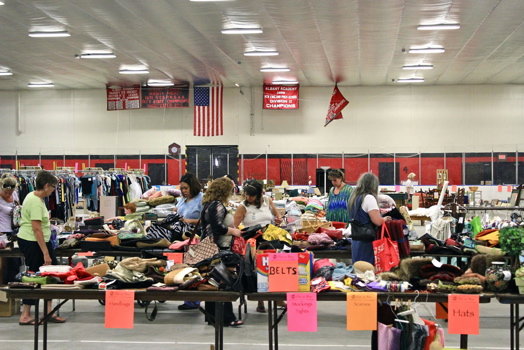 The first ever Old is New Consignment Sale opened to the public at 8AM today in the athletic center at Albany Academy.
The Old is New Sale is a chance for people with stuff they don't want, to sell it to people who are looking for stuff -- without having to bother with their own garage sale. And by stuff, we mean gently used clothing, accessories and housewares.
AOA previewed the sale yesterday with fashion writers and super-shoppers Kaitlin Resler and Jess of JessJamesJake to scope out the scene and see what kind of deals there were to be had.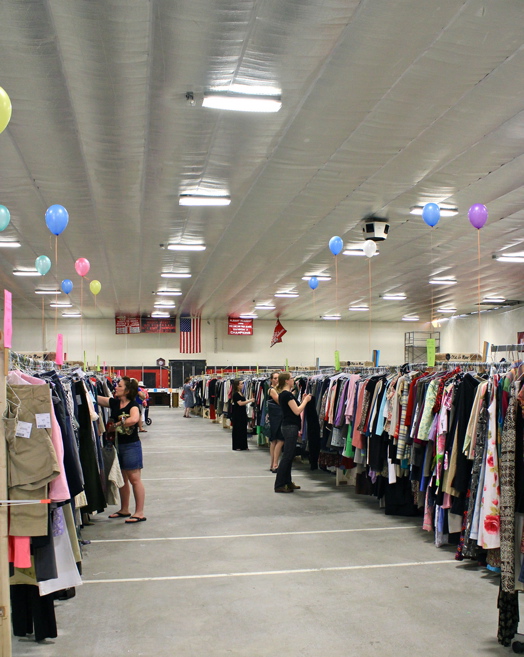 It's a big gym, so there's still some empty space, but don't let that fool you. The room is filled with some good deals. It was neat and well organized for the preview sale. Everything was grouped by size and type of item: coats, dresses, shoes, etc. And everything we saw seemed to be in pretty good shape.
General impressions
Jess
"This sale is great for women! Excellent for ladies of all ages looking to revamp their wardrobe and/or stock up for summer. The dress selection was excellent, as were the shoes and purses. I really liked how organized the clothing was, all sorted by size, with special sections for plus size, maternity, and menswear."
Kaitlin
"I think the sale is definitely worth a stop for anyone who likes shopping. I held back for sure! I found a lot of things I actually had wanted to buy earlier in the year but didn't, and now they're cheaper! The prices range a bit because people can set their own, but there are some pretty amazing deals to be had. The key is the same as with thrifting, keep your eyes open for things you might not try otherwise, and you might be surprised with what you find!
"There's not as much for men -- some shoes and coats. The clothes are much more contemporary but if you look hard you can find some vintage. And there are a lot of cute, vintage inspired dresses."
Dresses
These two little black dresses caught Jess' eye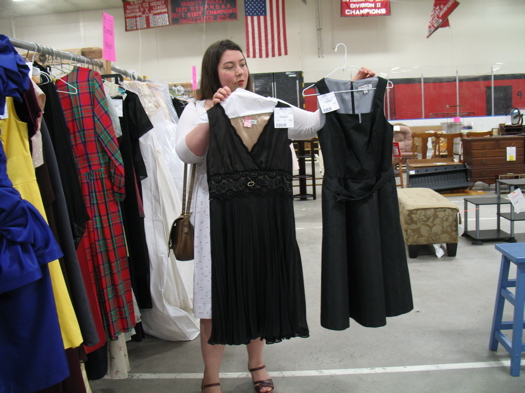 The one on the right is just Isaac Mizrahi for Target, but it's only $5. Jess: "It's cute, and that's a great price."
The one of the left is a vintage inspired dress from Coldwater Creek, for $20.
Prices
In terms of price, the selection seems to vary a lot but there are some really good deals. Like this Tracy Reese Dress: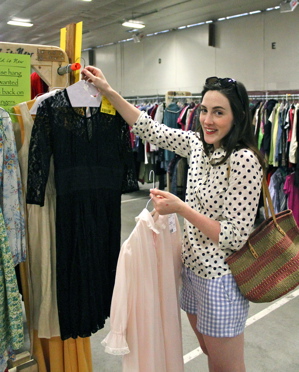 Kaitlin: "Tracy Reese dresses retail at Anthropologie for $98 to $148. This is part of her frock line which is a little less expensive -- usually between $98 and $130. This one is $14."
We were all eyeing this vintage striped dress. At $30 it was one of the more expensive ones we saw.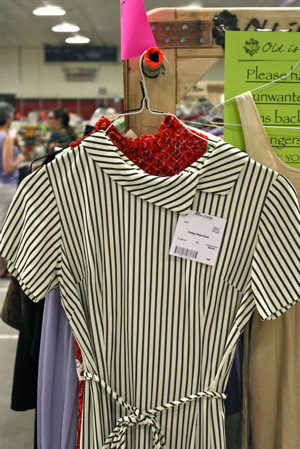 Says Jess: "If I were buying it for myself I'd pay $14 and if I were going to resell it, I'd pay $5. But if I were selling it on the internet, I'd charge about $50, so at $30, it's still a good price."
Kaitlin found one of her own dresses that she had dyed and given to For Pete's Sake a while ago. Someone walking by thought it was vintage, but it's a cute dress from Target.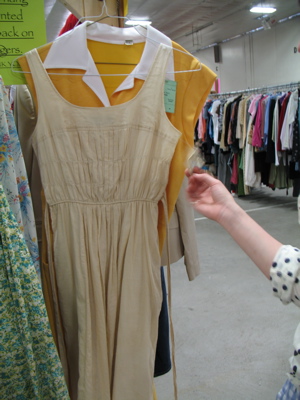 Kaitlin: "I know it's mine because it was white and I dyed it with tea. They're charging $4. That's a good deal."
Both Kaitlin and Jess eyed this floral dress -- which was going for only $2: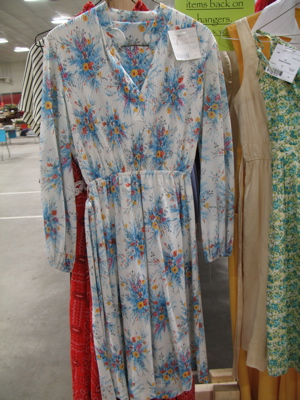 A lot of the dresses were $10-$20. There was something for pretty much every size -- even XL and XXL -- though those were in fewer supply then the smalls and mediums.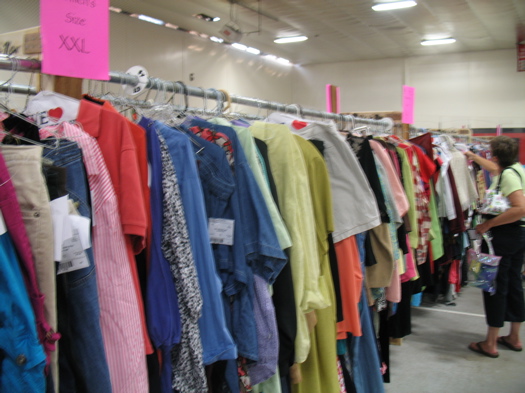 Fun Stuff
There was a pretty wide variety and most of the selection was less costume-y. But then there was the yellow jumpsuit: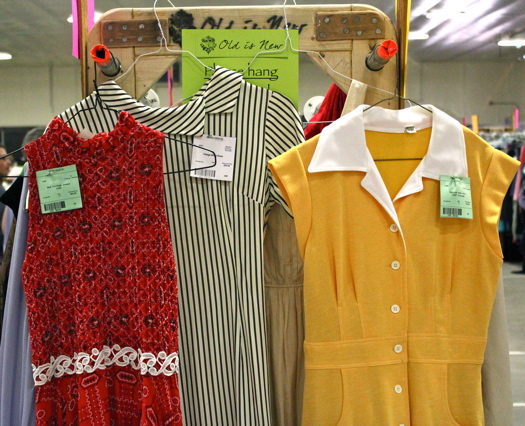 Kaitlin: "There are a lot of Swedish bloggers that would be all over this on the internet." So maybe you're not going to buy it for yourself -- but if you want to try your luck with the Swedish fashion blogging set... you might want to pick it up for resale.
And this printed maxi dress:
Jess: Maxi dresses are popular right now. And the print is wild.
Kaitlin: It's kind of ridiculous, but someone will buy this.
And the 80s dropped by and hung up one of their prom dresses.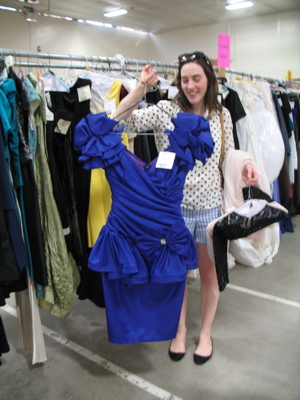 Kaitlin: "This one is $15. They'll get that for it. This is just ridiculous enough that it's getting to a point where kids are still buying it now ."
But most of what we saw was more contemporary. Skirts, dresses, shirts, jeans and a good selection of coats.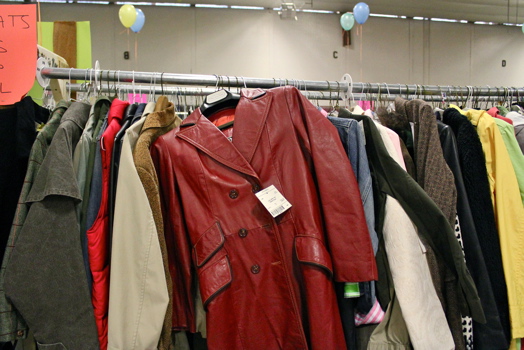 Bags
We may have had even more fun in the bag section than anywhere else. If you dig, you may find some pretty sweet deals. Kaitlin found this real leather, genuine Coach bag for $25.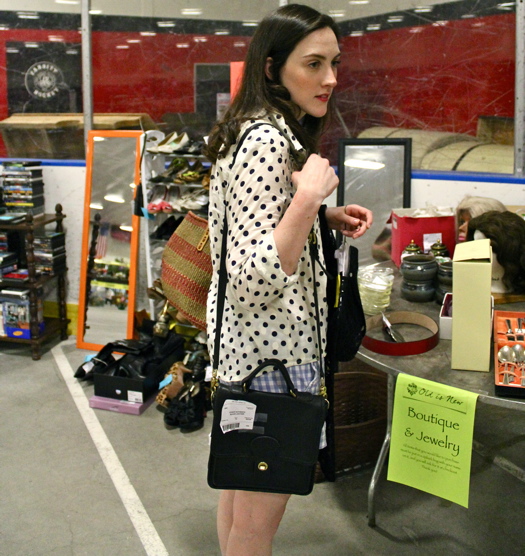 Jess found a carpet purse and another vintage Coach: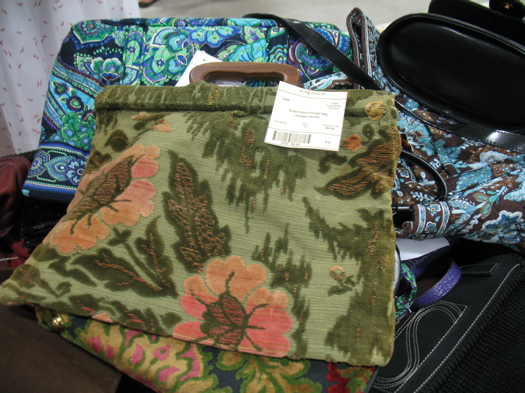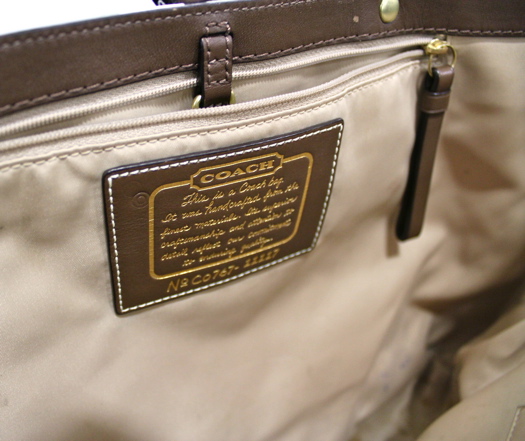 Boutique Section
Jess: "The prices were reasonable overall and the boutique section had some designers like Coach, True Religion, Betsey Johnson, etc. at fair prices."
This Betsy Johnson clutch was a temptation at $20: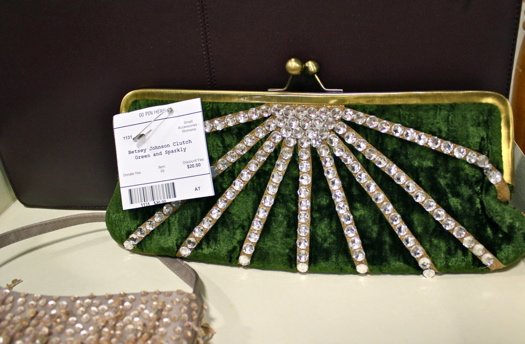 There were a few things that appeared unworn -- like these True Religion jeans: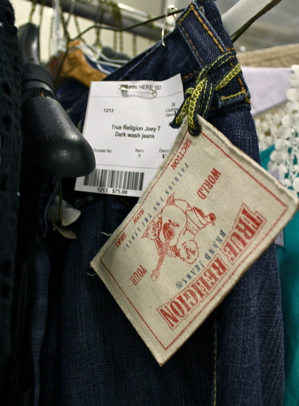 Housewares
Jess: "The decor was diverse with a great selection of area rugs."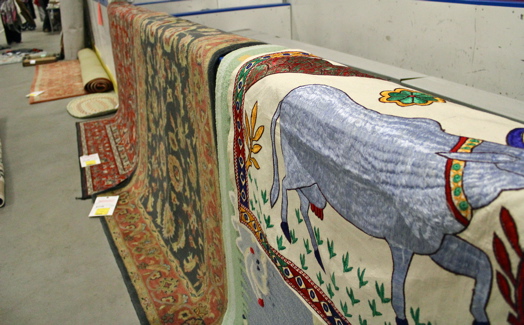 A nice selection of vintage suitcases, most around the $38 mark: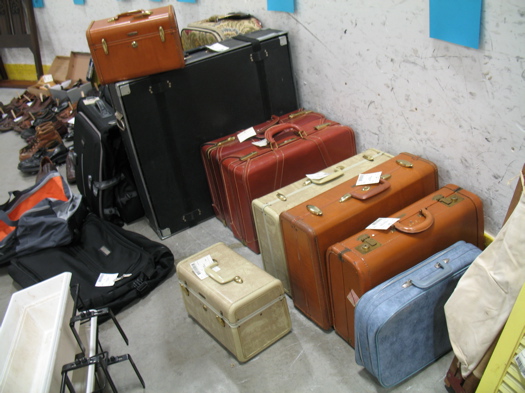 Lamps: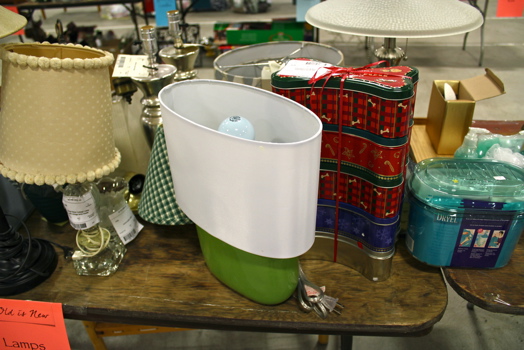 A vintage phone: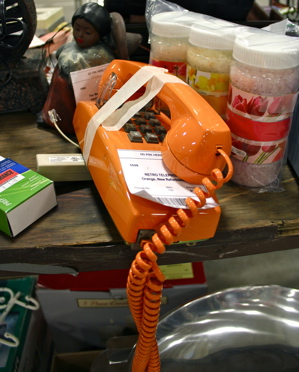 And some random stuff -- like a box of clown dolls: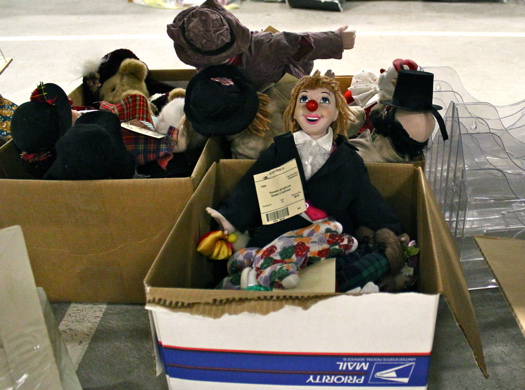 Overall
Pretty good prices and variety. Not as much in menswear. Worth a look.
Thanks to Kaitlin and Jess for their time and expert shopping advice. And to Jess for her photos!
The Old is New Sale is today (Friday) from 8 am-8 pm. On Saturday, everything is half price from 8 am-2 pm. And the sale does take credit cards.
Find It
Old is New Sale at Albany Academy Athletic Center
Hackett Blvd. near Academy Road
Albany, NY 12208
Hi there. Comments have been closed for this item. Still have something to say? Contact us.