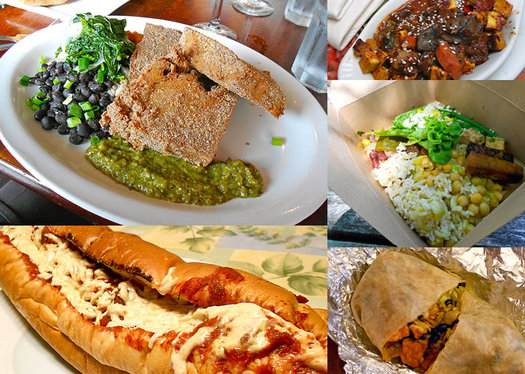 By Casey Normile
Vegan food often gets a bad rap from non-vegans. For many people, the thought of cutting out not only meat but also dairy and eggs is just too much to imagine.
But there is good vegan food in Capital Region. Here are a few local dishes worth trying, whether you're a vegan -- or a carnivore.
Tofu and Vegetable Mole Negro
El Loco Mexican Café in Albany (map)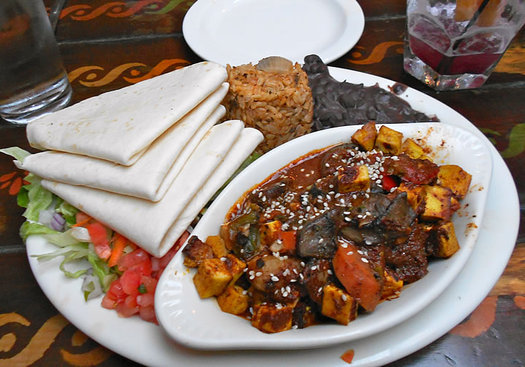 This place is definitely vegetarian friendly, with many veggie and tofu options, but certain dishes can also be made vegan. Case in point: this mole. I will say it's not the best mole sauce I've ever had, but everything together (tofu, vegetables, Mexican rice, black beans, lettuce and tomato) in those tortillas is pretty great.
Why meat eaters will love it: The tofu has plenty of flavor without a funny taste that reminds you you're not eating meat and it fills you up just as much as an order of chicken fajitas would.
Vegan Chicken Parm Sub
Little Anthony's Pizzeria in Albany (map)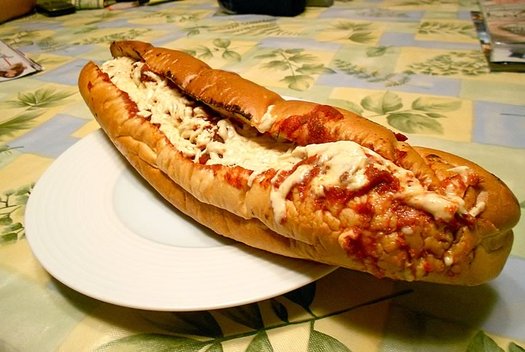 When people think vegan, they might think of a salad with a side of fruit. But at Little Anthony's, the vegan food is just as hot, cheesy, "meaty" and melty as the regular dishes. Vegans can get the same traditional Italian American pizzeria treats that we all know and love, like "chicken" parm.
Why meat eaters will love it: Simply put, it's a huge chicken parm sub. The meatless chicken has a similar taste and texture as chicken, the tomato sauce has a good flavor and the roll seriously measures up. The only part that may remind you that you're eating a vegan sub is the Daiya mozzarella they use. While still delicious, you can taste the difference between it and real cheese.
BBQ Tofu Burrito
Bombers Burrito Bar - Albany (map) and Schenectady (map)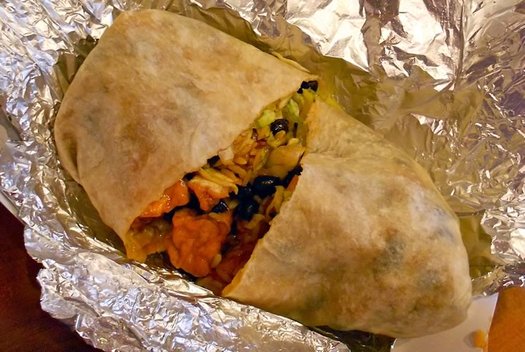 Next time you stop in for drinks -- and food to soak up those drinks -- try Bombers' barbeque tofu. You can get it in taco form as well, but if you want to really get filled up, go for the burrito.
Why meat eaters will love it: This dish has two foolproof components: 1. It's a burrito and 2. Barbeque sauce. It's a hefty roll of deliciousness and the way Bombers does their tofu, you'd swear they accidently gave you barbeque chicken.
Blue Corn Crusted Seitan Medallions
New World Bistro Bar in Albany (map)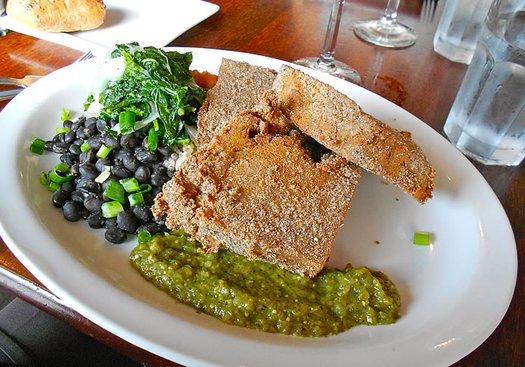 New World Bistro Bar is known for its eclectic menu, so it's not surprising it also has quite a few vegan options, including pizzas, salads, pastas and sandwiches. And one of the good things about New World is that the wait staff is willing to point you in the right direction if you don't know what to order or aren't familiar with an ingredient.
Why meat eaters will love it: Seitan, or "wheat meat," is made from gluten. Now, that may not get your mouth watering, but it's used as a meat substitute because it has a texture similar to meat and it's high protein (gluten is protein).

This dish is like the vegan version of shake and bake pork chops. Great texture, great flavor, crispy crust, delicious sides of rice and beans and veggies. Even your carnivore friends will suffer from food envy.
The Lunch Buffet
Four Seasons Natural Foods in Saratoga Springs (map)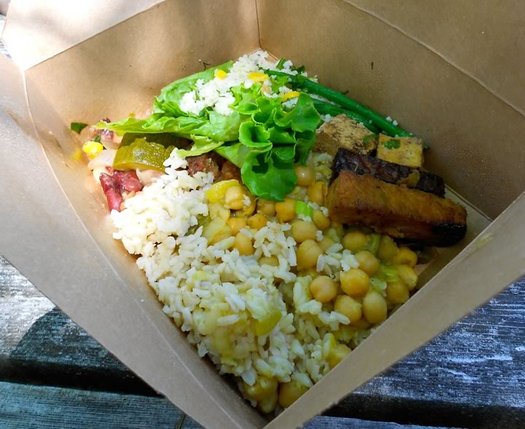 After you've dipped your toes into the vegan pool, this little shop is a great place to get your ankles wet. Depending on the day they'll be offering vegan soups, rice and vegetable dishes, vegan chili, salads and desserts. (They also post their buffet options on their website every day.) Some meat substitutes such as seitan or tempeh may seem too foreign, but that's what getting your ankles wet is all about.
Why meat eaters will love it: Variety. Pick what you're comfortable with and what portion. If seitan seems too weird, just grab one piece so you don't over commit. Also, there's the picnic option. Grab a box of food and a lemonade and head to Congress Park (it's just two blocks away) to enjoy a nice animal-product-free afternoon.
Hi there. Comments have been closed for this item. Still have something to say? Contact us.