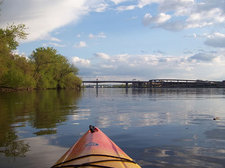 Passed during the end-of-session rush at the Capitol: the "Sewage Pollution Right to Know Act." The environmental org Riverkeeper explains:
The Sewage Pollution Right to Know Act, once signed by the Gov. Andrew Cuomo will make public reporting about unsafe water conditions nearly as routine as severe weather warnings. The law will require public wastewater treatment plants to publicly disclose within four hours of releasing raw or partially-treated sewage. The state will also for the first time report annually on reported sewage discharges.
This is an important issue around here because of something called "combined sewer overflows" (CSOs). Basically, when many of the antiquated sewer systems in this area become overwhelmed with storm water, they start dumping the excess -- sewage and all -- into the Hudson and its tributaries. Yep, eww.
Riverkeeper did testing last year for sewage-indicating bacteria in Hudson -- and two of the worst spots for contamination were near Albany (Island Creek/Normans Kill in Glenmont, and the Dunn Memorial Bridge). The org reported that the Capital Region's CSOs "dump an estimated 1.2 billion gallons of combined sewage and wastewater into the Hudson each year."
[via @AndyArthur]
Earlier on AOA: Something stinks about the Hudson near Albany (includes some good discussion in the comments)
photo: Flickr user andyarthur (cc)