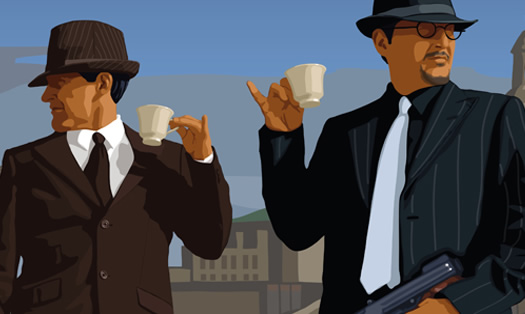 Summer theater festivals in and around the Capital Region are just getting underway for the season. We're pretty lucky to have so many high quality summer festivals within an hour's drive.
After the jump, a quick look at this year's festivals and what they're offering...
Williamstown Theatre Festival
1000 Main Street, Williamstown, MA (map)
The Williamstown Theatre Festival tries to balance the classics with newer works. They're also known for bringing some fantastic talent to the area. WTF alum include Kate Burton, Blythe Danner, Christopher Reeve, Stephen Webber and Darrell Hammond.
Some season highlights:
+ Director David Hyde Pierce has a new take on Oscar Wilde's The Importance of Being Earnest -- 40's gangster style. (June 26-July 14)
+ The world premiere of The Blue Deep featuring Heather Lind, who grew up in Guilderland, and was on Boardwalk Empire, begins on the Nikos Stage the following night.
+ The Elephant Man, starring Patricia Clarkson and Bradley Cooper, runs from July 25- August 4.
Here's a look at the rest of the season.
Prices: range from $25-$60.
Savings hint:
If you're willing to take a chance on getting in, they offer general rush tickets at $20 for plays and $25 for musicals, up to three hours before the show, subject to availability. Rush tickets are cash only, and you're limited to two per person.
Good to know
WTF will present a free production of The Valley of Fear outdoors at Poker Flats Field July 11-14 and 17-20.
They also run a series of late night cabarets and $5 Friday play readings of new works. Alum Lewis Black, whose plays have been produced at Williamstown, is doing a stand-up benefit for the festival on July 9 -- tickets are $100.
Berkshire Theatre Group
6 East Street, Stockbridge, MA (map)
Berkshire Theatre Group consist of five theaters in three towns in Berkshire County: The Colonial Theatre in Pittsfield, the Fitzpatrick Main Stage in Stockbridge, the Unicorn Theatre in Stockbridge, The Mount in Lenox, and The Garage in Pittsfield -- a new venue for local and regional performers.
Some season highlights:
+ A Chorus Line starts the season on July 7th. Tickets range from $40-$60.
+ A Class Act, a wonderful little show about A Chorus Line lyricist Edward Kleban that was put together by his friends using a trunk full of old songs.
+ Edith begins July 31st. The play is centered around the life of First Lady Edith Wilson after the end of World War I. Tony nominee Jayne Atkinson stars in the title role.
Here's a look at the whole season.
Prices
Tickets range from $35 to around $50, but you can see kids' shows and special events like a Friday reading series that features new work and and a Musical Monday cabaret for as low as $10 or $15 .
Mac-Haydn Theatre
1925 New York 203, Chatham, NY (map)
The Mac-Haydn Theatre in Chatham is focused on the classic family friendly musical.
The season has already started, and runs through September 16th.
A few season highlights:
+ Brigadoon, now through July 1st.
+ Cole Porter's Kiss Me Kate opens July 25th.
Prices
Tickets are $28-$30. Children's tickets are $12 when accompanied by an adult. Here's more on performance times and ticket information.
Children's theater
Their children's theater is playing favorites like Beauty and the Beast and Alice in Wonderland all summer long. Tickets to all children's shows are $10. The complete children's schedule.
Adirondack Theatre Festival
207 Glen Street, Glens Falls, NY (map)
The Adirondack Theatre Festival is housed in what used to be the Woolworth Store in Glens Falls. ATF is focused on new and contemporary plays and musicals. The festival is less than an hour from Albany and you could easily make a day trip out of it.
A few season highlights
+ Their season begins June 26th with the show Black Tie, a play set on Lake George's shores.
+ Next to Normal (July 5-14), winner of the 2010 Pulitzer Prize for Drama and three Tony Awards, tells the story of a family struggling with their mother's mental illness.
Here's more information on the full season.
Prices
All performances are $40.
Savings
They also offer special discount packages for those planning on attending more than one show.

Saratoga Shakespeare Company
Congress Park, Saratoga Springs, NY (map)
Each summer Saratoga Shakespeare Festival puts on one of Shakespeare's plays for free in Congress Park. This year they're performing Twelfth Night, a comedy filled with gender-switching hijinks, and considered by many to be Shakespeare's finest comedy. It's outdoors at the Alfred Z. Solomon Stage, July 17-21 at 6 pm; Sundays July 22 and 29 at 3 pm.
Prices
Free!
Park Playhouse
The Lake House, Washington Park, Albany, NY (map)
Season
+ This season they're presenting Kander and Ebb's Cabaret. The show runs July 6-July 29.
+ Also this year: Park Playhouse Kids is doing Joseph and the Amazing Technicolor Dreamcoat from August 14-19, Tuesday through Sunday at 5:30 pm.

+ Park Playhouse II (youth theater intensive) presents Hairspray August 4-August 19.
Prices
The shows are free and seats are first come first serve, but you can also purchase reserved seats ahead of time
For Cabaret:, they'll be setting up 60 Cabaret style tables up front. Table seats are $20.
Center seats are $15, side seasts are $13. Amphitheater seating: free.
Hairspray: $15, Side seasts are $13. Amphitheater seating- free.
Joseph: All seats are free.

Shakespeare & Company
70 Kemble Street, Lenox, MA (map)
Shakespeare & Company does its fair share of plays by The Bard, but also expands to new plays, other classics and cabarets.
Season highlights
This season their Founder's Theater is rotating Endurance, DibbleDance, Satchmo at the Waldorf -- a one man show about the life of Louis Armstrong -- King Lear, and The Tempest starring Olympia Dukakis.
The Elayne P. Bernstein Theater has three more shows, including Cassandra Speaks, Parasite Drag, and The Tale of the Allergist's Wife.
Here's a complete look at the season.
Prices:
Tickets for the Elayne P. Bernstein Theatre range from $15-$50, and $25-$65 at the The Founders' Theatre.
Hudson Valley Shakespeare Festival
1601 New York 9D, Garrison, NY (map)
The Hudson Valley Shakespeare Festival is a little farther away than the other festivals mentioned but worth the drive for fans of The Bard.
The festival is held every year outside the Boscobel estate in Garrison. The casts are made up mainly of actors from New York City, and many have performed on Broadway. This season's shows are Love's Labor Lost and Romeo & Juliet. They're also doing The 39 Steps, an adaptation of the Hitchcock film.
Prices
Tickets priced from $30-$60.
Savings hint
If you have a family member or friend living in Dutchess, Putnam, Westchester, Orange or Rockland County, they have "county nights" where your ticket is significantly cheaper with proof of residence in the county.
Good to know
They perform under a tent in Boscobel's back yard overlooking the Hudson. A sweatshirt might come in handy since it can get chilly. Here's the schedule for the season.
If you're up for a splurge, you can also order a picnic on the festival's website. Make sure you come two hours early to sit and enjoy.
Bakerloo Theater Project
291 River Street, Troy, NY (map)
As in years past, Bakerloo Theater Project is performing one play by Shakespeare, as well as a non-Shakespeare work.
The Season
This season the Troy-based company is performing Henry V and Candida. The shows are running from July 13-15.
Candida, by George Bernard Shaw, is being updated for a contemporary audience. The play explores the gender clichés that men and women play in each others' lives. Henry V is being done as a retelling of through the view of contemporary warfare.
Prices
Tickets are $15 or you can get a $25 season pass.
____
Information for 2012 compiled by Joe Napoli.
image: Williamstown Theatre Festival
Hi there. Comments have been closed for this item. Still have something to say? Contact us.