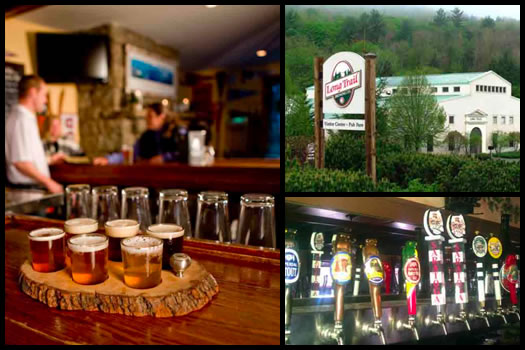 By Jesse Drury
Beer enthusiasts will travel a bit to drink at a bar and restaurant, but the most gonzo beer appreciators like to travel to the source. A visit to the TAP New York festival this past April was a reminder of how easy that is to do if you live in the Capital Region.
One downside to beer festivals is that an hour into the tastings most palates are ruined, and the rest of the evening is spent coping without peripheral vision as you polka dance with strangers and speak/scream drink orders. In contrast, brewery tours allow you to taste beer, pair it with food, and learn something about its production.
After the jump, some tips on brewery tastings and a list of some local favorites with details on what to taste, when to visit, and some side excursions to turn a brewery visit into a day trip...
Some background for the novice
If you have never been to a brewery, you may want to make your first trip to a brewer you're familiar with. Most brewers are eclectic, but the beer world is sharply divided into lagers and ales, and further divided into those beers that taste of hops and those that do not. These divisions become even more complicated the more you learn about your favorite brewer's process. However, none of these distinctions will change your mind about your favorite brewery or beer style, so focus on what you enjoy first.
Order a flight of their current beer selection. Most breweries offer a selection of their beers to try, typically six to ten styles. When you try a flight of beers, ask the waiter or bartender to recommend a drink order so you can sample beer by order of alcohol content, from low to high (indexed as Alcohol By Volume or ABV). Not only does alcohol affect your palate, but beers with lower alcohol content tend to impart milder flavors and crisper finishes; they will taste like water if you begin your flight with an imperial stout.
Here are some great destination breweries within driving distance of Albany:
Lake Placid Pub & Brewery
813 Mirror Lake Drive
Lake Placid NY 12946 (map)
Phone: (518) 523-3813
ubuale.com
Varieties of beer:
Maibock, Shot in the Dark India Pale Ale, UBU Ale, Lake Placid India Pale Ale, Adirondack Gold Ale, 46'er Pale Ale
Favorite beer:
The UBU Ale (7% ABV) is one of my favorite beers. Its profile is very balanced, like dark caramel, and it has the cleanest finish of any seven point beer I have tasted. For that reason, it pairs well with pub food, but avoid fresh seafood. At the Glens Falls Brewfest, after drinking a horrible smoked beer, I ran to the Lake Placid table for this ale; it cured me.
When to visit:
11:30 am to 2 am Monday through Saturday, opening at noon on Sundays. Tours by request before 5:00 pm.
Other things to do:
Eat at the pub. My wife has drawn me into her vegetarianism and we agree that the black bean burger may be the best in all of New York.
Long Trail Brewing
5520 Route 4
Bridgewater Corners, Vermont 05035 (map)
phone: (802) 672-5011
longtrail.com
Varieties of beer:
Long Trail Ale, Blackberry Wheat, Traditional IPA, Pale Ale, Double Bag Ale, Pollenator, Belgian White, Double India Pale Ale, Double White, Hit the Trail, Triple Bag, Goodnight Irene Ale
Favorite beer:
The Double IPA (7.2%) features sour notes, but they are intensely pleasant and balanced by creaminess. Do not let this beer get too warm or you will begin to taste the alcohol.
When to visit:
Self-guided tours are available from 10 am to 7 pm, slightly earlier and later than the pub, which serves from 11 am to 6 pm.
Other things to do:
Bring the family. No, seriously; every time I visit I see large tables of multiple generations eating pub food in colorful baskets. Even the underaged looked happy.
Davidson Brothers Brewing Company
184 Glen Street
Glens Falls, NY, 12801 (map)
phone: (518) 743-9026
davidsonbrothers.com
Varieties of beer:
Wheat Ale, Brown Ale, Red Ale, India Pale Ale, Dacker, Smoked Porter, Oatmeal Stout, Scotch Ale, Alt, Cohan's Porter
Favorite beer:
Davidson's India Pale Ale (5.9%) is a great hop-oriented ale with fruit scents. It is advertised as dry and bitter, but it is also their bestselling ale, and ultimately drinkable.
When to visit:
11:30 am to 9 pm Monday through Wednesday, but open until 10 pm on Thursday; 11:30 am to 11 pm on Friday; noon to 11 pm on Saturday;, and noon to 8 pm on Sunday. Tours by request.
Other things to do:
Listen to live music almost every week. See their calendar of events for dates and times.
Brewery Ommegang
656 County Highway 33
Cooperstown NY 13326-9248 (map)
Telephone: (800) 544-1809
ommegang.com
Varieties of beer:
Abbey Ale, BPA, Hennepin, Three Philosophers, Rare Vos, Witte
Favorite beer:
Hennepin (7.7% ABV) is liquid gold, with orange peel and ginger notes. The end.
When to visit:
Noon to 5 pm Sunday through Thursday, and noon to 7 pm Friday through Saturday.
Other things to do:
Eat a peanut butter and jelly waffle. Go to the National Baseball Hall of Fame and Museum.
Old Saratoga Brewery
131 Excelsior Avenue
Saratoga Springs, New York 12866
(Map)
phone: (518) 581-0492
oldesaratogabrew.com
Varieties of beer:
Lager, India Pale Ale, Root Beer
Favorite beer:
The Saratoga Lager (6% ABV) is a peculiar beer. It is a lightly-carbonated dark beer with sweet, toffee notes.
When to visit:
The brewery serves samples from 5 pm to 10 pm Monday through Friday, and Saturday from 12 pm to 10 pm. On Saturday tours are available from 1 pm to 3 pm.
Other things to do:
You probably already have favorite spots in Saratoga, but I like music and coffee at Caffè Lena.
These suggestions only begin to exhaust the many breweries within driving distance of Albany. What is your favorite destination brewery? What brings you out: beer pilgrimage or brewmaster scholarship?
Hi there. Comments have been closed for this item. Still have something to say? Contact us.