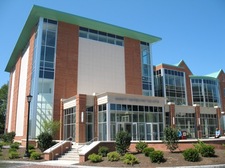 St. Rose announced this week that it's making the SAT and ACT optional for many of its applicants. From the press release:
The new Saint Rose admissions process will continue to place the greatest weight on the level of, and success in, college preparatory courses taken in high school along with recommendations from teachers and participation in other school and outside activities. As part of the pilot, an applicant who does not submit scores will be required to complete an essay designed to help further identify the individual and provide a glimpse as to what he or she might bring to the Saint Rose community. ...
"Our own data show that there is a wider pool of students who perform well in college preparatory high school courses who we believe would be successful at Saint Rose but for the fact that they do not perform well on one four-hour standardized test. Our new policy eliminates that roadblock," said Mary Grondahl, vice president for enrollment management.
A bunch of schools around the nation have adopted SAT/ACT-optional admissions policies during the last few years. Here in the Capital Region, both Union College and the Sage Colleges are already test optional. [FairTest] [Union] [Sage]
SAT skepticism has been bubbling for a long time. It started to boil over about a decade ago when the head of the University of California system -- the nation's largest college system -- publicly questioned the value of the test for the system's admissions process and proposed dropping it for a test that better surveyed concepts students had learned in high school. That started a high profile debate about the test -- eventually prompting the College Board, which owns the SAT, to change the test in order to mollify (SAT word) the UC system. (When the biggest customer of your product says they're unhappy, you tend to listen.) Among the changes: no more analogies, and the addition of a writing section. The UC system still requires either the SAT or ACT. [NYT] [NYT] [NYT] [NYT] [University of California]
Hi there. Comments have been closed for this item. Still have something to say? Contact us.