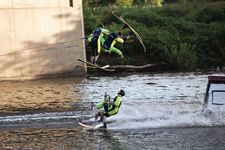 The US Water Ski Show Team starts its summer series of performances this Friday on the Mohawk behind Jumpin' Jack's in Scotia at 7 pm. The show will be followed by a concert in Collins Park and fireworks at Jumpin' Jack's.
The ski team starts its regular Tuesday evening shows next week. They start at 7 pm, and they're free. The team does a lot of fun tricks and stunts.
Learn to ski: The team has a learn-to-ski clinic July 14.
Flood recovery: The Gazette had an article this week about the work the ski team has had to do get its docks and stage back in shape following last year's flooding -- it had spend thousands from its reserve fund to repair the damage. [Daily Gazette]
Earlier on AOA: U.S. Water Ski Show Team: Nikki Weakley