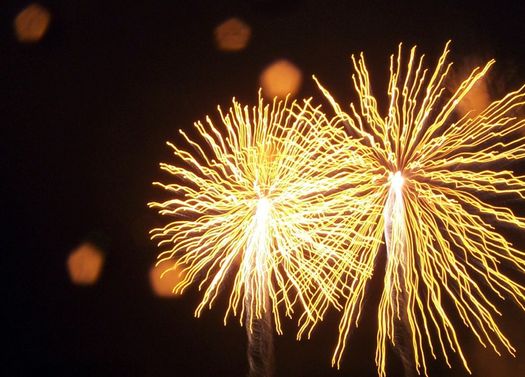 By Casey Normile
Happy birthday America!
The 4th of July isn't here until Wednesday, but the fireworks are starting already.
If you're feeling patriotic, or you just want to oooh and ahh at pretty lights in the sky, you'll find a listing of local displays after the jump.
Friday, June 29
Freedom Park / Jumpin' Jacks in Scotia
Fireworks at dusk, free admission, live music
Tuesday, July 3
Summer Jam in Glens Falls -- East Field
$3 per person, live music
Saratoga Casino and Raceway
Fireworks start at 9:15, free admission
You can also get a great view by parking along the fence.
Wednesday, July 4
Empire State Plaza
Fireworks start at dusk, free admission
The annual display sponsored by Price Chopper. Festivities begin at 2 pm. Parking can be a challenge, but the show itself is pretty spectacular. Get there early to find a good spot. (Here are suggestions for alternate spots to watch the display.)
Clifton Commons in Clifton Park
4th of July Parade at noon, free admission, fireworks at dusk
A good show for families, bring a blanket and spend the day there. They have plenty of space to spread out earlier in the day, enjoy the rides, food, craft show and live music.
Joe Bruno Stadium in Troy
The Valley Cats face the State College Spikes at 6 pm, fireworks follow after, tickets range from $6.50 to $11.50.
This is the perfect all-American night for baseball fans.
Saratoga's All-American Celebration
The 4th of July Parade begins at 10 am and festivities continue all day long, fireworks at dusk in Congress Park.
If you're looking for an all day celebration, there's a lot going on at this festival: a BBQ and dessert festival, historic tours, photo-ops with historic figures, and a classic car show.
Glens Falls Symphony Orchestra and Fireworks
Concert begins at 7:30 at Crandall Park, free admission
Lake George's Shepard Park Show
Fireworks at dusk, free admission
Saturday, July 7
Steamboat Meet in Waterford
The annual Steamboat Meet in Waterford includes "spectacular fireworks at dusk." As chezjake concluded last year: "Fireworks + steamboat whistles = awesome." He added: "Fireworks are very viewable from the Waterford quay, the river, and Peebles Island State Park." Working steamboats, crafts, food music. The festival is from 9 am-9 pm at the Waterford Harbor Visitor Center and promenade.
Speculator's 4th of July Celebration
4th of July Parade is at 7 pm, fireworks at dusk over Lake Pleasant
If you didn't have the chance to get away during the week, take a drive up to Speculator. It's a cute small town celebration and the lights over the lake are beautiful, especially if you can find a way to see them from a boat.
photo: Crystal Capritta
Hi there. Comments have been closed for this item. Still have something to say? Contact us.