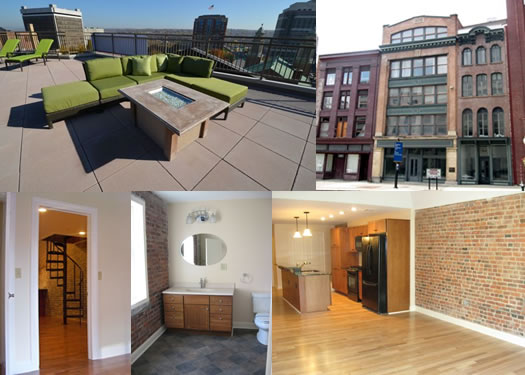 It's Real Estate Week on AOA.
In a lot of cities -- New York, San Francisco, Chicago -- apartments and condos in the heart of "downtown" are totally normal. But in Albany that hasn't been case. For a long time its downtown has emptied out after the work day. Sure, there are crowds along the entertainment strips like Pearl Street. But the city's downtown has had very little residential stock -- and, as a result, very few of the open-after-work services and amenities that go along with residential: coffee shops, retail, a grocery store.
Over the last couple of years, though, a handful of developers have gutted and rebuilt the interiors of historic buildings, turning them into luxury apartments and condos.
And here's the thing that surprised us: there appears to be strong demand for those units. Every one of the existing apartment buildings we checked out was full, and many of those still under renovation have a waiting list.
So, what's changed? And what does all this downtown living look like?

Georgette Steffens, the executive director of the Downtown Albany BID (business improvement district), says her org commissioned a study the downtown residential market that found widening potential demand for units there, especially among Baby Boomers and Millenials. "The area should be able to support up to 134 new market-rate housing units per year over the short term (next three years) and up to 287 units per year in the longer term (four to seven years)," Steffens says.
She adds that a lot of the buildings being converted into apartments have been empty for a while, and much of their office space is virtually unrentable because it's not prime quality. "Even if you offered it at $3 or $5 a square foot people wouldn't want it for that."
Here's a look at some of the downtown living options, what they cost, what they offer and what the developers had to say about Albany's downtown living potential.
4-6 Sheridan ave
Size/number of units: 12 apartments, from 600 to 1400 square feet, studios to 2 bedrooms
Price: $930 (studio) - $1,800 (2 bedroom, two bath)
Details: all apartments include land line phone, DirectTV service, and internet -- utilities are the tenants responsibility
Parking: not included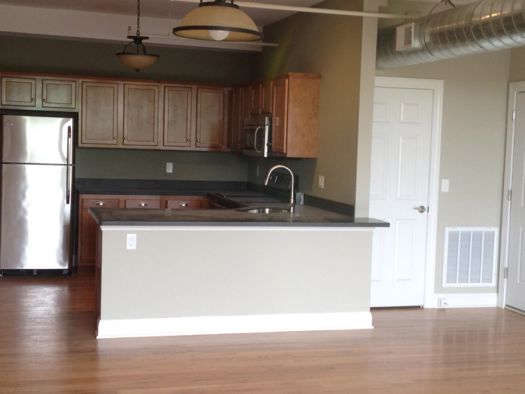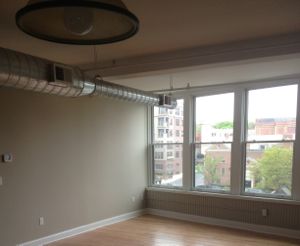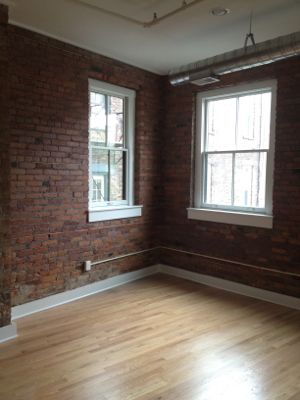 Every one of the apartments in this newly renovated, five story, 25,000-square-foot building is rented. (It's the building that includes Carmine's Brazilian Grill on the first floor, near Pearl Street.) Guy Alonge, who owns the building, says the inside is completely new, but he preserved the character of the building by keeping the exposed brick, high arches, and other design aspects.
What are some of the problems that have to be overcome to encourage more people to live in downtown Albany?
"One of the obstacles that any downtown landlord will face is parking availability. There's not a lot of parking in downtown Albany, so if that's important to someone they might lean against living down here. Another factor is there's not a lot of lifestyle services -- there's a pharmacy on North Pearl, but there's not a gas station or elaborate mini-mart. But it's a chicken/egg situation. I think those things will come once the downtown population grows. I think living downtown appeals mostly urban professionals looking for an urban setting. Most of my tenants are in their late 20s or early 30s."
60 State Street
Size/number of units: studios (600 - 800 sq feet) and 1 bedrooms
Price: $1,200 for studios, up to $2,600 for a 1900-square-foot 1 bedroom with loft and study
Details: still in pre-construction, opening in the spring of 2013
Parking: included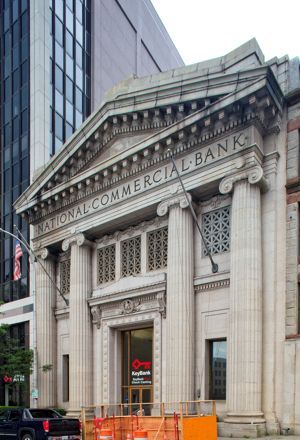 Built in 1902, 60 State Street was once a Key Bank headquarters. The developer, The Gordon Companies, plans to make the front of the building a wedding venue that they'll run themselves. The back of the building will be apartments. Melissa Joqhum, a spokesperson for The Gordon Companies, says they'll be doing a lot of soundproofing apartments in the back.
The building is still in the development stage but Joqhum says they're already getting inquiries about the apartments. "We planned to market to young professionals, but some of the interest is coming from people whose kids are grown. One CEO of a local company is interested. We really didn't expect it, but the interest list is varied. I think there's just a lot of people who have an interest in bringing downtown Albany back. I have friends who just really want to be able to walk to things and the whole idea of improving downtown. We're pretty confident to be rented before construction is complete."
What does Albany need to make more of this kind of development happen?
"There are social places, that aspect is covered. But shopping, right here on State Street there's really no place to shop. You're still missing the stuff that you need with everyday living."
71-73 N. Pearl
Size/number of units: Four units -- one bedrooms and smaller 2 bedroom 750 square feet.
Price: $850-950
Details: galley kitchen, dishwasher microwave. Two spaces have a washer/dryer. Tenants responsible for utilities. Hardwood floors, Central air
Parking: Not included.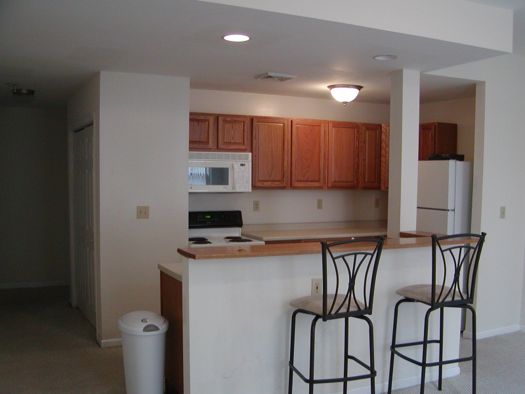 These four apartments over Truman Jewelers on North Pearl streets have been in use for about five years. The building itself dates back to 1874. Paul Crabbe, the owner of Truman, runs two of the apartments and his business partner runs the other two. "It helps defray the cost of my building." Crabbe says, adding that most of his tenants in the last five years have been young professionals. "I've had students, people working for EnCon or Xerox, journalists, hospital employees."
Are the lack of amenities downtown a problem for potential tenants?
"I think people still want to be downtown, whether the amenities are here or not. Where can you get combination of the restaurants that you can walk to and the waterfront and the exercise? Probably the best thing Albany could do for the area is bulldoze 787 and open up their waterfront."
23 N. Pearl
Size/number of apartments: 7 apartments, 1 bedrooms, some have a loft, den or additional space -- about 800 to 1100 square ft
Price: $950 - $1,500
Details: granite in kitchen, hardwood floors, washer/dryer in each unit, added storage space -- utilities are the responsibility of the tenant.
Parking: available at $75/month for parking in the Hotel Albany lot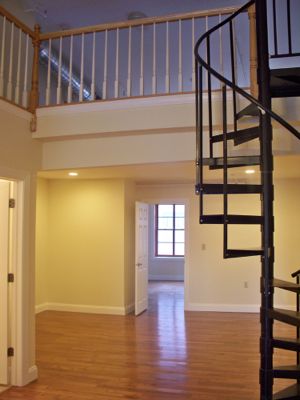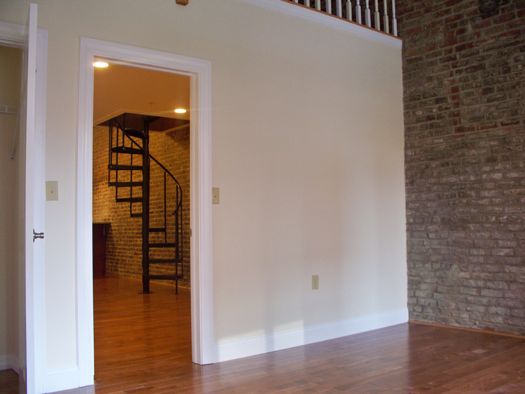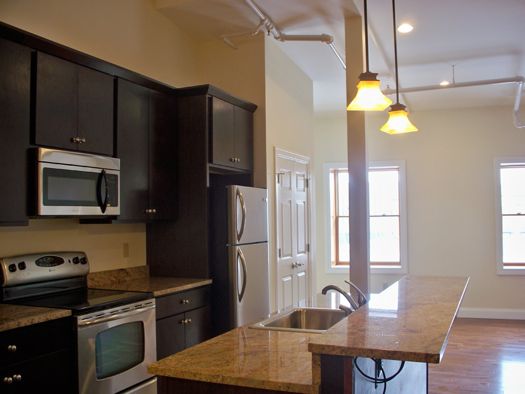 Another old building, 23 North Pearl Street was gutted and renovated a few years ago. "We were here for a few years before the others came," says agent Kathy Gilboy. "The apartments are all currently rented and they're never vacant for long."
Who is your typical client for a space line this?
"A lot of people are relocating to this area. That's my typical client, not someone from Albany. I think they want to be someplace where they can walk and do things and meet people. I get so many calls from Knolls Atomic and GlobalFoundries. My daughter just graduated from Clarkson and she's going with GE -- and the the tech people are being scooped right up and many are coming here to live. Even if they're working in Malta, they don' necessarily want to live in the suburbs."
Meginniss Flats, 370 Broadway
Size/number of apartments:6 apartments 2 units on each of 3 floors
1300 - 1600 square feet. All two bedrooms and 2 1/2 baths.
Price: $1,300 to $1,900 not including utilities
Details: Central Air /hardwood floors / granite counter tops / washer dryers in each unit. Walk up apartments (there's a freight elevator). Utilities are the responsibility of the tenant.
Parking: Available for three tenants.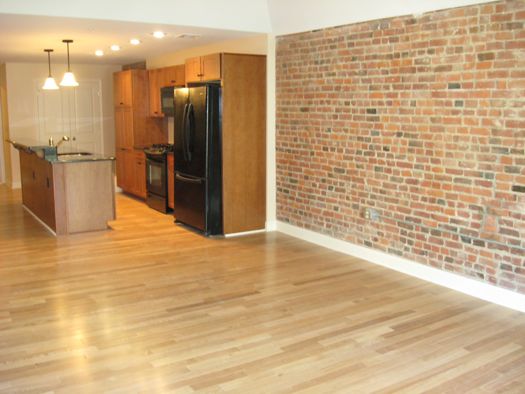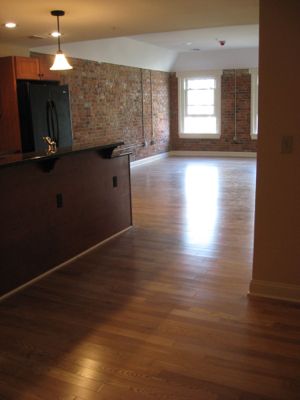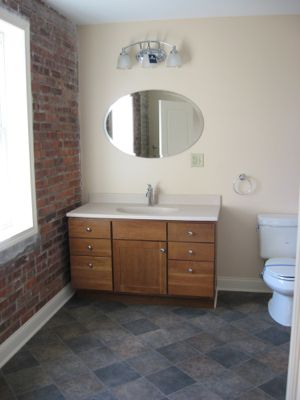 Meginnis Flats photos courtesy of Capitalize Albany
Michele Hannah and her family ran a printing business out of the old Meginniss Electric building at 370 Broadway until 2010. Then they converted it into an apartment building. Since then she says they've had no trouble keeping them rented. The ground floor is home to the Irish American Heritage Museum and the top three floors each have a pair of two bedroom apartments.
Parking, she says, is not necessarily the problem that people think it will be. "Three of our tenants have parking and the rest are on their own -- some lease others park on the street. If you have a 9-5 job and you leave the city you won't have any trouble." She says she's seen both young tenants and "empty nesters." "People don't mind the rents. We worried about the rents. ... I guess eventually if nothing comes into the city in terms of ammenites shopping or whatever maybe it will fall out."
Why are we seeing so much focus on downtown living now?
"I think there's a movement for people to move back into the cities everywhere -- around here, at least. It seems Saratoga and Schenectady have a lot of condos. I think there is a demand for nice apartments. The downside is there's no retail, there's no grocery stores. We've been told they have to hit a certain amount of density of population. ... I think some of it is the paralysis because the convention center is on hold. All that property is owned by the convention center authority and it's just paralized development. But if the convention center comes in, there would be a pedestrian walkway next to our building near the old Trailways station and there would probably be a lot of shopping."
The Liberty Lofts, 374 Broadway
Size/number of apartments: four 1600-square-foot, 2 bedroom apartments -- the living area in each will be 800-900 square feet
Price:TBD
Details: still under construction -- all-new apartments, top to bottom -- elevators open directly into the apartments in all but one unit, that one has a separate entrance
Parking: included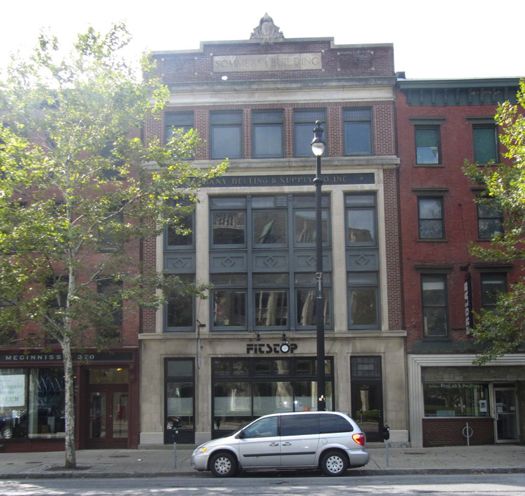 photo: courtesy of Capitalize Albany
This 1860 building was originally the Albany Belting Supply Company, and for a while it served as The Fit Stop gym. Owner Jim Hart says once the renovations are completed, he and his wife Lena will be moving in to one of the units. Lena Hart plans to operate her personal training business on the first floor.
The lofts will be on the upper three floors. Says Jim Hart: "I'm in a 1929 Georgian colonial -- been there 21 years. I bought when I was 27. I'm 48 now, my kids are grown and moved to college. I'll live in a 3,2000 square foot loft. We want a turnkey lifestyle. We're early adapters, so to speak, but we really are hoping and thinking there will be a lot more to follow."
Jim says they've been getting calls about the apartments already and they're still under construction. "A huge demographic now is people moving toward cities. Higher gas prices, empty nesters who don't want to drive out to a cul-de-sac and be stuck there. I think we have a shortage of higher-end rental spaces in the city, so when you have nanotech folks and grad students and people who can't or don't want to buy a home yet, downtown Albany is a good place to rent while you're deciding."
And, he points out, a lot of the spaces being converted hadn't been used for anything in a while. "Over the last 50 years the business tenants upstairs are gone, and for 40 years nobody has been in those upper floors. But if you convert to apartments you will have tenants immediately and property owners are starting to say, 'Hey, this residential thing is going to work.'"
What does downtown Albany need to really make this residential idea work?
"They still need to tweak things, but there's a gorgeous bike path on the Hudson. It is sparse here, it's a little of a ghost town after five, and it's dead on weekends. It's going to take some time. A small grocery store is what we need. We don't have enough mass yet to have a Trader Joe's or Whole Foods or Fresh Market downtown yet, but a small market with some groceries or ready-made foods would be fantastic. I think they'd do pretty well. A few more basic services -- we have a dry cleaner and a Rite Aide -- some services are here. It's a slow moving snowball, but it will gather steam as it rolls down the hill. With nanotech and universities and the state, we have a good infrastructure."
The Lofts at 111 Pine (518 Broadway)
Size/number of apartments: 9 apartments -- seven 1 bedroom, two 2 bedroom of various sizes
Price: currently being estimated at $850 (500-square-foot 1 bedroom) to $2,000 (1,300-square-foot-duplex)
Details: still in the construction phase -- gas stoves and hot water are included -- the rest of the utilities are the responsibility of the tenant -- shared washer/dryer on each floor
Parking: through an agreement with the Albany Parking Authority for the parking garage on Columbia Street, they have 15 spaces and the tenant pays $80 a month instead of $120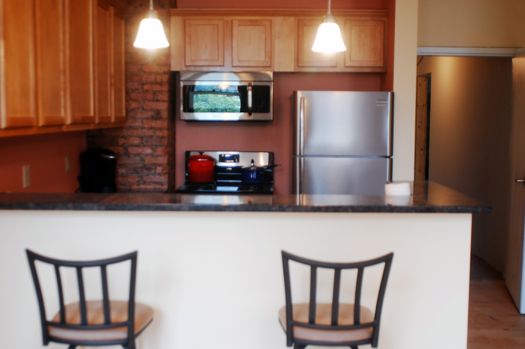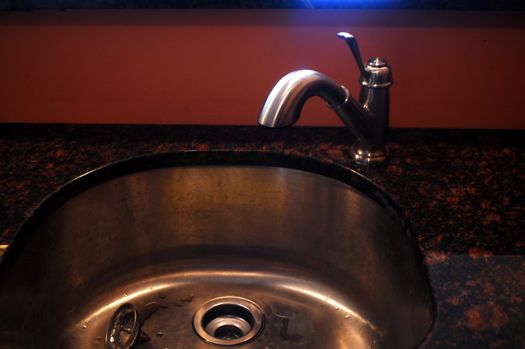 Built in 1847, this building is still under renovation, but owner Tim Holmes says three of the nine apartments are already rented and four more are already lined up. "I think that's a good indicator. I actually think we'll have trouble keeping up with the demand."
Who does this type of living appeal to?
"People who are working on State Street and the Empire State Plaza, so they only have a short walk to work. Also, we're getting the big tech push here and we've noticed that a lot of tech people are looking down here. Young people going to work for the state -- we have one coming from Michigan to work for the comptroller. Also older people looking to move out of their houses ... people who want a smaller more compact place."
522-524 Broadway
Number/Size of units: Twelve 1 and 2 bedroom apartments: 620-680 square feet / 1100 square feet
Price: still being worked out -- between $850 and $1,500
Details: still under construction, expected to open in October or November -- granite counters, wood floor, stainless steel appliances -- common laundry on top floor
Parking: available across the street for $70 a month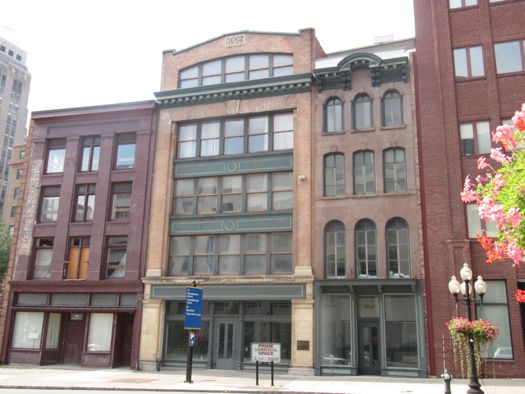 photo: courtesy of Capitalize Albany
The first floor of this building will be commercial space, with apartments upstairs. Seth Meltzer of the Penter Development group, which is behind the project, says he's not concerned about finding tenants for the apartments. "We haven't started an organized marketing effort for them, but every time I'm at the building there are people outside that are coming by to look. We'll start trying to fill them in another month or so."
Why is this boom in downtown Albany housing happening now?
"You take a look at any downtown center and try to figure what direction it's headed. You've got arts and entertainment, bar scene, office -- it has all those different components that create demand for residential. Basically, residential comes and you get the retail after it. We need a grocery store or boutique -- but the retail will come."
17 Chapel
Size/number of units: 24 units, 13 are already sold. 1,090 square feet - 2,365 square feet (including terrace)
Prices: $333,000 to $759,000
Details: newly renovated building, heated garage, fitness center, package delivery room, rooftop deck, keyless entry, and digital guest intercom
Parking: indoor, heated parking garage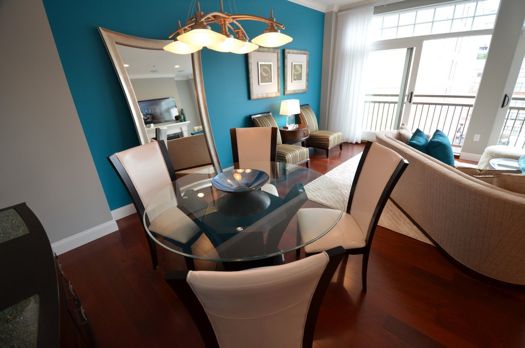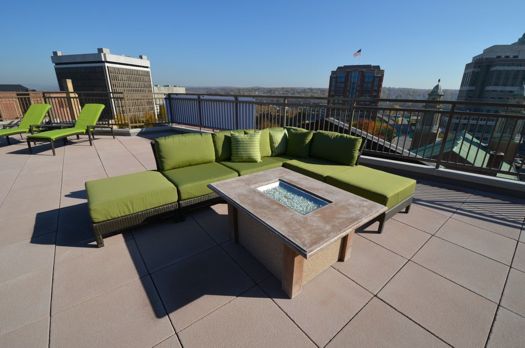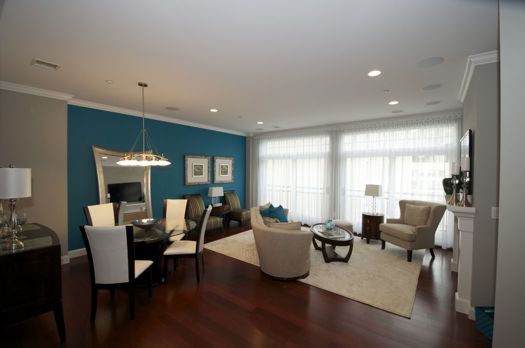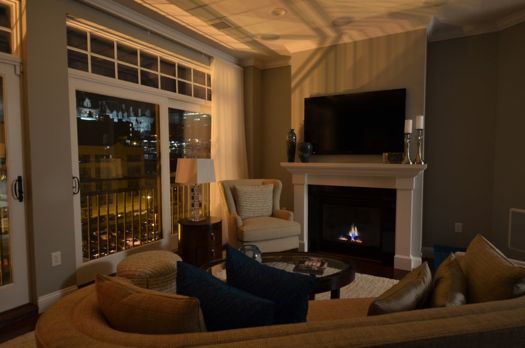 The condos at 17 Chapel opened earlier this year, and there are currently 11 available. This is the only existing building we looked into that wasn't full yet, but it's also the only one with condos -- so they're for sale, not rent. Seth Rosenblum -- vice president of The Rosenblum Companies, the developers of 17 Chapel -- says that right now the rental market is much stronger than the home buying market.
That $333,000 price tag is not cheap. But Rosenblum says the price for one of their smaller units breaks down to about $1,600 a month with tax incentives. "That's everything -- parking space and heated garage, fitness center in the building and a services and partnership with Hampton Inn, roof deck with a firepit."
What do you attribute this boom in downtown Albany living to?
"It's the demand for alternatives to suburban living. People are moving in from out of the area, our area is becoming more cosmopolitan. Even cities like Syracuse have hundreds of units. Syracuse is ten years ahead of us in downtown living. We hired an architect from Syracuse with experience converting old buildings there."
What about the lack of amenities downtown? Is that going to keep people away?
"I think it's more of a perception issue than a reality issue. It will come in time. But Melville's Mug is opening on weekends now with locally roasted coffee and fresh baked goods and you can walk to Bruegger's and Starbucks and Rite Aid. I don't know how many people in suburban areas can do that. We've partnered with local restaurants to bring room delivery, and dry cleaners to do delivery, and Cardona's to do grocery delivery. We even have a package room with a fridge so your groceries can be delivered when you're not home. We've found some solutions."
33 Maiden Lane
Number/size of units: two apartments, 1 bedroom studio (550 square feet) and a 1 bedroom (650 square feet)
Price: $700 for the studio, $800 for the 1 bedroom
Details: recently renovated, all new inside, vintage trim work and molding,
new floors hardwood, central air central heat
Parking: no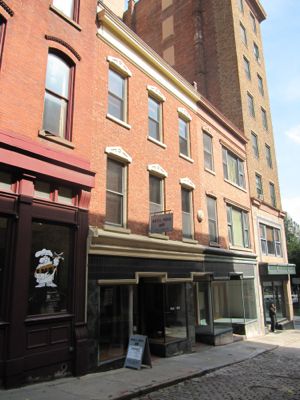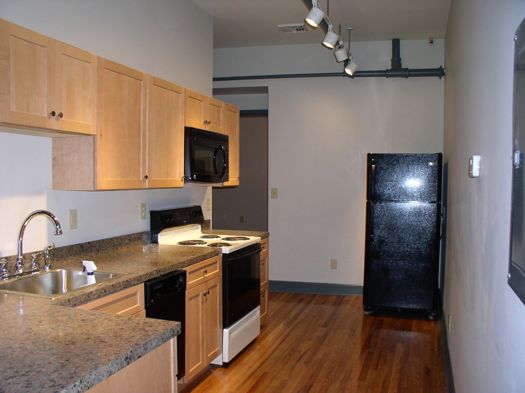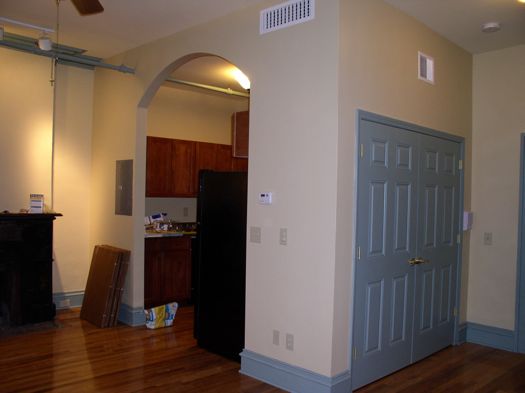 photos: courtesy of Capitalize Albany
Another renovated building dating back to the 1800s. Owner Lenny Gaspary says the two apartments above his sandwich shop, The Deli Mill, haven't been vacant in the four years since he converted them to apartments. "My first tenant walked in off the street before the apartment was finished and asked if I was renting anything." He says he turns people away on a weekly basis.
Why do you think your place and so many others are all rented?
"I think the want was always there, people were always looking, but the places that were available weren't what these folks want. They're young professionals and they want the nice stuff. You've got a large number of people in Center Square, and what we're offering -- we're totally redoing these buildings. Compared to Center Square prices, it's right there -- but here you have something a little more modern: stainless steel sink, full kitchen.
"I always had people walking in asking if I had anything available upstairs. But now [other] owners are catching on and doing it. We have some property on lower Madison and it's not doing as well. I think the need is there downtown. Owners need to just step up and take a chance the people are."
____
These spaces are just some of the downtown residential stock. And there's more on the way, including a 43-unit apartment project on on Sheridan Ave called The Monroe.
17 Chapel has advertised on AOA.
photos courtesy of building owners and developers except where otherwise noted
Hi there. Comments have been closed for this item. Still have something to say? Contact us.