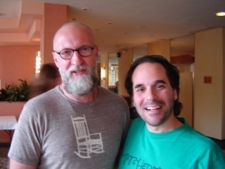 Monday, which means WEXT is running another My Exit show -- where the listeners get to pick their own playlists.
Here's a look at what's coming up tonight:
Who?
Christian Rocco. Born and raised in Saratoga Springs, lived in Nashville for 20 years after that. Recently back in Capital District.
How would you describe your taste in music?
I like all flavors of music as long as they taste good to me. I grew up on the staples from the 50s and 60s due to the influence of my parents, but had an older brother into things like Frank Zappa and Black Sabbath. I found alternative rock like Minutemen, Husker Du, REM, The Smiths, the Replacements, etc. in my teens and pretty much dove into it head first. To paraphrase D. Boon of the Minutemen: "punk rock changed my life."
About 5 songs from your show:
This is my second "My Exit" and I realized that my first was nothing but American bands so I made this one all European. There is some classic rock from the Stones "Torn & Frayed" and Bowie's "Queen Bitch" but I made sure they weren't the typical "hits."
I played 2 tracks fromMy Bloody Valentine's "Loveless" record because it feels natural to listen to that record in its entirety instead of just one song.
"The Queen is Dead" -- The Smiths
Just a personal favorite.
"Pearly" -- Radiohead
This cut from the Airbag EP is there just to get something more obscure by them on the air.
You can hear Christian's My Exit show Monday night at 8 pm on 97.7 or at exit977.org.
Here's how to schedule your own My Exit show on WEXT.