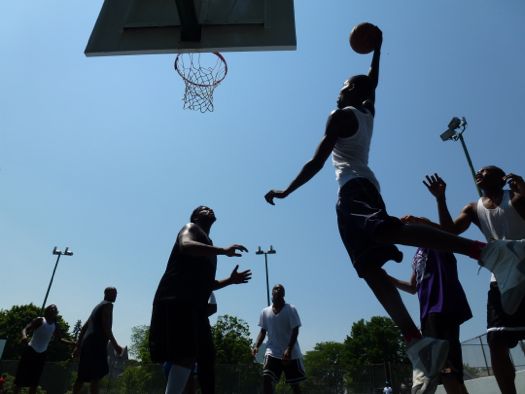 Every subculture has its own nuances, unwritten rules, set of characters. And after watching Ballin' at the Graveyard, you're likely to think about the subculture of pick-up basketball every time you pass a busy court.
The documentary, created by local pick-up baller Basil Anastassiou and director Paul Kentoffio, is billed as "a gritty, intimate look into the culture and community of pickup basketball as told by a group of hardcore ballers at Albany NY's Washington Park." The film examines the scene at the basketball court there known as "The Graveyard," looking at the lives of some of the men who play there.
The film opens Friday for a limited run at The Spectrum. Anastassiou and Kentoffio took a few minutes to talk with us about the film, rules of the court, the importance of trash talk -- and taking it to Mario Cuomo.
Why do they call it The Graveyard?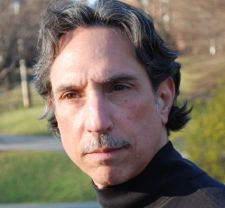 Paul: The guys there call it the graveyard because you gotta bring your best game or you'll get killed. But there is this other element: the fact is Washington Park was Albany's first cemetery and in that cemetery there was a segregated African-American burial ground.
At the very end of the credits there is an audio reveal about the graveyard where you hear me asking a dozen of the guys if they knew the park used to be a graveyard. Nobody knew.
Why did you want to make a film about the Graveyard?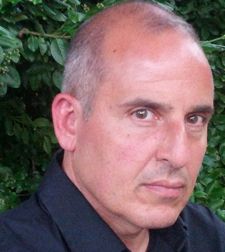 Basil: The simple answer is that this is a world that I think a lot of people don't know about and an environment and community that is riveting and rich. The film is set up to pull the curtain back on this cultural experience a lot of people don't know -- what goes on behind the chain link fence. They walk on by and have no idea except for what they might hear, but it's an intricate world that exists there. We wanted to dispel myths and knock down stereotypes about who plays on courts like this.
Who are the guys who play on this court?
Basil: A lot of people cross paths there. Fifty to seventy-five core guys, old timers on the picnic table. Fathers bringing their kids there, generation to generation. We've got people doing comedy routines, great basketball. Judge Randy Treece plays, there are cops that play, and there are guys that are maybe the opposite of that. And somehow it works. You find that balance and that is the great equalizer. And that is the beauty of this kind of game -- you've got a ball and a bunch of guys and all the rest of that stuff doesn't matter. It's a function of a survival of the fittest and has absolutely nothing to do with station in life or background.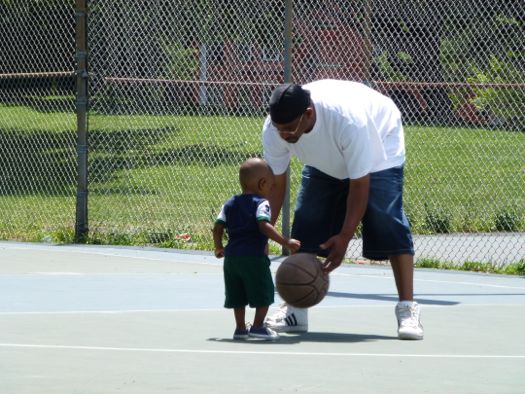 Paul: Yes, there are a lot of different backgrounds but those are kind of hidden from everyone who plays on that court. We had a screening for the guys who play. It was a beautiful experience and they loved it, but when we got into people's lives off the court, they were shocked. They didn't really know each others stories. Not in the level of detail. And it shows you that those guys come to play ball and it's about the ball that is happening.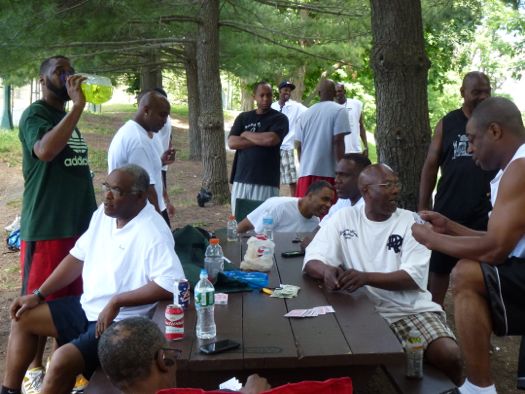 And Mario Cuomo used to come down and play on the court?
Basil: Judge Randy, one of the guys who began the game at the park 40 years ago tells this story in the film. Randy was playing in the game and he saw Governor Cuomo walk in and start shooting a game with this guy Al. And they got into a game and Al was being rough with Governor Cuomo. So Randy stopped his game and ran over and pulled Al aside and said, "What are you doing? Do you know who that is?" And Al says, "Some sorry-ass white guy." And Randy tells him, "That's not a sorry-ass white guy, that's the Governor of New York." So Al runs over and says, "I'm really sorry, Governor. I won't hit you anymore, but I really need a job." It speaks exactly to what were talking about -- some "sorry ass white guy" -- and little did he know.
The film looks at the game, but it also looks at other issues like race.
Basil: They are dealt with in the film, but they don't really play a prominent role in the every day of the court. And when they do come up it's without malice and it's blunt and honest and it's... refreshing. I'm the minority on the court. It makes me feel like I'm being recognized believe it or not -- not targeted.
A lot of that falls away cause we're talking about being on a team and winning -- and what we're talking about is "can you play?"
I have never seen never seen any kind of racial issue on the court. I've never seen anyone say, "I've got a problem with you because you're white or black." It's more, "I've got a problem with you because you missed an open shot or you're not a nice person."
The response we've received so far has been heartening. Alice Green's take was not about basketball -- it was about issues the community is facing and how to deal with those. She saw this as a way to start discussions in the community about race.
Near the beginning of the film, there's a lot of trash talk on the court, and it seems really aggressive to the point where you kind of wonder if this is really fun. But trash talk is portrayed as a big part of the game.
Basil: It's all a challenge. If you wilt in the face of that you probably won't show up the next week. I pride myself on the fact that I've been told my trash talk has gotten a lot better. Not everyone engages in it. Some are quiet and don't do that. And there are other guys, that's all they bring to the court. You're on stage and it's expected that you wouldn't take personal. It's not like somebody yelling at you on the sidewalk or a restaurant. And people try their best to live up to that standard. It's an art form that is both praised and recognized when it's done in a skillful way. It really has an entertainment value to it that lifts it out of the personal and brings it into an onstage improv.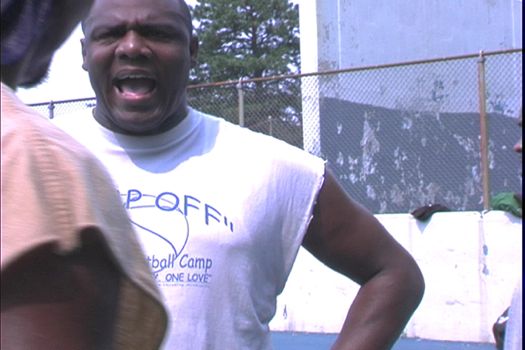 What are the basic rules of the pick-up game?
Basil: Show up at the court and call next. "I have next or I have next after next." You get in line to play your game then you put a team together to play your games. You keep playing as long as you keep winning. If you lose you go back to the sidelines
Calls are made by the players themselves and it's about who can get their way. No refs you just have to make your argument. If you are a newcomer on that court you go through a hazing process. A newcomer's time there can be a challenge.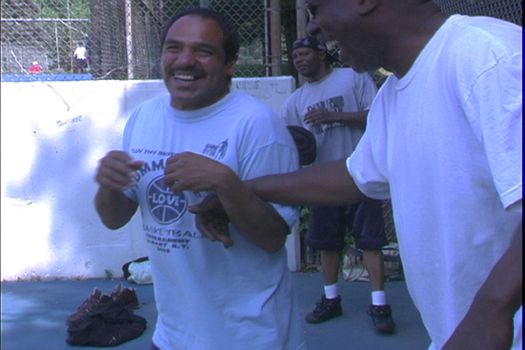 I've been playing on this court for twenty years and Pookie, our sage, finally said, "Basil, you're getting close to the bulls-eye. You're getting close." Giving me my props that I was getting close but not quite sitting at the adults' table. Somehow that matters a lot to me in a way you wouldn't necessarily think it should. The respect of those guys on that court informs my life in a certain way and I can't tell you why.
Have you got game?
Basil: (Laughs) I'm gonna get myself in trouble. But I will say this -- I'm 49, I'm still playing on that court, and I'm not a liability out there. And I do what I do. I've got a little bit of a shot. I've got some defense. I'm not your first pick.
What do you want people to walk away from this film with? What's the take away?
Basil: That if you had seen a court like this and your impression of it was anger, violence, aggression -- that there is great camaraderie, there is friendship, there is great love and community there. That to me is the most surprising thing about the court that right below the hard crusty surface are all those elements or qualities that you are searching for in life. A community to be part of.
Say Something!
We'd really like you to take part in the conversation here at All Over Albany. But we do have a few rules here. Don't worry, they're easy. The first: be kind. The second: treat everyone else with the same respect you'd like to see in return. Cool? Great, post away. Comments are moderated so it might take a little while for your comment to show up. Thanks for being patient.