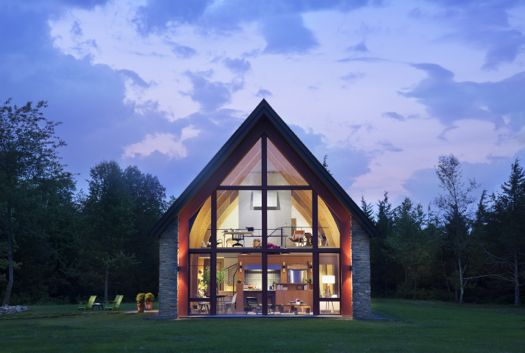 By Siobhan Connally
Writer Susan Guthridge-Gould and her husband, photographer Chris Gould are a little passive aggressive.
Which is to say they are aggressive about passive. Their passive home.
The Columbia County couple is building one of the first certified passive dwellings in the region. They're keeping a record of the process on their blog, Newhudsonvalley.com.
What is a passive house?
Lets start with what it's not. It's not to be confused with a solar house - or any other practice of green-construction that uses a complex equation of sustainability and technology to reduce its carbon footprint.
A passive house has only to meet two main requirements:
+ Use 90 percent less energy than a conventional home
+ Achieve that goal through its design and construction rather than mechanical technology.
In other words the house has to rely on its placement in the environment and an air-tight construction to keep it warm in winter and cool in summer.
So... does it work?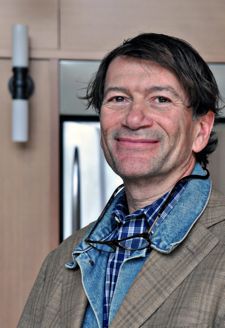 Architect Dennis Wedlick, an environmentally-conscience designer for more than two decades designed the Guthridge-Gould project, as well as New York's first certified passive house in Claverack. He says the owners of that first passive solar home, built two years ago, didn't turn on the heat once last winter. Not once.
"It was suppose to be 99 percent efficient, but I'd say it was more like 99.9 percent efficient," Wedlick says.
Dubbed the Hudson Passive Project, that Claverack home is one of only 11 structures in the United States to be certified by the Passive House Institute of Germany.
According to Wedlick, the effectiveness of a passive home is more about design then technology. " It doesn't rely on solar panels or geo-thermal to heat," says Wedlick. "It acts more like a Thermos, using insulation and the internal heat to keep it at a stable temperature. Mostly, it's about not losing heat."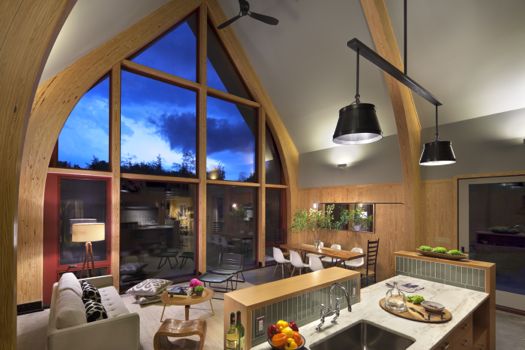 photo: Peter Aaron
How it works
The home's position in the landscape, the placement, number and size of windows and doors, and the reliance on thicker and all-encompassing insulation are all factored into the design of the home. Air moves in currents around the house, Wedlick says, but it doesn't flow out. Think of an air-tight envelope around the house.
Nothing penetrates the walls. Even the utilities -- electric, telephone, internet and plumbing -- enter the house through the ground to ensure a tight seal.
Wedlick quips the house is so air-tight it could hold water. Which makes the ventilation system all important. The sick houses people associate with super-tight construction, he says, were really the result of poor construction coupled with poor ventilation.
Wedlick's house uses a heat recovery ventilation system that collects the heat from the house -- whether it be the steam from showers, the warmth of appliances or even the breath of dogs -- filters it, and uses it to warm the fresh air coming through the system.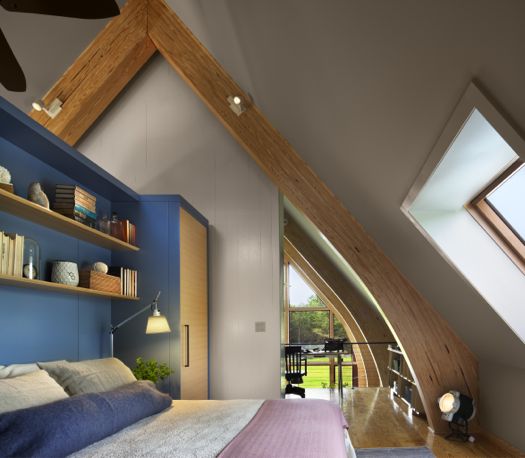 photo: Peter Aaron
The design
Built by Bill Stratton Building Company, the Claverack house is reminiscent of a Dutch barn with a peaked roof and 25-foot bow-arch beams and stone exterior. The interior is modern with an open floor plan. It has a wall of south-facing windows that allow light and heat in the winter, and an overhang that blocks the heat during the summer months.
Wedlick said he arrived at the final design using software that allowed him to test the structure's energy efficiency in a virtual world before a single frame was lifted.
Specifically, Wedlick's design placed no windows on the east-facing wall, a wall of windows on the south-facing wall and a single door and window on the west wall.
It's a distinctive design, but that doesn't mean these houses have to be modeled exactly alike. The possibilities, he says, are endless.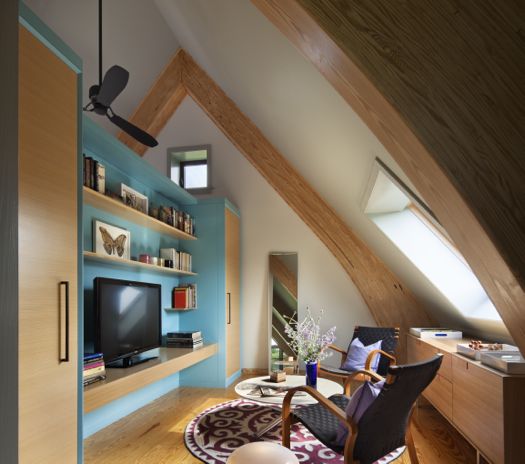 photo: Peter Aaron
So why isn't everyone building this way?
Well, for one thing, it's not cheap.
Wedlick is known for designing some super-posh spaces in Manhattan and Columbia County. This lofty, three-bedroom, two bath,1,650-square-foot dwelling (situated on about seven acres) is listed with Gabel Real Estate for $675,000.
Why so much?
In the grand scheme of things, Wedlick explains, the cost isn't much more than conventional dwellings. The difference he says is in the comparison of custom houses to speculative houses.
"If you are comparing custom houses the price is only two or three percent more, but if you're comparing a custom house to say a house built by a developer in groups of ten or so then you're comparing apples and oranges. Two hundred to two hundred and fifty dollars per square-foot for a custom crafted home isn't unusual," he explained.
"We use better windows, better construction, but in the overall we reduce spending on the mechanical systems. When you compare that to other green building processes, solar panels and geo thermal technology, that can be a $65,000 add-on. Passive is a lot cheaper."
Wedlick also says that designing buildings with the minimum need for mechanical systems also minimizes the things that could go wrong with those systems, including the relationship between architect and builder.
"I think builders will appreciate these types of houses because they are appreciated from day one. There are a lot of houses that are beautiful but aren't holding up because they couldn't be constructed well. This house doesn't work as a design unless it is well built."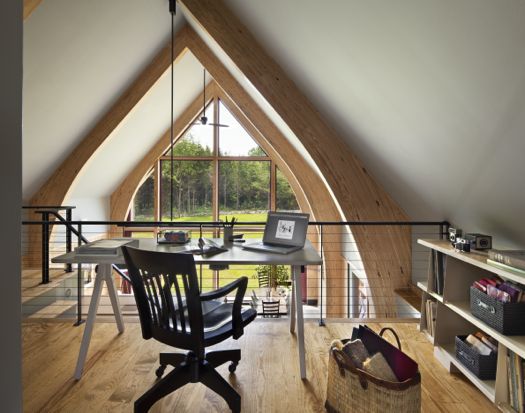 photo: Peter Aaron
The passive mindset
Wedlick believes modern passive house building techniques -- which are based on techniques employed for thousands of years before the invention of modern heating and cooling systems, but are maximized for efficiency with modern materials and software testing -- are already popular in Europe and will see wider acceptance in the US as energy conservation becomes essential.
"As a nation we should be tapping into the climate. We need to develop more prototypes for these endeavors," he says.
In Germany, he says, all buildings have to be built to the passive standard as part of its code. Here that standard is the highest bar.
Although, until it becomes a standard in this country, building that way is still pricey.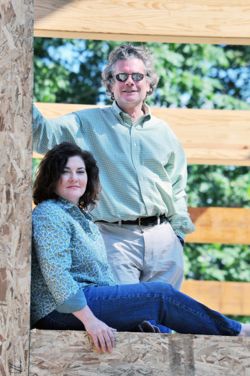 The Guthridge-Goulds believe the savings they see in fuel costs will eventually pay for the upfront expenses of using high-performance materials. They have also been able to keep their building costs in check other ways. They got certification through the Irish certifying body of the Passive House movement. Obtaining certification not only ensures the house works as it's supposed to, but also makes it eligible for funding. The couple has secured a NYSERDA High-Performance Development Challenge grant (now closed) that not only studies their house for a year but supplies the couple with $30,000 worth of top-notch expertise they otherwise wouldn't have been able to afford.
Gregory Pedrick, a research and development project director with the New York State Energy Research Development Authority, explained that the Goulds' project is one of 24 throughout the state his agency is studying.
NYSERDA matched them with a building science team from Levy Partnership in New York City.
"It's really a bigger picture. In 2008 we solicited building science teams asking them to provide technical assistance to make homes more energy efficient. And by energy efficient, we meant more than the Energy Star guidelines. We wanted to emphasize energy efficiency using smaller mechanical systems," said Pedrick. "Passive solar is a good intention but it relies solely on orienting the house and stops there. Passive houses requires that it not exceed 4.5 kBtus per hour, where a conventional home easily reaches ten times that."
Trade-off and payback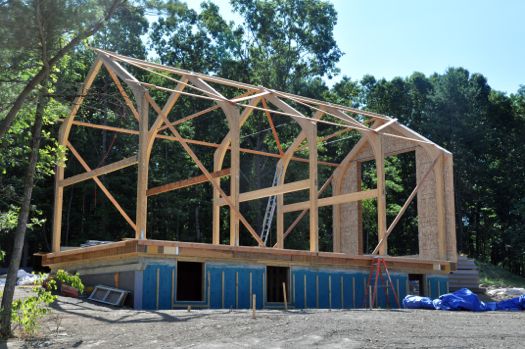 The Guthridge-Goulds are also willing to trade off on things to bring the price down a bit -- like square footage.
"We had to make some choices to build this way. We are building a smaller house that is very well-designed for living. We can't have an indoor fireplace or cook with gas and we didn't want to pierce the airtight envelope for a dryer vent so we have a compact condensation dryer," said Susan.
They're in it for the long haul.
"A passive house," Susan says, "offers a long-term payback because it requires minimal heating. It relies on insulation, sunlight and an airtight exterior. Going the extra mile to build this way is worth it. One of my friends of mine said 'Thirty years from now your kids will look back and say 'mom and dad built a certain kind of house a certain way because the technology was at that time the best they could do for energy efficiency.' It's like of the moment, which is interesting. A lot of the techniques are tried and true, even very old fashioned, but it is of the moment."
Top photo by Peter Aaron
Hi there. Comments have been closed for this item. Still have something to say? Contact us.