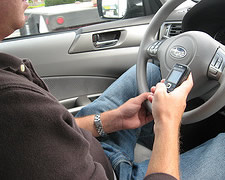 Almost 21,000 tickets for texting-while-driving were issued by police in New York State over the last year, according to numbers from the Cuomo admin. And, look, county-by-county numbers for the past year (year before that):
Albany County: 539 (75)
Rensselaer County: 163 (21)
Saratoga County: 326 (42)
Schenectady County: 69 (18)
(It appears that Albany County racked up that total thanks in part to a sweep this spring by the county sheriff's office that netted 230 tickets for talking or texting while driving. [Troy Record])
The totals were released to mark one year since the state law making TWD a primary traffic offense took effect. That means police can now pull a person over just for that -- before you had to be doing something else to get stopped (like swerving over the double yellow because you were sending email). And it looks like people are getting pulled over for it.
You might think you can text and drive with no problem -- we're all above average drivers, right (oh, wait...) -- but probably not. There's research that indicates a distracted driver is about as bad as a driver with a .08 blood alcohol level, which is the legal limit for drunk driving. (The New York Times produced a good series about the risks of distracted driving.)
All county totals after the jump, if you're curious.
photo: Flickr user mrJasonWeaver (cc)
Hi there. Comments have been closed for this item. Still have something to say? Contact us.