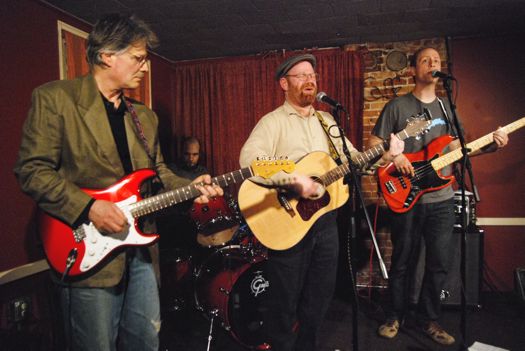 It's Monday, time for another WEXT My Exit show -- where the listeners get to pick their own playlists.
Here's a look at what's coming up tonight:
Who?
Rob Jonas. Originally from Newtonville. Some people know me as the sports editor of Spotlight Newspapers. Others know me as a singer-songwriter with two albums and an EP to my credit. Either way, I do a lot of writing.
How would you describe your taste in music?
I like a variety of genres -- from roots rock to power pop, punk, old school rap and jazz. About the only music I don't listen to is anything that is currently played on Top 40 and contemporary country radio.
About 5 songs from your show:
"Battle of Who Could Care Less" by Ben Folds Five
I grew up playing piano, so I've always admired rock pianists. Ben Folds is one of the best rock pianists I've heard. His ability to shift from power pop to ballads to the occasional jazz riff is amazing to me.
"Ticket to Ride" by The Beatles
Everybody has at least one favorite Beatles song. This one happens to be mine. The lyrics might be simplistic by comparison to later Lennon/McCartney compositions, but the harmonies make the song work for me.
"Canary in a Coalmine" by The Police
I used to be a big fan of this band because of their blend of punk and reggae. Then, songs like "Every Breath You Take" and "I'll Be Wrapped Around Your Finger" started popping up, and I lost interest in them for a while. Luckily, I saw them on their reunion tour when it came to SPAC, and that got me back in their corner. This particular song is one of my favorites from their early work.
"Chasing After Words" by The Figgs
Being a local musician, I wanted to have a song by another local band on my list. And being a writer in two genres, I wanted a song that reflected how I often feel when I'm trying to come up with something on a deadline. This song fit the bill on both counts. Plus, I am a big fan of The Figgs.
"Pump It Up" by Elvis Costello and the Attractions
This song isn't used at nearly enough sporting events, and it should be. It's got an aggressive beat, a shouted chorus and a terrific organ riff. Seriously, I think I should petition every team in this region and get them to play this song at their games.
You can hear Rob's My Exit show Monday night at 8 pm on 97.7 or at exit977.org.
Here's how to schedule your own My Exit show on WEXT.