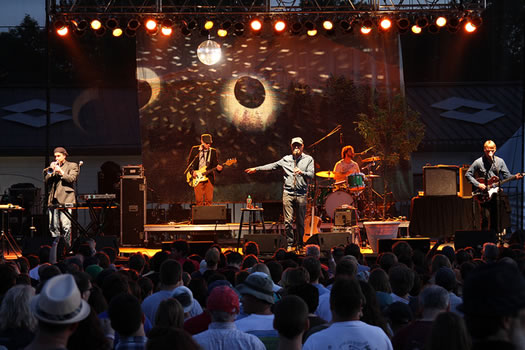 By Casey Normile
When the band Cake showed up for their concert at Brewery Ommegang earlier this summer, their first question was: "Where's the ping-pong table?"
And that question helps explain how Cooperstown, better known for baseball, has become a destination for big music shows this summer, including Wilco this week -- and Bon Iver in September.
It turns out Cake had heard about the ping pong table from The Avett Brothers, who played at the brewery last fall, says Ithaca-based concert promoter Dan Smalls. So, of course, he had to run out and find a ping-pong table.
"People talk," said Smalls. Not only agents and those behind the scenes, but the bands themselves; when a show goes well, or they play a good venue, musicians tell other musicians. And Smalls says that's why Ommegang has been able to score a slate of big-name acts -- and big crowds -- to an otherwise small-town venue. Bands like playing there.
Developing the brewery as a concert venue had always been in the back of the mind of Ommegang president and CEO Simon Thorpe, says the brewery's publicity coordinator, Kelly Jendrzejewski. "What goes better with music than beer? We wanted to bring more to the community than just beer; and music, the arts and craft beer just go hand-in-hand."
With that in mind, last year Ommegang approached Dan Smalls Presents to book, promote, and produce the events. And they were happy with how last year's slate of shows -- which included Levon Helm/Arlo Guthrie, an Americana Festival (Steve Earle/The Felice Brothers/Allison Moorer), and the Avett Brothers -- worked out. Three thousand people showed up on a Tuesday night for The Avetts despite pouring rain that lasted most of the show. Jendrzejewski says the concerts not only helped the brewery, they also brought tourists to Cooperstown, with concert-goers exploring local restaurants, bed and breakfasts, and hotels before they headed to their show.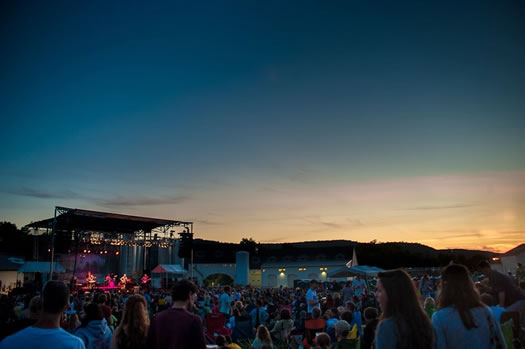 photo: Angelina Castillo
After calling the 2011 slate a success, Ommegang decided to line up a whole series for this summer. It started with Cake (June 15); Death Cab for Cutie played this past Saturday (July 21); Lyle Lovett will be there Friday (July 27); Wilco on Saturday (July 28); Bon Iver on September 17; and Darius Rucker closes the season on September 22.
Brewery Ommegang isn't the first, or necessarily best, big field in New York to serve as live music venue -- but it is right behind a brewery, not facing the sun, parking and entry is easy, they offer camping, there are local food vendors and... oh yeah, there's craft beer available all night long. Sure, it's $6 a beer, but you won't be sipping Bud or Tecate, it's Ommegang's selection of quality Belgian-style brews.
Despite the beer, live music, large crowds, and campers, Jendrzejewski says the concerts don't leave the brewery grounds in pieces the next day. Each show has been relatively trouble-free and the brewery is back to business as usual the next day, offering tours of the grounds, tastings, and its full café menu.
"It's just a great atmosphere," says Smalls, "but we're not trying to be SPAC, we just want a smaller, special experience, with each show better, not necessarily bigger than the last... Even if people don't love the artist, they come for the experience, and that's what we want to offer."
This post has been updated to correct last summer's lineup.
Hi there. Comments have been closed for this item. Still have something to say? Contact us.