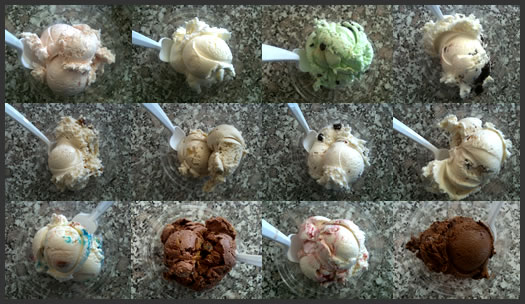 By Daniel B.
Blah, blah, blah, Bobby Flay, blah, blah.
So yeah, the Ice Cream Man was on cable. There was a "throwdown" and our Greenwich shop prevailed with a sundae made from vanilla ice cream, warm apple topping, whipped cream, gourmet nuts, and a cherry.
If you really want, you can buy one of those for $5.14, but then you would be missing out on what truly makes the Ice Cream Man special: they produce over 300 flavors of homemade hard ice cream. It's an audacious claim, but they make it proudly.
Now granted, they only keep about 30 of the flavors on hand at any given time. Twelve are set in stone. They are the same week in and week out. Up to six flavors can be dedicated to fat-free, sugar-free, soft-serve, yogurt, or sorbet, which might be fine if you are into those kinds of things.
That means every day hundreds of potential flavors are vying for a mere twelve spots on the menu board. After the Tour de Hard Ice Cream it became clearly evident that the Ice Cream Man sets the high bar for homemade ice cream in the region. But the question remained, what hidden delights are lurking on the menu.
To find out, I decided to eat an unreasonable amount of ice cream. Again.
Haphazard menu boards in ice cream parlors kill me. I find that my brain simply cannot process random data points of information. So to tackle this project, upon arriving at Ice Cream Man, I made a list of the available flavors and did my best to organize them into some meaningful scheme.
My plan was to eat 12 bowls of ice cream in three rounds, consisting of four flavors each. Twelve seemed like a nice even number, and with a few additional mouths -- including the likes of Albany Jane and two junior* ice cream lovers -- the task was much less daunting. Regardless of how much ice cream we ate that day, we would leave with gaps in our knowledge. But the goal was to eat enough so we could draw some broad conclusions about finding the best of the best. (* While the little ones participated in the eating, their juvenile opinions do not appear in the findings.)
The flavors shook out into a few categories. Here were the options that day -- the ones we tried are in bold. (** Indicates a regular flavor.)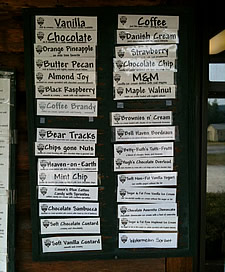 Basics
Danish Cream **
Vanilla **
Chocolate **
Strawberry **
Coffee **
Chocolate Chip **
Mint Chip
Brownies and Cream
Nut Flavors
Butter Pecan **
Maple Walnut **
Almond Joy **
Chips Gone Nuts
Candy Flavors
M&M's **
Bear Tracks
Heaven on Earth
Hugh's Chocolate Overload
Boozy Flavors
Chocolate Amaretto Cheesecake
Bell Haven Bordeaux
Chocolate Sambuca
Coffee Brandy
(The only regret of the day is that I left without trying the Chocolate Sambuca, because that sounded great to me. But the Boozy Flavors drew a short straw as I suspected them to have a much more limited appeal. Additionally, all of them were subject to change.)
Colorful Flavors
Black Raspberry **
Orange Pineapple **
Blue Cotton Candy
Tutti Frutti
(The Colorful Flavors I walked away from easily. Our goal was to find the best of the best, and call me a snob, but I'm sure Blue Cotton Candy wouldn't make the cut.)
Round 1
For round one we tackled the basics.
Danish Cream is essentially just the plain, sweetened ice cream base. And far from being boring, it's fantastic. It has a dense, almost chewy texture, that can be found in many other flavors at the shop. This was the surprise winner of the round.
Strawberry was excellent, with a muted natural color, and juicy bits of real strawberry studded throughout. Brownies and Cream was interesting. It is vanilla ice cream with chunks of homemade brownie. The biggest problem was the brownie itself was textually more like cake. However, as the ice cream began to melt and the brownie absorbed some of its runoff, this wilting cup became a favorite. Mint Chocolate Chip wasn't competing at the same level, but the chips were great. More on those soon.
Round 2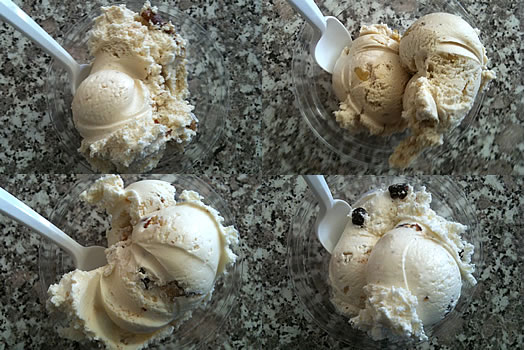 Round two brought the nuts. And if you like things sweet, maybe the butter pecan and maple walnut might be for you, but they weren't for me.
However Chips Gone Nuts was my favorite flavor of the day. It was a simple affair of vanilla ice cream mixed with gourmet nuts and chocolate chips. But each piece was amazing on its own, and together it just popped. The sticky chewy vanilla ice cream provided a clean base for the rich and buttery nuts (I even spied some Brazil nut pieces in the blend), and those were contrasted by dark chocolate chunks that added further depth and complexity. What a shame it's not a regular flavor. Because it beat Almond Joy by a mile.
The popular candy bar-inspired creation is billed as a coconut ice cream with chocolate-covered almonds. The thing about coconut ice cream is it can go one of two ways. It can taste like coconut cream or it can taste like coconut meat. The latter is delicious, the former tastes like sunscreen. Granted, it's very sweet sunscreen, but still.
Round 3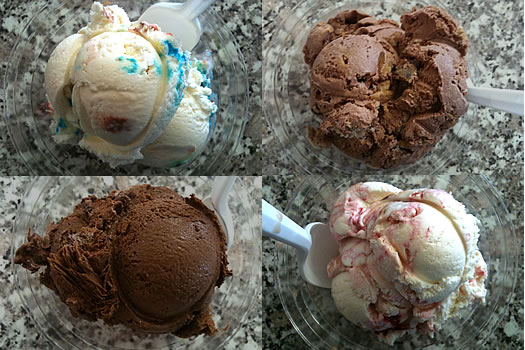 Round three brought the sweet sweet candy.
By far the best thing was the Bear Tracks, which is chocolate ice cream with a peanut butter swirl, chocolate dipped waffle cone pieces, and nuts. When it comes to rich and heavy ice cream decadence, the combination of chocolate and peanut butter is pretty hard to beat. Heaven On Earth is vanilla ice cream with white chocolate chips and a raspberry swirl. I was expecting Albany Jane to be all over this one, given her love of white chocolate. But no such luck.
Hugh's Chocolate Overload with double dark chocolate ice cream, a chocolate swirl, and chocolate chips sounded great -- but it turned out to be so icy that even the kids wouldn't touch it. They were less picky when it came to the beautiful M&M ice cream. I didn't realize that when these candy coated chocolates were suspended in ice cream that their shells would create a tie dye effect in the scoop. I also never truly appreciated how poor the quality of the chocolate is in M&M's. But when compared to the great texture and flavor of Ice Cream Man's chocolate chips, even the bright colors of the M&M's can't keep them from looking sad.
So, what did we learn?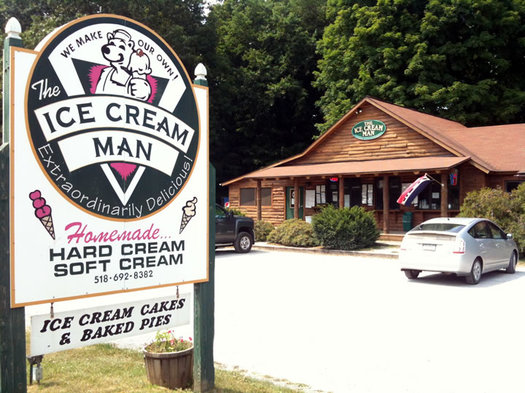 Amazingly, all of these dishes were kids cups, because I thought they were pretty darn big. And each one is only $2. So you too can gather up your friends and family and eat through half of the menu for less money than movie tickets. This meal of 12 different ice creams will probably be a more memorable experience too. If you need to drive a respectable distance to get here, it makes sense to make the trip worthwhile. And this certainly filled the bill.
Here are a few things to keep in mind when you visit the Ice Cream Man:
+ Keep it simple. The basics are great.
+ On the strength of their strawberry, I have high hopes for the other fruit flavors.
+ Their chocolate chips are delicious, as are the gourmet nuts.
+ If you get something with a brownie, let it melt a bit.
+ Avoid cheap candy bar flavors.
+ And always ask for a taste, as it will keep you from accidentally ordering something that's gone icy.
The funny thing is that right now I don't care that there are over 300 flavors. I just want my Chips Gone Nuts to come back. Be on the lookout. And I suppose there could be a flavor that's even better. So if you find it, let me know.
Daniel B. is the proprietor of the FUSSYlittleBLOG.
Find It
The Ice Cream Man
417 New York 29
Greenwich, NY 12834
Hi there. Comments have been closed for this item. Still have something to say? Contact us.