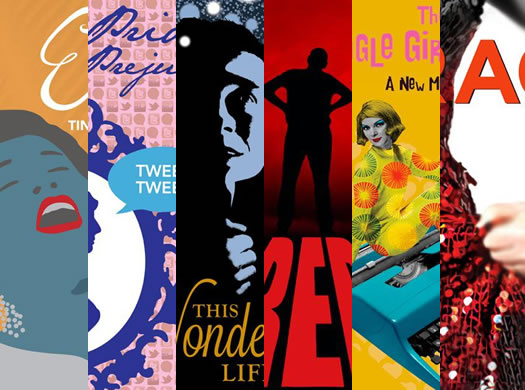 Capital Rep opens its 2012/2013 season Tuesday night with Ella, a musical about jazz great Ella Fitzgerald. It runs through August 12. Tickets start at $20.
Here's how the rest of the slate for Cap Rep's season shapes up...
Descriptions excerpted from Cap Rep's website:
October 2-28: Pride @Prejudice
"Five acclaimed actors bring Elizabeth Bennett, Mr. Darcy and all of the characters of Jane Austen's classic romance to life with the author's actual words, but the fourth wall shatters when the cast Googles, Tweets and engages the audience. Jane Austen herself may pay a visit and patrons might get to ask her a question while falling in love all over again with the eligible young ladies of the Bennett household and their long line of suitors!"
November 27-December 16: This Wonderful Life
"All the pleasure of Frank Capra's classic movie - in only 70 minutes!"
January 15-February 10: Race
"Sex, guilt and bold accusations permeate this provocative new tale from multiple Award-winning playwright David Mamet. This gripping play tackles America's most controversial topic with the brilliant language that only Mamet can bring to the stage."
March 5-30: The Single Girls Guide
"In the stylish world of 1964 Manhattan, beloved newspaper columnist Emma Woodhouse is still single and about to turn 30. As her father urges her to marry the first available man - and her editor urges her to toe the line, she begins to transform her household advice column into a platform for change, encouraging readers to drop their casseroles, question the nature of marriage and demand sexual freedom. In a Helen Gurley Brown inspired move, Emma recruits her first 'Single Girl' and vows to overhaul her life, setting into motion a chain of events that culminates in hilarious calamity at Truman Capote's Black and White Ball. Emma ends up learning, along with her protégé, that 'when it's right, it's never perfect.'" (The description also mentions Sex and the City, but we also detect a strong Austen influence.)
April 23-May 19: Red
"Raw and electrifying, RED, John Logan's sizzling play ignites the worlds of art and commerce. Iconoclastic Mark Rothko, the misanthropic abstract-expressionist painter, confronts his decision to accept a lucrative commercial commission. Extolling the virtues of his art as "expressing the big emotions - tragedy, ecstasy, and doom," Rothko drills his new assistant about the dangers of selling out and as they work together, the roles of student and teacher reverse, forcing Rothko to face his own demons about reality and his ultimate place in the pantheon of great artists. Winner of Drama Desk Award for Outstanding Play and 6 Tony Awards®, including Best Play 2010."
Yep, Capital Rep has advertised on AOA.
Hi there. Comments have been closed for this item. Still have something to say? Contact us.