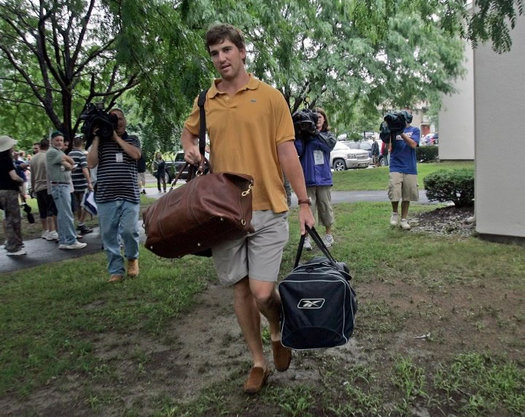 The New York Giants are back at UAlbany for this year's training camp. Players were scheduled to report today (Thursday), but they've been showing up for the last few days. The camp runs through August 14.
The practices are open to the public. Here's the schedule. (Autograph day is this Saturday.)
If you're a football fan, it's worth a stop. It's one thing to watch the NFL on TV, it's another to see these guys in real life. It's hard to appreciate how big and fast they when watching them on a screen. Up close you really get a sense of the freakish combination of size and athleticism.
Lombardi Trophy: The Giants are, of course, the defending Super Bowl champs. And they brought the Lombardi Trophy with them to prove it. The trophy will be on display at Albany City Hall rotunda August 2 (a Thursday) from 8:30-11:30 am.
photo: New York Giants