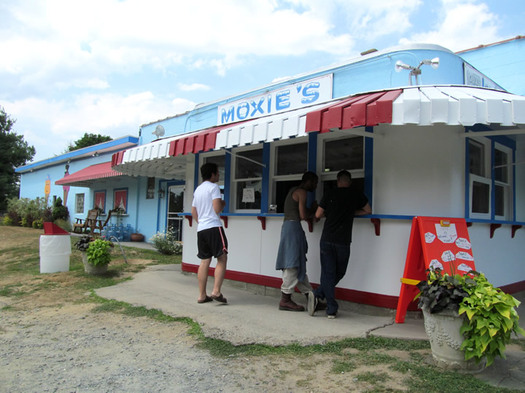 By Casey Normile
The first batch of Mexican vanilla ice cream that Moxie's ever made was technically illegal.
"But only a little illegal," Pamela Allie-Morrill explains. Ms. Pam, as she likes to be called, is the daughter of the eponymous Mohamed "Moxie" Allie -- she now runs the ice cream stand in Wynantskill. She says that original supply of Mexican vanilla hitched a ride into this country in her cousin's suitcase. It wasn't exactly an act of smuggling.

That Mexican vanilla has since been replaced with Mexican vanilla sourced via Illinois. But it's still an integral part of Moxie's Around the World of Vanilla -- a solar system of vanilla ice creams in a dish that surround Moxie's signature flavor, Blue Moon.
So, why vanilla? Pam says it's simple -- it was the most readily available flavor when she was looking to make her mark on Moxie's eleven years ago. And the vanilla sampler has been a popular staple at the stand ever since.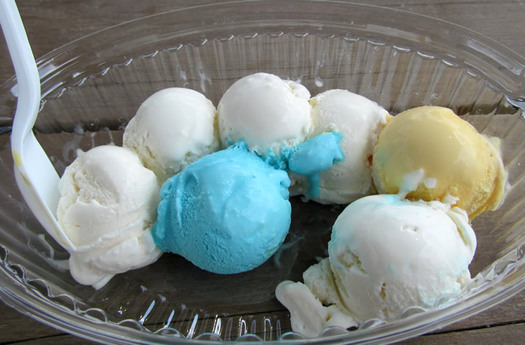 Here's how the tour shapes up:
+ It starts with the Haitian vanilla, which Pam got from a Haitian missionary ten years ago. It's a little bit sweeter than your average vanilla.
+ Your next stop is the Indonesian vanilla, which is commonly used for baking, so it will taste a little familiar.
+ Then follows the infamous Mexican vanilla. It has a slight spice to it, almost cinnamon-y.
+ The Tahitian vanilla is next. It has a hint of cherry to it, but that's not because there's any cherry in the ice cream, that's just how the bean finishes.
+ Then there's Venetian vanilla -- it's the only vanilla that is a flavor instead of a bean extract. In case you're a purist, it's the golden yellow scoop you want to avoid.
+ And to provide comparison, Moxie's also throws in a scoop of "regular" (Madagascar) vanilla.
+ To cleanse the palate, you get a bottle of Moxie's very own bottled water -- and a scoop of Blue Moon.
What is Blue Moon, you ask?
It's a flavor that Pam's brother found at food festival when he was 12 and Moxie's has carried it ever since. She says it's a popular flavor in the Midwest; but on the East Coast, it's basically unheard of.
"It tastes different to everyone and we've heard it all," said Pam, "It tastes like wedding cake, lemon, frosting, bubble gum. One woman even tried to say she tasted a hint of burnt almond; that was way off."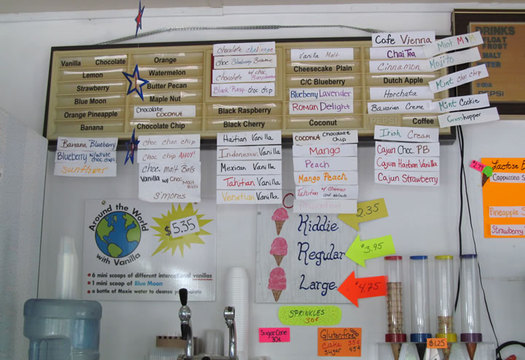 The only downside to taking the vanilla tour is that it might not leave room for you to sample Moxie's more exotic flavors like Cajun strawberry or sunflower. So plan accordingly.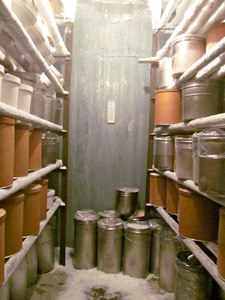 Moxie's has 79 flavors in their repertoire. Yes, they have chocolate, coffee, and strawberry. But they also have flavors such as blueberry lavender, cajun chocolate peanut butter, and chai tea. So the only sensible thing to do to try as many of these flavors as possible is to pair them. Pam herself never eats two scoops of just one type of ice cream. Her suggestions? Blueberry and mojito go well together, or nutmeg and Cajun Haitian vanilla (a pretzel cone is best for this pairing).
The repertoire of flavors has expanded over decades. Pam says they haven't really retired any of their flavors -- even the less popular licorice.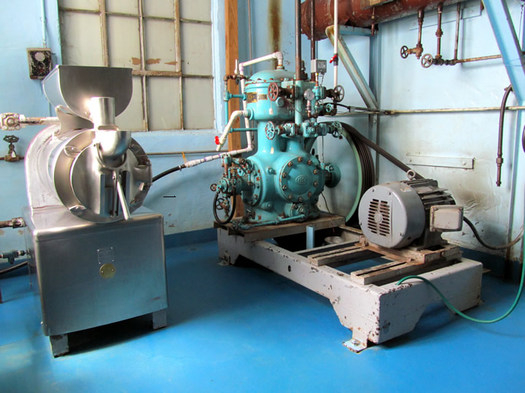 Moxie's ice cream machine.
Another odd part of Moxie's history: Mohamed Allie never wanted to sell ice cream. He wanted to open a restaurant and work with his real love, burgers. But he sort of inherited the ice cream parlor along with his Wynantskill building and landed in the world of dessert. The adjacent restaurant ended up closing, but they've been selling ice cream there for 43 years. Along the way, Moxie and Pam even trained at the renowned Penn State ice cream course.
It seems to have paid off. Though Moxie still hasn't quite grown to love ice cream yet, their shop has built a reputation for good ice cream, interesting flavors, and natural ingredients.
"But I'm not famous," says Moxie, "I'm just little old me, running a little old ice cream shop."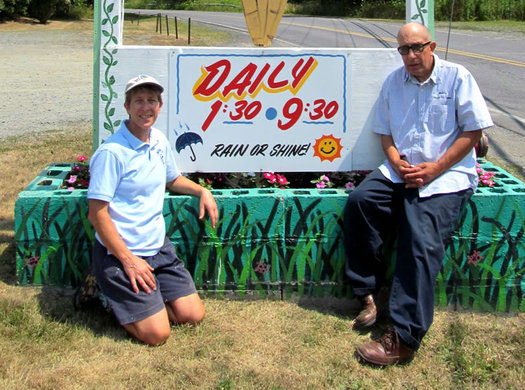 Pam and Moxie
And when Pam isn't spending her summers helping her dad run the shop, she's living in El Salvador with her husband. There she meets people from all over the world. And one of her first questions usually is: "What's your favorite kind of ice cream?"
What brings her back to Wynantskill every summer is her dad, their shop, and their customers. "I like making ice cream and I love making it with my dad. I love looking out the back window every summer and seeing every picnic table full. It warms my heart to see kids running around the playground, from the truck to train screaming 'All aboard!' I just love that."
Find It
Moxie's
1344 Spring Ave
Wynantskill, NY 12198
(518) 283-4901
Hi there. Comments have been closed for this item. Still have something to say? Contact us.