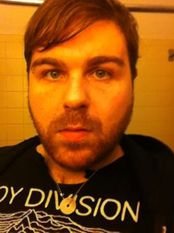 It's Monday, time for another WEXT My Exit show -- where the listeners get to pick their own playlists.
Here's a look at what's coming up tonight:
Who?
My name is Hans C. Leibold. I live in the charming Whitehall neighborhood of Albany. I guess my biggest musical achievement (so far) is that I spent 8.5 years in the band End of a Year Self Defense Family. Also, I saw Megadeth when I was 13. I wrote a ton of songs, was signed to two labels and I saw the world and almost all of the U.S on wonderful, eye-opening tours. I quit because I was just tired on every level.
I've had an on-again, off-again relationship with Albany since 1996. I'm still finding places around here that I didn't know existed, which is certainly a testament to my lazy lost years in this town. People in this city do a lot of back-looking, a lot of used-to-ing. "Remember when that happened over there?" I think it's weird that people do that. I also DJ, but I really just push buttons. I like to turn people on to new and strange music. I'm the guy on your Facebook feed posting YouTube music videos all day.
How would you describe your taste in music?
The heart wants what it wants. My parents played a lot of Wings records when I was coming up. High school was all about thrash metal and drawing band logos on my jeans. I once kissed a girl who looked like Siouxsie Sioux. Then I graduated to punk and hardcore and started actually playing music. Hardcore music was a big part of my life, then it wasn't. I moved to Louisville for a spell and fell in love and was subsequently tamed by a discovery of the good ol' songs: classic American music. I had a little Mazda with a tape deck that constantly cranked out The Band and Foreigner and Tom Petty. I sported a lot of flannel and wore my hair in a ponytail. Hans: The Weird Years.
The later part of the last decade brought me to different plains; I had some roommates that were much cooler than me, so I was turned on to a lot of great things. I became obsessed with Italo and EuroDisco groups, discovered and abandoned a Talking Heads obsession (reasons unknown, it's just how love goes). I became invested in Neil Young and mainstream "corn rock", yet all the while laying white, bare and obsessed with the orgiastic synth monsters of the 1980s, a trend that continues to this day.
My favorite era in most bands' discographies is end times. The post-success, the sophomore slump; I'm more Human than Don't You Want Me, more Trans than Harvest. The fact that nothing really lasts forever in one state fascinates me, no-end.
About 5 songs from your show:
Elvis Costello - "Man Out of Time"
This song has always carved a cuttingly autobiographical turn for me. In terms of relationships, I feel like I'm always the man out of time, weakly struggling against various tides of various strengths. I don't really want the honeymoon period to drift off. I don't want to be that couple out at dinner, scanning their respective smartphones in a haze of boredom, silence and compromise. I sleep alone a lot. Haha.
Gang of Four - "Is it Love?"
This is my favorite Gang of Four song. It has the swagger of imbeciles looking for a good time. White suits, loafers-no-socks, a rented house in the countryside and the beam of knowing something great may happen. Footage from this era shows the Gang gang wearing sunglasses and, yes, the aforementioned white suits. They broke up in ruins soon thereafter. I think this is their greatest era for a lot of reasons that would cause an epidemic of eye-rolling. I'll refrain from explaining how the guitar sounds mean different things and why exactly Jon King chose to wear Ray-Ban Aviators on the set of "Solid Gold"...see what I mean?
Dennis Edwards feat. Siedah Garrett - "Don't look any further"
I included this song because, frankly, I love the video. Video doesn't translate well to radio, so I'll just say that this song is about chemistry. Dennis and Siedah interact perfectly and rescue an otherwise pedestrian 80s funk/R n' B track. I mean, the music sounds as if you've hit "Demo" on your Casio keyboard, but the veteran Northern Soul and Gospel (sprinkled with heirloom gravel) rasp of Dennis Edwards is really something special. Out of nowhere comes a then-24-year-old Siedah Garrett looking fine as hell, playing the Fiesta to his Bronco for the moment. You have to watch the video to get it. It doesn't hurt that they're dancing in front of a Karaoke screen of various sleazy-looking cities-at-night, either. Shot in one take with real chemistry (by mid-song you just assume they're a "thing") and perhaps the final yelp before the inevitability of Boy Meets Girl and Michael Bolton. Waiting for a Star to Fall, indeed. I actually really like "Waiting for a Star to Fall" by Boy Meets Girl. I should have included that song on this list. Oops.
Malaria! - "You, You"
"Malaria may be the one of the best bands you've never heard of". I mean, they are for real one of the neatest bands to come out of German Neue Deutsche Welle movement of the 1980s. Drummer Katherine Hahn went on to bigger riches with the band Bone Symphony (of Revenge of the Nerds Soundtrack fame). Malaria's biggest hit was "Kaltes Klares Wasser," but "You, You" is my personal favorite. I discovered Malaria! whilst touring Germany. My friend Oise Ronsberger would sing "Kaltes Klares Wasser" and pretend he was raving during a lot of our sound checks. Naturally, I secretly Googled "Kaltes Klares Wasser", and found the "You, You" video. That's about it.

You can hear Hans'My Exit show Monday night at 8 pm on 97.7 or at exit977.org.
Here's how to schedule your own My Exit show on WEXT.

Hi there. Comments have been closed for this item. Still have something to say? Contact us.