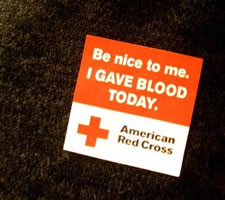 The nation's blood supply is at a 15-year low, according to the American Red Cross. So now is an even-better-than-usual time to give blood.
Maureen Wellman, communications manager with American Red Cross Northeast Division, says there's usually a slowdown in donations over the summer. But for whatever reason -- maybe the mid-week Fourth of July, or severe weather around the country -- this summer's downswing has been atypically large.
She says there aren't numbers available for blood supplies in the Capital Region -- the org shuttles blood around the country as needed, and so far it's been able to keep up with demand. But that will get harder if donations don't pick up. A continued shortage potentially could threaten the care of people needing surgeries or other treatments.
Here's an easy way to donate
There's a blood drive at the Best Western on Western Ave across from the UAlbany campus Thursday from noon to 7 pm. The drive is in conjunction with the Giants training camp -- every donor will have a chance to get their picture taken with the Lombardi Super Bowl Trophy. Here's how the donation process works.
The Red Cross has info about other blood donation options online.
Wellman says red blood cells have a shelf-life of 42 days (platelets just five days), so there's always an ongoing need for donors -- shortage or not.
photo: American Red Cross
Hi there. Comments have been closed for this item. Still have something to say? Contact us.