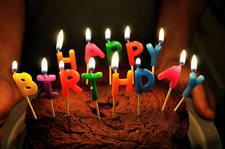 Chrissy emails:
I'm turning 30 in a month! I want to do something special with my friends but throwing a party is too much stress and I'm not a drinker (there goes the Albany birthday tour de alcohol). Can you ask the AOA crowd for creative ways they've celebrated their special days? Thanks!
Got a suggestion for Chrissy? Please share! You only turn 30 once. (Actually, now that we think about it, we know some people who have turned 30 a few times.)
Earlier on AOA: Capital Region birthday freebies (2009)
photo: Flickr user Will Clayton (cc)
Hi there. Comments have been closed for this item. Still have something to say? Contact us.