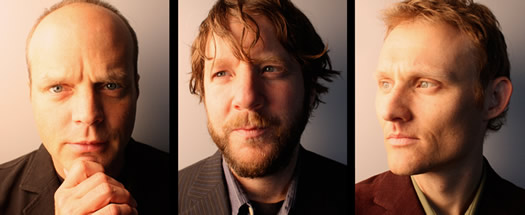 The Massry Center for the Arts at St. Rose has released its schedule for the upcoming season. The lineup includes Medeski Martin & Wood; Doc Severinsen; Ben Allison; and the return of the popular Vince Guaraldi holiday concert.
The season starts with Severinsen on September 14. Full schedule is post jump.
All descriptions via St. Rose.
September 14: Doc Severinsen and the San Miguel 5
"Heeeeere's Johnny!" That lead-in, followed by a big band trumpet blast, was the landmark of late-night television for three decades. "Johnny," of course, was Johnny Carson, the announcer was Ed McMahon, the bandleader was Doc Severinsen, and "The Tonight Show with Johnny Carson" ruled the night air for 30 years. Now, together with Gil Gutierrez, Severinsen has crafted an innovative and exciting program of classical Spanish with a jazz flair, gorgeous ballads, both Latino and American, plus some great movie music and - among their best received - gypsy jazz, Ã  la Django Reinhardt. The musicians are virtuosos and combined are electric. Add Severinsen's soaring trumpet to the mix (not to mention his wardrobe!) and the experience is indescribably brilliant.
$75 Concert and Reception
$30 Concert Only

September 22: The College of Saint Rose Camerata - Tribute to Debussy's 150th Birthday
The Saint Rose Camerata celebrates Family Weekend and the 150th anniversary of composer Claude Debussy's birth. The concert will feature music inspired by myths and fairy tales, including two of Debussy's most famous works: Prelude to the Afternoon of a Faun (chamber version) and Syrinx for solo flute. The performance of Syrinx will include scenes from the dramatic poem "Psyché" by G. Mourey. Mother Goose Suite by Ravel will be presented in a chamber version.
Free

October 6: Medeski Martin and Wood - Special Acoustic Performance
"Wide open." That's the phrase John Medeski uses to describe his bandmates' musical sensibilities, the attitude he seeks in himself and the spirit of musical adventure that Medeski Martin & Wood have pursued for two decades. The trio's amalgam of jazz, funk, "avant-noise" and a million other musical currents and impulses is nearly impossible to classify, which is just how they like it. Medeski's keyboard excursions, Chris Wood's hard-charging bass lines and Billy Martin's supple, danceable beats have come to resemble a single organism, moving gracefully between genre-defying compositions and expansive improvisation atop a relentless groove.
$30
October 10: The College of Saint Rose Camerata - Inaugural Concert for President David Szczerbacki
The Saint Rose Camerata will perform their favorite repertoire for this special concert celebrating the inauguration of Dr. David Szczerbacki, the College's ninth president.
Free

October 27- The College of Saint Rose Camerata - Chamber Music of the Twentieth Century
The Saint Rose Camerata will present chamber music masterpieces in various combinations including piano trio, cello and piano duo, and flute and guitar duo. Composers include 20th-century Italian composer Mario Castelnuovo-Tedesco, German romantic composer Robert Schumann and Russian romantic composer Anton Arensky.
Free

November 15: The Ben Allison Band with the Lee Shaw Trio
Bassist/composer Ben Allison is one of a few band leaders working in jazz
today who has developed his own instantly identifiable sound. Known for his
lyrical melodies, inventive grooves and inspired arrangements, Allison draws
from the jazz tradition and a range of influences from rock and folk to classical
and world music, seamlessly blending them into a cinematic, cohesive whole.
The Ben Allison Band also includes Steve Cardenas, Brandon Seabrook and Rudy Royston.

This is a split bill performance with regional jazz legend Lee Shaw. Pianist, composer and
bandleader, Shaw brings more than 40 years of musicianship to the Massry Center for an
unforgettable night of music.
$20

December 2: It's a Jazzy Christmas! - A Celebration of Vince Guaraldi's Holiday Jazz Music
"It's a Jazzy Christmas! A Celebration of Vince Guaraldi's Holiday Jazz Music," an unforgettable, family-friendly evening of Guaraldi's music made famous in the "Peanuts" holiday special, is back. This is the perfect concert for the jazz lover and the entire family, just in time for the holidays.
$20 general; $10 students; free for children under age 5
January 27: Anna Lee - Solo Violin Concert Presented with Renaissance Musical Arts
Anna Lee was born in Seoul, South Korea, and started playing violin at age 4. She has participated in the Aspen Music Festival on a full scholarship where she gave a live National Public Radio performance to much acclaim. In 2006, Lee made her Avery Fisher Hall debut playing with the Little Orchestra Society. In addition, Lee was featured on the PBS special From the Top of Carnegie Hall, all before the age of 16.
$25

February 9: The Dirty Dozen Brass Band
The Dirty Dozen Brass Band celebrates their 35th anniversary of performing their New Orleans-flavored jazz in the tradition they always have, by taking the party on the road to the people. It is a legendary jazz group, and it will be a legendary night of music.
$30

February 16: Saint Rose Camerata - Chamber Music Masterpieces
The Camerata will perform a concert of masterpieces by Maurice Ravel, Richard Strauss and Johannes Brahms.
Free

February 22: Livingston Taylor with the Saint Rose Orchestra
Born in Boston and raised in North Carolina, Livingston is the fourth child in the very musical family that includes Alex, James, Kate and Hugh. Livingston recorded his first record at 18 and has continued to create well-crafted, introspective and original songs that have earned him listeners worldwide. Livingston will be working with the College's Music Department to perform a concert backed by the Saint Rose Orchestra and conducted by Saint Rose professor David Bebe, giving the students professional experience and exposure to a renowned touring artist.
$25
March 2: Guitar Foundation of America Winner Vladimir Gorbach - Presented with the Classical Guitar
Internationally acclaimed Russian guitarist Vladimir Gorbach has captivated audiences across the globe on stages in Austria, Australia, Croatia, Germany, Greece, Italy, Montenegro and Spain, in addition to the U.S. and his native country of Russia as a soloist and with orchestra.
$20

March 10: Duo Piano Concert with Andrey Ponochevny and Elena Zyl - Presented with Renaissance Musical Arts
Both accomplished and acclaimed pianists, the husband-and-wife duo of Andrey Ponochevny and Elena Zyl are striking in appearance - and remarkable in concert. Ponochevny, a native of Minsk, Belarus, has claimed top prizes in piano competitions in Germany, Poland, Ireland, Russia, Hong Kong and the U.S.
$35

April 18: Stefon Harris and Ninety Miles
The Ninety Miles Project featuring Stefon Harris, a native of the Albany area who has received worldwide acclaim as one of the best new musicians in jazz, was recorded in Cuba under a special visa. The sessions were filmed and will be part of a documentary airing on BBC Worldwide in fall 2012. The group also features David Sanchez and Nicholas Peyton.
$35

April 19: The College of Saint Rose Camerata - Season Finale
For the final concert of its 10th season, the Camerata will perform works by Aaron Copland, Claude Debussy and Samuel Barber.
Free