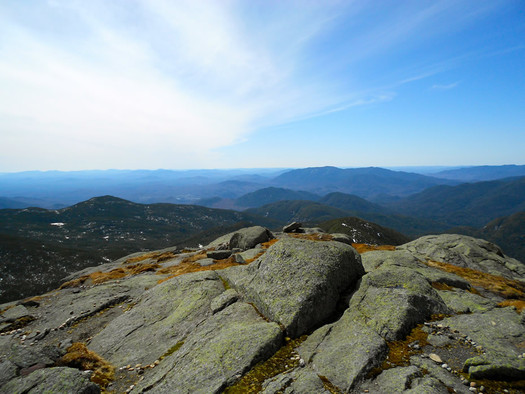 By Casey Normile
So you've decided to you want to hike up one of the 46 Adirondack High Peaks. That's great -- the High Peaks are one of the best parts about upstate New York (if not THE best part, though I'm biased).
But when you climb your first Adirondack High Peak, you don't want to be THAT guy. You know him -- the guy with only one water bottle, jean shorts, Converse sneakers, and a camera. Not only will you look silly when the fully geared-up 46ers pass by you on the trail, you'll also feel ridiculous when you're thirsty, hungry, tired, and blistered halfway up the mountain.
After hiking 21 of the 46 High Peaks, you can now learn from the many mistakes I've made...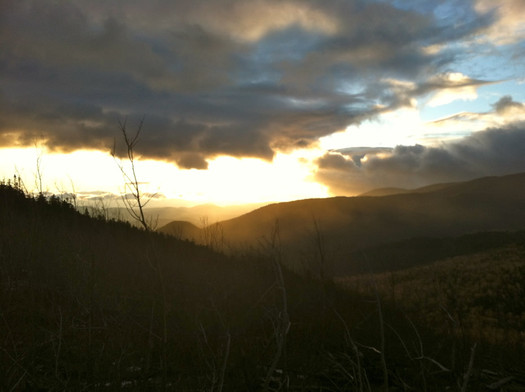 Sunrise on Bear Den Mountain.
1. Don't underestimate these mountains.
It's the most important rule. Even if you're doing a trail you've done before with people who have hiked before and have enough gear and layers, you can still get lost, hungry, weak, dehydrated, surprised by a storm or injured. Respect the peaks.
2. Don't be the guy who only brings a bottle of Aquafina in a drawstring Nike bag.
I was that girl for my first high peak, Cascade (the traditional starter mountain). Bring at least two liters of water, bring food, bring layers, bring a first aid kit, bring a map, and bring a flashlight. Even if you feel silly, you won't look it. You'll look prepared, you'll look like a hiker, and you'll feel good about it when those things come in handy.
3. Check the weather.
One morning in November my friend and I set out to do Whiteface Mountain, a large-but-friendly peak. We had no winter gear (spikes for shoes, extra food, hiking poles, gloves, hats) or clothing. I was wearing track pants for Pete's sake. But we thought we could handle a few inches of snow.
Not even halfway up we met a man on his way down who just shook his head and said, "In about 20 minutes farther up the mountain the snow will be up past your knees." We quickly turned around and headed back home.
When you want to find out what's happening in the High Peaks, check weather.com and search Keene Valley. Also check out the Adirondack Mountain Club's website for more High Peaks weather information and summit forecasts.
4. Don't even think about or look at a trailess high peak until you know what you're doing.
Twenty of our beloved High Peaks are actually trailess, or without a mapped or maintained trail. Some are well-worn by other hikers anyway, but some are not. Not at all. Until you can navigate a map, use a compass easily, have researched and read about the trails and gotten used to the physical demands of the High Peaks, stay on the clearly marked, cleanly maintained, well-traveled trails. Please. It's not adventurous, it's dangerous. Getting lost and climbing through waist high snow and freezing river water for five-and-a-half hours in the Dix Wilderness would teach you this lesson well.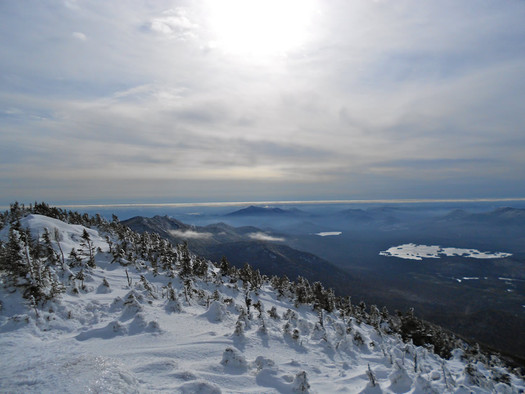 From atop Dix Mountain.
5. Don't wear jeans.
Just don't. They're impractical, stiff, take forever to dry, they chafe, and you will look like you've never hiked a day in your life.
6. In fact, don't wear cotton.
In this situation, it is not the fabric of your life. Cotton doesn't breathe well, so it will trap all of your sweat, leaving you drenched and overheated. (That is, until you hit the summit and summit winds will leave you freezing.) Look into athletic clothing or hiking-specific clothing made of synthetics or wool. It dries quickly, is made to breathe, and will wick the sweat away from your body so you're dry.
7. Don't wear sandals.
Maybe it's maternal instinct kicking in, but whenever I see someone on the trails wearing flip flops or Birkenstocks, it doesn't confuse or bother me, it makes me angry and want to send them home to think about the decisions they've made.
Wearing sandals for a hike opens you up to many opportunities: twisting your ankle, slipping on wet rock, losing your shoes, tripping, cutting your feet on rocks or branches, and exposing them to the wet and cold for hours.
Get hiking shoes instead. It's a great investment. They're rugged shoes that will survive a lot of abuse and provide great support. You can research and find which shoe is best for you based on price range, support needed, and the type of trails you plan on hiking. At the very least, wear some sneakers.
8. Be friendly to fellow hikers.
The trails are one of the few places where you're expected to look into the eye of passers-by and say hi. Dare to make conversation and you'll meet some pretty fascinating people up there. I met a guy at the top of Mt. Marcy who had just finished climbing the highest peaks in each of the continental United States and was headed to Alaska and Hawaii next. That's someone you probably wouldn't meet at a bar.
Even say hello to the many French Canadians. They'll give a quick "hi" back and that smile is important to foreign relations.
9. Don't hike Mt. Marcy first.
Mt. Marcy is the highest peak in New York State and therefore draws many first time High Peakers. But my advice is to save it for later. Marcy is a moderate hike, with a slow incline stretched over 15 miles, a beautiful trail, a great open summit with breathtaking views, and gives you the feeling that you're really getting into nature. After hiking into the woods for a few hours, you realize that you really are miles away from civilization and that is pretty cool.
But that's why I suggest saving it. All this would spoil a first-timer and make you think all high peaks will be this friendly. Start with Giant or Cascade -- still friendly mountains, but they don't spoil you.
10. Pick the right hiking buddy.
If you've ever traveled before, you know that even your best friend can become you're worst enemy out on the road. Hiking is the same except more concentrated. You're with this person for at least the next five hours and have to be able to trust them with your life and safety, as well as trust them not to annoy you the whole time up the mountain. Your hiking buddy is who you somehow end up sharing deep conversations -- and half your peanut butter and jelly sandwich -- so choose wisely.
____
With 46 very different peaks, everyone can find a trail to suit them and experience the exhilaration of reaching a summit, the awesome beauty of the Adirondacks, the rejuvenation nature offers, and the pride in crossing miles of wilderness and climbing thousands of feet. And that only brushes the surface of why the peaks are great. Once you hike one, you'll see for yourself -- and you won't want to stop until you're a 46er.
Elsewhere:
+ The Adirondack Mountain Club has a lot of information on how to plan a hike that is "both safe and enjoyable for you and respectful of wildlife and natural resources."
+ And here's a listing of the 46 High Peaks with distances, typical hike times, and estimated difficulty.
Hi there. Comments have been closed for this item. Still have something to say? Contact us.