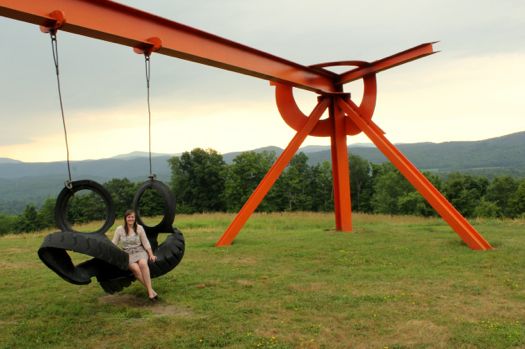 It's Monday, time for another WEXT My Exit show -- where the listeners get to pick their own playlists.
Here's a look at what's coming up tonight:

Who?
Dianne Winter. I'm from West Virginia by way of Washington, DC. I completed my masters in arts management at American University last May and had the good fortune of stumbling across a posting for an associate director opening with Salem Art Works. I've been up here for a year now and I'm consistently blown away by the rich and varied music community in the area!
How would you describe your taste in music?
I have two primary loves (which aren't necessarily mutually exclusive): singer/songwriters and folk rock. I'm a sucker for well-crafted lyrics delivered by a single man or woman whose words tear right through you. There's a gaggle of musicians in NYC who I keep an eye on, because even if they're not making something new and amazing, they're talking about who is. On the other track, sometimes you just need a foot-stomping good time. And if you ask me, there's no better way to do that than with banjos and mandolins.
A few songs from Dianne's My Exit
"Reverend" - Pearl and the Beard
There is so much power in these three voices. Gorgeous harmonies, interesting instrumentation and quirky people. What's not to like?
"Dragging You Around" -- Greg Laswell (featuring Sia)
Greg Laswell really won me over with his most recent album, Landline. Since its release, any time I'm on a long drive I'll listen to this album straight through. He has some great guest vocalists in addition to on this track, including my personal favorite (and also on My Exit), Ingrid Michaelson.
"Raise Hell" - Brandi Carlile
She is the perfect combination of my two favorite styles of music. And she is unbelievable live. So I hope you were able to catch her show at The Egg on Wednesday.
"The Universe is Laughing" - The Guggenheim Grotto
Representatives from the NYC musicians that I love so much. These guys are from Ireland, and are recent additions to the group. They worked with Chris Kuffner (who... surprise!... plays with Ingrid Michaelson) on their upcoming album. It will be a much bigger sound than previous recordings, so keep an eye out (hopefully before year's end).
"Moonshine" - My Pet Dragon
Like I said, I love the music scene up here, and I've had the pleasure of booking artists for this year's SAWFest Music Festival. We are so excited to have My Pet Dragon (Todd's originally from Granville) headlining the festival. And if this song doesn't make you want to get up and dance around, I don't know what will.
You can hear Dianne's My Exit show Monday night at 8 pm on 97.7 or at exit977.org.
Here's how to schedule your own My Exit show on WEXT.
Hi there. Comments have been closed for this item. Still have something to say? Contact us.