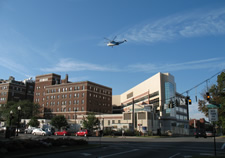 St. Peter's Hospital is one of the top-ranked hospitals in a new NYPIRG report on hospital visiting policies around the state.
The report surveyed the policies at 99 acute care hospitals in the state with 200 or more "staffed beds." NYPIRG says it found "significant, unexplained variations in":
+ Visiting hours and restrictions on visitation;
+ Consistency with the patient's legal right to choose priority visitors whether or not they are members of the patient's "immediate family"; and
+ Transparency and clarity of website communications.
St. Peter's scored a 10 (on a 1-10 scale) for "visiting hours flexibility" and an 8 for "website visiting info availability." Three other hospitals also received a 10 in that first category -- St. Peter's had the highest combined score of any hospital.
The report includes scores for five Capital Region hospitals -- the scores are post jump.
The whole NYPIRG report includes recommendations and a lot of detail. For patients, it can probably be boiled down to: Contrary to how it may sometimes appear, hospital patients often have a fair amount of discretion in who can visit them (even people who are not technically "family") and when. If in doubt, be sure to ask.
Scores from NYPIRG report: "Sick, Scared and Separated from Loved Ones"