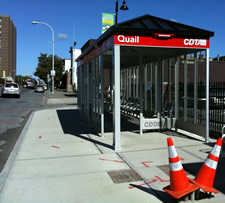 There's an interesting article in Governing on the growing popularity of bus rapid transit systems (BRT) -- like CDTA's BusPlus. A short clip:
Generally, the thinking among U.S. transit officials is that "choice riders" -- those who don't have to take transit but opt to because of its convenience -- are willing to ride subways, light rail and streetcars, but not buses. Advocates of BRT argue that bus service itself isn't the problem; it's the way the service is implemented. Offer riders buses that are fast, clean and safe, they say, and passengers will embrace them. "If you build it right, people will come," says Janette Sadik-Khan, New York City's transportation commissioner. "People aren't going to get on dirty buses that are slow."
The article hits on the potential of such systems, but also their problems and critics -- including those who say that BRT is just a decision to "cheap out" on building more robust systems like light rail.
When transportation issues come up here, people often call out for light rail. But here's the thing: the chances of that ever happening in the Capital Region are very small. Building such a system would cost a ton of money (that Governing article mentions the projected cost of 7 miles of light rail in Cleveland was $1 billion). And it would be a political nightmare -- any worthwhile system here would cross numerous municipal lines, requiring the cooperation (or at least non-opposition) of a long string of county and local governments. It'd be like setting off an atomic NIMBY bomb.
BusPlus isn't perfect -- far from it. CDTA needs to keep adding features and make the system faster in order to at least fulfill its initial promise. And it will have to expand the service to make it more than a Albany-Schenectady express line. There's a long way to go. But it's probably the closest thing we'll get to a transit rail system.
[via @drewbkerr]
Hi there. Comments have been closed for this item. Still have something to say? Contact us.