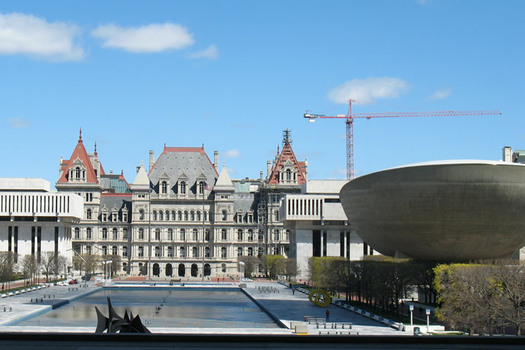 So it turns out that big crane at the Capitol wasn't actually part of the building. Who knew, right? Twelve years of crane occupation will do that.
From a Cuomo admin press release:
Governor Andrew M. Cuomo announced that the crane serving the Capitol restoration project will be permanently dismantled beginning today. The highly visible 274-foot-high red tower crane will be taken down more than a year ahead of initial estimates, continuing the Governor's efforts to accelerate work and cut costs on the Capitol restoration project. ...
The crane will be taken down using a "climber" machine that will remove vertical sections of the crane and then slide them out to the jib of the crane, which will then lower the sections to the ground. One additional ground mobile crane will also be brought in to help disassemble the lower parts of the crane and the jib and the counterweights. It is anticipated that the crane will be completely dismantled by the end of the week.
Several major projects have been completed since Governor Cuomo announced the project acceleration in May 2011. These include the completion of the Assembly skylight, renovation of Tower Hall, removal of exterior scaffolding, and re-opening West Capitol Park. The entire project is expected to be completed this fall, more than two years ahead of schedule.
The de-cranement will involve some lane reductions on Washington Ave this week. Details post jump.
By the way: Here's a photo from a few years back taken from the cab at the top of the crane.
From the Albany Police Department:
Traffic Advisory - Washington Avenue between South Swan Street and Eagle Street
Monday August 13, 2012 until Friday August 17, 2012, Washington Avenue between South Swan Street and Eagle Street will be reduced to one lane eastbound and one lane westbound both on the westbound side of the road. The eastbound side of the street will be used for vehicles and equipment at the New York State Capital. The Contractor for the project will be setting up a work zone and will have flagmen on site to assist motorists through the work zone. Access to and from North Hawk Street at Washington Avenue will be maintained at all times. Pedestrian access will also be maintained at all times during this work.
Hi there. Comments have been closed for this item. Still have something to say? Contact us.